One of the newest fronts in the auto industry's war is the market for electric trucks. The Hummer EV and the Ford Lightning have caught the electric vehicle market off guard, aiming to depose the Tesla Cybertruck as the industry leader. They both come with cutting-edge features ideal for the current generation of powerful EV trucks.
So, let's fasten our seatbelts and find out which of these two EVs has the best qualities to be the market leader in the electric truck market.
Hummer EV vs. Ford Lightning: Side-By-Side Comparison
| | Hummer EV | Ford Lightning |
| --- | --- | --- |
| Release Date | 2021 | 2022 |
| Manufacturer | General Motors | Ford |
| MSRP | $110,295 | $39,974 |
| Passengers | 5-passenger | 5-passenger |
| Engine Type | Electric | Electric |
| Brake Type | Apply Control Electric | 4-Wheel Disc |
| Steering Type | Electronic 4-wheel with CrabWalk | Rack-Pinion |
| Maximum Horsepower | 1000 RPM | 426 RPM |
| Front Suspension Type | N/A | Double Wishbone |
| Rear Suspension Type | N/A | Trailing Arm |
| Anti-Lock-Braking System | 4-Wheel | 4-Wheel |
| Wheel Material | Aluminum | Aluminum |
| Front Wheel Size (inches) | 18 x 9 | 20 X 8.5 |
| Rear Wheel Size (inches) | 18 x 9 | 20 X 8.5 |
| Cargo Bed Height (inches) | 21.7 | 21.4 |
| Cargo Bed Length (inches) | 60.1 | 66 |
| Cargo Area (cubic feet) | 36.7 | 52.8 |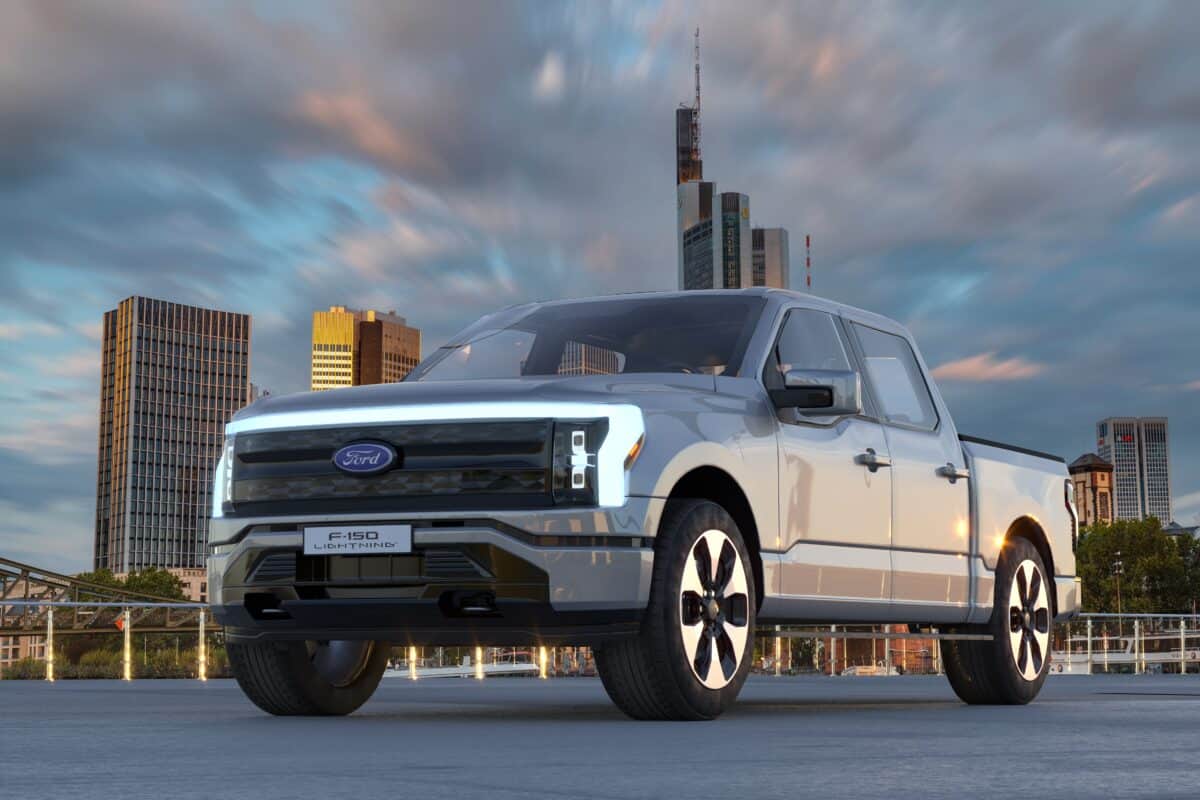 Hummer EV vs. Ford Lightning: Overview
The Hummer EV is a re-imagined, integrated EV that brings to life General Motors' vision of a full-size battery electric vehicle with a zero-emission footprint. It is GM's answer to the growing consumer interest in long-range electric technology that is energy efficient. This powerful GM truck offers you the best of both worlds by providing you with many of the features of a pickup truck in addition to the versatility of an SUV. It features removable roof panels, an optional air suspension that can be adjusted, and crab steering, which allows the vehicle to be driven diagonally.
The Ford Lightning is the product of an automaker coming to the realization that not all-electric vehicles (EVs) need to be outfitted with entirely new innovative features and exteriors that are alien to the automotive world. The Ford company started its EV journey with something that had already proven successful (the traditional F150s) and converted it to an EV without altering many core features that had contributed to its initial widespread adoption.
The all-electric Ford Lightning retains enough power to function as a work truck and perform the duties of a comfortable cruiser. It can haul up to 10,000 pounds and has a payload capacity of over 2,000. In addition, most drivers have a better time behind the wheel of a Ford Lightning because it's more comfortable to drive in, offers more storage space, can generate electricity for your home, has a long range, and many more advantages.
Hummer EV vs. Ford Lightning: What's the Difference?
Although similar in several key ways, the Ford Lightning and the GMC Hummer EV also have some significant differences.
Cabin Features
The cabin of the Ford Lightning features a 15.0-inch screen for navigation and entertainment purposes. The F-150 Lightning also has a vast front trunk, which GMC refers to as a frunk. This frunk takes advantage of the space usually occupied by the traditional F-150's gas engine and can carry freight weighing over 350 pounds in it.
As for the Hummer EV, it features a 13.4 inches display that can be utilized for both navigation and entertainment. The visuals on this ultra-high-definition display are stunning. All the latest software features are built into the system, including Android Auto and Apple CarPlay.
Pricing and Release Date
The base price of the Hummer EV Edition 1 is $110,295, but the company is planning to release more affordable models in the future. The entry-level two-motor trim with a price of $79,095 is scheduled to be released in the spring of 2024. Those waiting for the most affordable model will have to wait a while longer. When it is released in the fall of 2022, the flagship model will start at $99,995, and the mid-level three-motor model scheduled for spring 2023 will have a price of $89,995.
Prices vary widely amongst the four F-150 variants. The starting price of the Ford Lightning Pro is $39,974, while that of the Ford Lightning XLT is $59,474. The Ford Lightning LARIAT and the Ford Lightning Platinum are $74,474 and $96,874, respectively. All these Ford Lightning models boast over 300 Miles Range except for the Ford Lightning Pro, which only has 240 miles range with a single charge.
Towing and Payload Ratings
The Extended Range battery pack allows the Ford Lightning to travel 300 miles before recharge. Ford claims a maximum towing capacity of 10,000 pounds when properly equipped. On the other hand, the GMC Hummer EV has a better driving range at 329 miles on a single charge but falls short in towing capacity at only 7,500 pounds.
If you're in the market for a work truck, the Ford F-150 Lightning is your best bet. The Ford Motor Company has stated that the pickup truck is an electric alternative to the standard F-150 and can be used for business or recreational purposes. However, the GMC Hummer EV is ideal if you rarely need to tow more than 7,500 pounds, as it can travel an additional 29 miles before needing a recharge.
Self-Driving Capabilities
The Hummer EV comes with Super Cruise, the first truly hands-free driver assistance technology for compatible roads, according to General Motors. Combined with Adaptive Cruise Control, which manages speed and braking while activated, Super Cruise makes it possible to drive completely hands-free. Using LiDAR mapping technology, GMC's Super Cruise-enabled vehicles can traverse more than 200,000 miles of compatible roads across the United States.
In contrast, The Ford Lightning is equipped with BlueCruise. Formerly known as Active Drive Assist, BlueCruise enables fully hands-free operation on over 130,000 miles of US roads that meet specific criteria, including designated sections of divided highways known as Hands-Free Blue Zones. When the vehicle is in a hands-free zone, BlueCruise illuminates the digital instrument cluster with blue lighting to let the driver know.
While Super Cruise and BlueCruise each have unique features, they both still have a long way to go before they can be considered fully autonomous driving solutions. However, BlueCruise provides a wide variety of cutting-edge driving safety technologies like lane-keeping and predictive speed assist. Super Cruise, on the other hand, has over 200,000 miles of tested self-driving compatible roads and promises to add another 200,000 miles soon. A Hummer EV is a good choice if you frequently travel long distances without stopping, but a Ford Lightning is a better option if you want to try out autonomous driving and all its cool features.
Ford Lightning vs. Hummer EV: Special Features
Both the Ford Lightning and the Hummer EV are fast, powerful electric cars. Nevertheless, there are distinguishing characteristics unique to each truck, as seen below.
Ford Lighting Special Features
There is just so much that drivers will appreciate about Ford Lighting. You can set up shop virtually anywhere thanks to the portable Pro Power Onboard station at your disposal. This station allows you to power up your tools and recharge your batteries. During severe weather, you may even be able to power your home with the truck's battery by converting it into a generator.
Balanced Weight Distribution
This all-electric F-150 also benefits from a weight distribution much closer to being balanced at 50/50. The Ford Lightning has a significantly lower center of gravity than the other gasoline-powered F-150s due to the massive battery pack underneath its floor. As a result, it should be able to handle rough terrains significantly better than its competitors.
With the Ford Lightning, you can drive safely through the night without worrying about insufficient lighting. The F-150 has a system of lights that surround the vehicle's perimeter, allowing you to keep on working well into the night.
The Hummer EV was not designed with a built-in spare tire carrier, even though it was intended to be used off-road. This could allow the Ford Lightning to surpass it in the near future in terms of its ability to travel off-road. Customers who purchase a Ford Lightning, which comes standard with a full-size spare tire mounted underneath it, are spared the inconvenience of waiting by the side of the road for a tow truck if they experience a flat tire.
Hummer EV Special Features
The CrabWalk is an all-new four-wheel steering system, giving the Hummer EV an advantage over the Ford F150. It enables you to turn all four wheels in the same direction at an angle of up to ten degrees. GMC claims that the truck's ability to travel diagonally, made possible by this technology, will enable it to overcome a range of challenges encountered while driving off-road.
The Hummer EV has over 16 cameras that provide real-time images of the area around and beneath the truck. Having this UltraVision can come in handy, especially when you are off-roading, and can prevent you from making fatal mistakes, especially in blind spot zones. In addition, the lens guards are interchangeable and are easily cleaned with the push of a button.
The Hummer has panels that can be removed from above the vehicle's front and back seats. GMC calls this feature the Infinity Roof. Moreover, the EV roof is constructed out of tinted glass so that the driver always has a clear view of the sky above. There is also a center bar that has the potential to add some support when the panel is mounted. However, it can also be removed. With its innovative Infinity Roof, the Hummer EV is the perfect truck for any adventurous off-roader.
Engines, Powertrain, and Performance
The Ford F-150 Lightning comes equipped with not one but two electric motors, as well as all-wheel drive. When using the battery with a standard range, the combined horsepower output of the motors is 452, but when using the battery with an extended range, the horsepower rises to 580. In either configuration, the maximum torque amounts to an astonishing 775 pound-feet which is quite impressive considering the truck's size and weight. Incredibly, the Ford Lightning can accelerate from 0-60 mph in about four seconds.
When it comes to powertrain, the electric Hummer has more to offer though, with a maximum output of 1000 horsepower. Due to its three electric motors, it can also go for about 329 kilometers on a single charge. This powerful pickup can hit 60 mph in only 3.3 seconds, thanks to the inclusion of the Watts to Freedom launch control mode.
EV Range and Battery Comparison
To provide power to the Ford 150's electric motors, Ford offers two different types of batteries: standard and extended range. According to Ford, the standard range battery will have a capacity of 98 kWh, and it will be able to power the vehicle for a distance of 230 miles. If a buyer has a little bit more money to spend, they can order an extended-range battery with a massive 131 kWh of usable capacity. This battery will provide 320 miles of range, assuming a 1,000-pound payload is in the truck's bed. There is a possibility that these EPA ratings will change depending on the payload in your trunk.
On the other hand, the GMC Hummer EV comes standard with a battery pack of 205 kilowatts. This gigantic battery weighs over 2,900 pounds on its own. The innovative technology that GM has developed for its Ultium battery packs makes it possible for the Hummer EV to have a driving range that is expected to be 329 miles per single charge.
When comparing the two vehicles, the Ford F-150 Lightning with the extended-range battery only has a 131 kWh battery capacity, while the Hummer has a 205 kWh battery capacity. This gives the Hummer a better value for money.
Charging Times
Ford intends to simplify the process of recharging an electric vehicle at home by including an 80-amp charging station as standard equipment. Customers can extend their range by 30 miles per hour with that configuration. In just ten minutes, you can gain an additional 54 miles of range if you happen to be at a public charging station with a fast charger with a capacity of 150 kW.
Thanks to the Hummer EV's architecture, which uses 800 volts, you can make use of the most powerful 350-kilowatt DC fast chargers, which can take in enough energy to power about 100 miles worth of travel in just 12 minutes. When using a charging speed of 175 kW on average, GMC estimates that it will take 42 minutes to fully charge the battery from 40% capacity, or about 1.5% per minute.
Exterior Colors
The exterior of the Hummer EV is available in eight unique color combinations. Choose between Afterburner Tintcoat and Deep Aurora Metallic if you want an orange or brown automobile. Both the Supernova Metallic and the Tide Metallic are available for individuals who want a more azure hue on their electric vehicles. Interstellar White and Void Black are the best for standard black and white car colors. You may opt to give your automobile a sleek metallic gray appearance with Meteorite Metallic or a sporty matte green with Moonshot Green Matte.
For the F150 EV, though, Ford will offer a more extensive selection of colors. Atlas Blue, Antimatter Blue, and Iced Blue Silver are all excellent options for those drawn to blue hues. Star White and Oxford White are fine choices for a standard white EV, while Agate Black is a good option for a standard black one. Carbonized Gray and Stone Gray will give your EV that unique color touch, while Rapid Red and Iconic Silver will make your vehicle stand out.
Warranty
The Hummer EV has a similar warranty to other General Motors vehicles. This warranty extends coverage on the EV for three years or 36,000 miles, whichever comes first. In addition to that, the Powertrain is covered under warranty for up to 36,000 miles or five years.
Similarly, the Ford Lightning is covered by Ford's basic warranty package. In addition to this, the battery components of the F-150 Lightning come with an extended coverage option of eight years or 100,000 miles. A warranty on the powertrain is also provided, and it lasts for five years or 60,000 miles.
Ford Lightning vs. Hummer EV: Which One Is Better? Which One Should You Choose?
Because both EVs are companies' first-ever attempts at the electric car market, we expect a better return for money in future models. However, even with this factored in, the starting price of $39,974 for the F-150 Lightning Pro is much more reasonable than the base price of $110,295 for the Hummer EV Edition 1.
Great work has been done on the Hummer EV, especially with the CrabWalk and Infinity Roof features, but its meager 7,500-pound towing capacity is a letdown. In contrast, the F-150 Lightning has done an even better job with its BlueCruise feature and Pro Power Onboard Station that can power up your home. As a true off-road truck, the F-150 Lightning has proven that it has all the amenities you will ever need when you are on the road. The F-150 Lightning is definitely the better choice of the two.
Up Next
The image featured at the top of this post is ©Mike Mareen/Shutterstock.com.