If you intend to go off-road but don't want to cope with maintenance costs and high gas prices, an electric pickup could be the right option. EV trucks are more efficient and perform better without the internal combustion engine, making this Hummer EV vs. Cybertruck comparison so intriguing.
More specifically, we're dealing with two new electric pickup trucks set to shake things up — the GMC Hummer EV and Tesla Cybertruck. While the Cybertruck boasts a sharp-edged profile and stainless steel construction, the Hummer takes the iconic Hummer H2 and updates it to an electric car. As for similarities, both trucks are top contenders offering a blend of power, performance, and high-tech features.
If you're considering buying one of these full electric pick-up trucks, you should be a little more informed about what each car offers before making your decision. In this Hummer EV vs. Cybertruck comparison, we will compare the similarities and differences between the two in terms of design, price, performance, features, and functionality. Without further ado, let's dive in.
Hummer EV vs. Cybertruck: Side-By-Side Comparison
| | Hummer EV | Cybertruck |
| --- | --- | --- |
| Manufacturer | GMC | Tesla, Inc. |
| Release date | 2021 | 2023 |
| Max towing | 7500-pounds | Between 7,500 and 14,000 pounds |
| Top speed | 98 mph | 120 mph |
| 0-60 mph | 2.9 seconds | 3.0 seconds |
| Charging | 350 kW | 250 kW |
| Range | Up to 350 miles | Up to 500 miles |
| Price | From $105,595 | From $39,900 |
| Autonomous driving | Super Cruise | Autopilot (optional Full Self Driving upgrade) |
| Design and technology | Design elements are infused with signature cues including distinctive front lighting, and a low-turret roof profile. It's also meant for both on- and off-road. | Developed to combine a sports car's performance with a truck's practicality. Built to be strong, adaptable, capable, and high-performing both on- and off-road. |
Hummer EV vs. Cybertruck: What's the Difference?
Below, we will break down some of the key elements that separate the two models in order to understand what makes each unique.
Configurations
When it comes to the number of trim levels available, the Hummer EV leads the way. While the Cybertruck comes with amazing features that Tesla has never built before, the Hummer EV offers significant mileage on a single charge, an infinity roof, and premium all-weather floor liners with carpet inserts.
The Hummer EV also has at least two electric motors compared to the Cybertruck, with only one motor on the rear axle. So, if you're looking for a long-distance model or a high-performance one, the Hummer EV is the best choice.
Exterior Design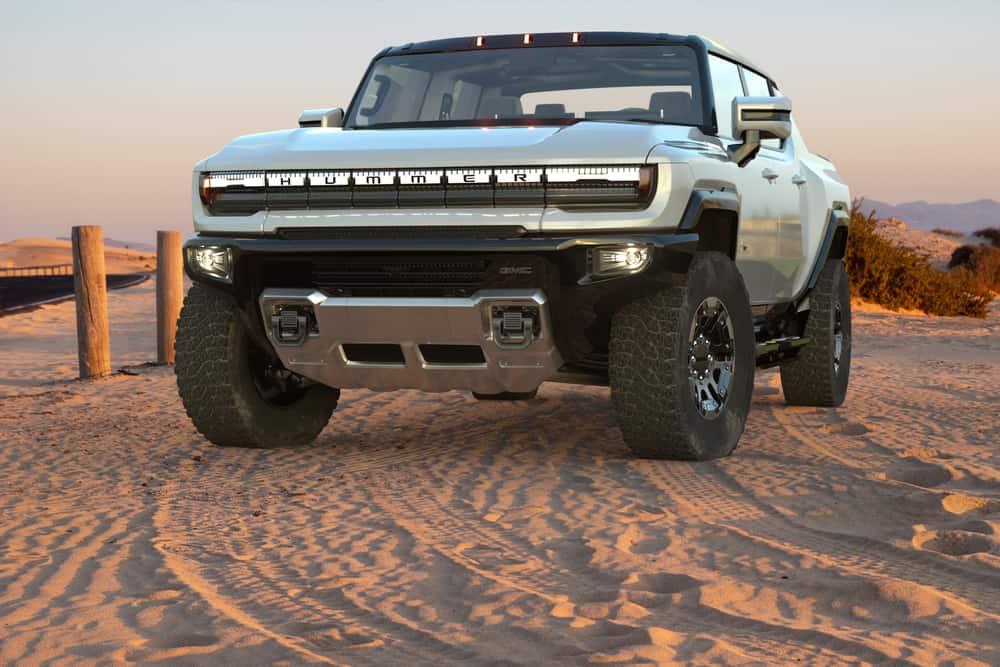 While the Hummer EV looks like a traditional pickup truck, the Cybertruck has a more distinctive exterior, with a stainless steel exoskeleton to protect it from road damage and corrosion.
The Hummer EV also has an open truck bed and 81.8 cubic feet of cargo space. By contrast, the Cybertruck has a tonneau cover and 100 cubic feet of cargo space. In addition to this, it boasts 35-inch tires and steel plates to ensure the battery pack is safe in off-road environments.
Performance
The Cybertruck offers up to 500 miles of range compared to the Hummer's 350 miles. Although the Cybertruck has the longest range, the Hummer EV's Ultrium battery pack offers more overall capacity at 210 kWh.
Interior Design and Features
On top of having enough space to comfortably fit up to 5 passengers, the Hummer EV has an additional functional back seat that you can fold to increase the rear cargo space. The interior includes a center-mounted 13.4″ diagonal color touchscreen, a 12.3″ diagonal color Driver Information Center display, and several controls within your reach.
Plus, you get to enjoy cargo tie-downs, an infinity roof, and a 110-volt power outlet. The Cybertruck, on the other hand, offers a spacious interior and additional storage that can fit up to 6 passengers.
Featuring a cutting-edge 17″ touchscreen with a customer interface, this car delivers standard features and interior options. Its dashboard also has a marble-esque surface with a striking square-shaped steering wheel. Just like other models from Tesla, the Cybertruck stays true to its nature with a simple interior design.
Dimensions and Exterior Colors
The Hummer EV measures 217″ L x 87″ W x 79″ H, while the Cybertruck's dimensions are 231.7″ L x 79.8″ W x 75″ H. What is interesting about the Cybertruck is that it doesn't offer any colors in the beginning due to its stainless-steel exoskeleton.
Contrary to this, the Hummer EV comes in 9 exterior colors including Stinger Yellow, Acid Green, Sauce Red, Sand Dune, Deep Forest Green, Strato Blue, Reef Blue, Spec Gray, and Stellar Black.
The Hummer EV truck has a 5 feet-long truck bed, in comparison to the Tesla Cybertruck's 6.5-foot-long one. In terms of the curb weight, the Hummer EV weighs roughly 9,063 pounds compared to the Cybertruck, the weight of which is still a mystery. However, it's expected to range between 6,000 and 10,000 pounds depending on the configuration.
Battery and Range
The Hummer's charging system can handle up to 350 kW speeds and add 100 miles of range in just 10 minutes, which is incredible. The only downside is that the 350 kW chargers are not very common.
In comparison, the Cybertruck starts off at 250 miles before jumping to 300 miles if you upgrade to a two-motor. Although it has a slower charging speed of 250 kW, it can still get you 80% in 44 minutes. Tesla also operates its Supercharger fast-charging network that makes recharging at top speed fairly simple.
Off-Road Capabilities
If you're looking for a powerful electric off-roader, both trucks fit the bill. The Hummer has a "Watts to Freedom" mode that can launch it from 0 to 60 miles per hour in three seconds. It's also characterized by CrabWalk mode that makes it move diagonally so you can move out of difficult terrain.
Unlike the Hummer EV, the Cybertruck isn't quite so versatile. It offers acceleration specs of 0 to 60 mph in 2.9 seconds, a 35-degree approach angle, and a 28-degree departure angle.
While the Hummer has up to 18 cameras, the Cybertruck is projected to come with at least 8. Otherwise, both of them are fitted with sensors and a system of cameras to help you avoid obstacles.
Engines and Powertrain
The Electric Hummer's terrain mode offers you the flexibility of using regenerative braking and a one-pedal system. As a result, you don't have to use both pedals while driving on off-road terrain. Since Tesla doesn't have these features, the Hummer EV is the clear winner.
As for the engine, the Hummer EV comes with 3 motors that produce 1,000 horsepower and 11,500 lb. ft. of torque, while the Cybertruck will feature either a single motor, dual motor, or tri-motor engine. While the estimated torque or horsepower ratings are yet to be known, there are rumors that it will come with a 4-motor engine.
Autonomous Driving
The Hummer EV has a Super Cruise system, which offers Level 2 autonomous driving technology. Although it still requires your attention, the car can handle limited steering and acceleration with ease. The Cybertruck boasts a Level 2 system that includes limited automated steering and autonomous cruise control.
On top of this, the Cybertruck FSD option has a beta version called "Navigate on Autopilot" that can help you guide the car on the highway. This means that the Cybertruck Tesla definitely has the edge over the Hummer EV here.
Price Comparison
In terms of pricing, the Tesla Cybertruck does have a lower starting MSRP of $39,900 for a single-motor, rear-wheel-drive model, $49,900 for Dual Motor AWD, and $69,900 for a Tri-Motor AWD. The Hummer EV truck will come with a starting price of $79,995 but is complete with more luxurious features and a cutting-edge exterior that provides all the things you are looking for.
Payload Ratings and Towing Capacity
The Hummer EV has a payload capacity of 1,300 pounds and a towing capacity of 7,500 pounds compared to Cybertruck with a large towing capacity of 14,000 pounds and a payload capacity of 3,500.
Advanced Safety Features & Equipment
Regarding safety, the safety of the Tesla Cybertruck is made of stainless steel, which may raise concerns. By contrast, the Hummer EV is recognized as very safe and reliable because of features such as Enhanced Emergency Braking, Forward Collision Alert, Lane Keep Assist, and Reverse Automatic Braking among others.
Hummer EV: Pros and Cons
| Pros | Cons |
| --- | --- |
| Four-wheel steering agility. | Limited towing and payload capacity. |
| Offers selectable driving modes. | It's not convenient and dependable. |
| Watts to Freedom gives you a selectable immersive driving experience. | Its price tag is a bit high. |
| The dual-stack battery propulsion system delivers an excellent range. | |
Cybertruck: Pros and Cons
| Pros | Cons |
| --- | --- |
| It comes with Single, Dual, and Tri-motor variants. | It doesn't have the same cargo space as a regular truck. |
| A high-capacity battery pack that can withstand heavy-duty use. | Due to its size, it can be tricky when trying to park in regular garages. |
| Has a longer range than other vehicles. | Questionable window durability. |
| The Cybertruck is a fully autonomous car, which means you can do anything while the car drives itself. | |
Hummer EV vs. Cybertruck: 9 Must-Know Facts
The Hummer EV is an electric truck with up to 1,000 horsepower, which uses three electric motors. It also offers an approximate range of 329 miles and features adjustable air suspension, removable roof panels, and a cool four-wheel-steering feature.
The Tesla Cybertruck is an all-electric truck with zero emission that can go up to 300 miles on a single charge. It also comes with a battery capacity of 100 kWh and can operate without running out of power.
The Cybertruck's body panels are made of cold-rolled stainless steel which is heavier than steel or aluminum, making it more challenging to work with.
Thanks to the Crabwalk Mode, the Hummer EV can drive diagonally by turning the wheels in the same direction. This comes in handy when driving off-road.
The Hummer EV has steel plates underneath to protect the battery from any rocks. It is also fitted with an Extract Mode which lifts it by about six inches, so it can travel on boulders.
The Hummer EV boasts an UltraVision system to help guide it over obstacles and make it easier to navigate challenging terrain.
The Cybertruck's design was influenced by two movies: The Spy Who Loved Me and Blade Runner.
To date, Tesla has received over 250,000 pre-orders for the Cybertruck without using any endorsements or paid advertising.
Like other Tesla vehicles, the cabin of the Cybertruck is extremely simple.
Hummer EV vs. Cybertruck: Which One Is Better? Which One Should You Choose?
While the Cybertruck seems to have an edge when it comes to important features, the Hummer EV is still the top contender. For instance, the Hummer EV has taken steps to ensure that the vehicle offers the highest safety level, delivering superior performance that beats the competition.
Alongside its design, it offers great battery life, as well as far more luxurious amenities and interior features. So which is better? Well in terms of actual truck work, both perform well. The Cybertruck may have a good range and better price, but its design may look strange to some people.
What is certain, though, is that these two electric trucks will find plenty of fans when finally launched. Ultimately, the winner of this Hummer EV vs. Cybertruck comparison will depend on your needs and preferences.
Up Next
The image featured at the top of this post is ©Marko Aliaksandr/Shutterstock.com.