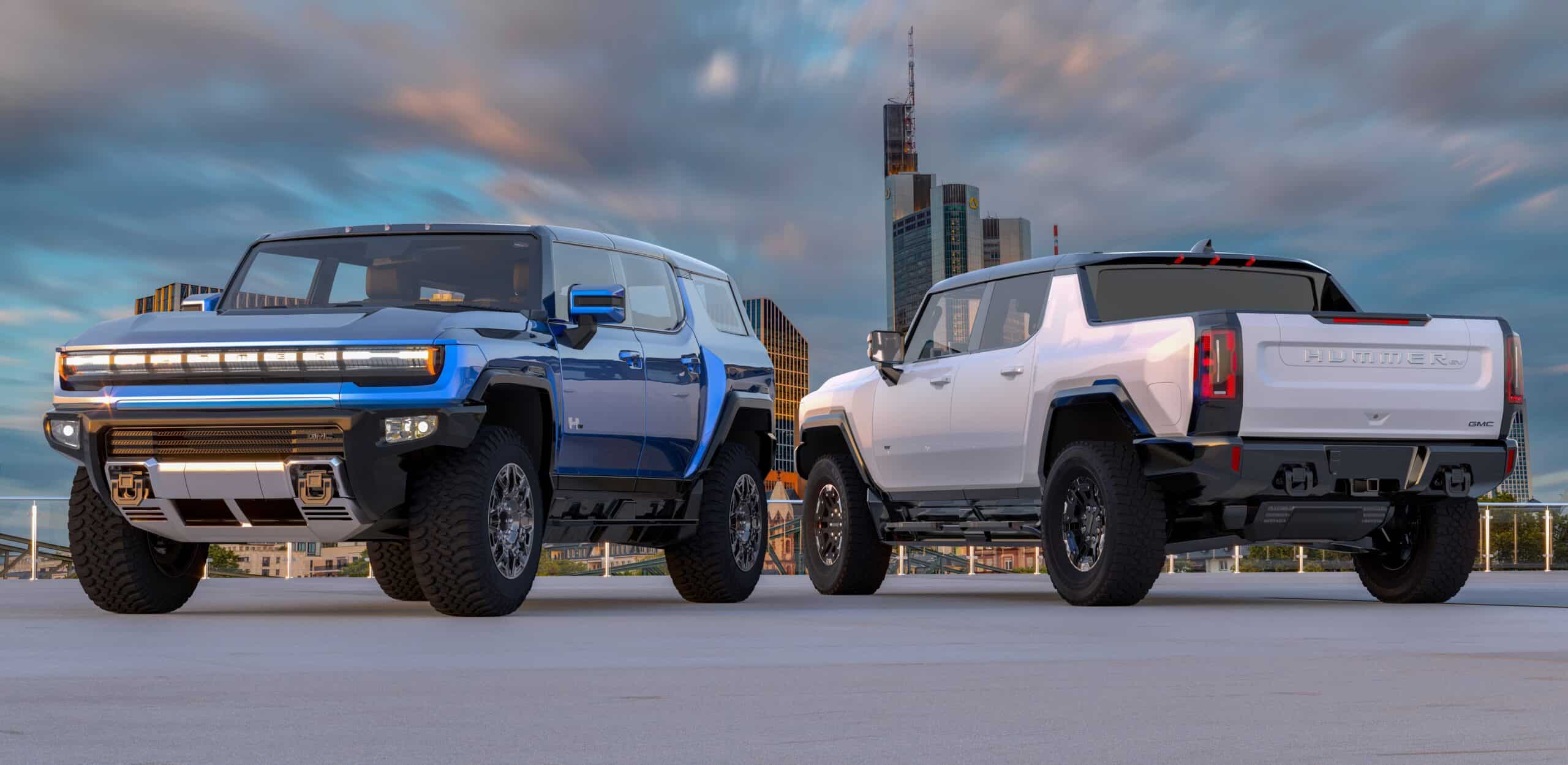 General Motors, GMC, had to shelve its bulky Hummer model in 2010, but it has brought it back with one difference: no tailpipe. The Hummer EV truck comes just as clunky as its predecessors but with a battery on its floor.
The launch of this massive truck has changed the discussion on the efficiency of EVs forever. It has brought into question the assumptions that electric vehicles are made the same, have zero emissions, and are all better for the planet than gas-powered options.
Here is an in-depth look into the good, the bad, and — possibly — the ugly about the Hummer EV Edition 1. But, first, the basics.
Hummer's History
Owning a Hummer became a big deal in the early 2000s, especially after Arnold Schwarzenegger acquired one. Based on the same platform as the military-grade Humvee model, the luxurious enormous pickup truck became a signature of wealth, power, and position.
However, what was its unique selling point also contributed to its downfall. The Hummer was not only heavy but also powerful. Global warming experts could not hide their concerns over Hummer's wasteful consumption.
On the pretext of preserving the planet, vandals quickly started defacing and destroying Hummers in parking lots, and even in dealerships. In 2010, GMC discontinued the production of the truck.
Just over a decade later, General Motors brought the Hummer back as an EV instead of the infamous gas-thirsty option. It also has several impressive features, which are almost the best in the current EV trucks market. They include the following:
Next-level Powertrain
Powering the Hummer EV is GM's Ultium system. It comprises a scalable quick-charging modular lithium-ion battery pack that can suit vehicles of all sizes. The double-layered 24-module battery can deliver 212 kWh of power and a punchy 11,500 pounds of torque.
Surprising Speed
For a 9,000-pound truck, a 0-60 mph sprint time of 3.5 seconds is unbelievably quick. It also maxes out at 109 mph, which is almost too fast for a vehicle of its size.
Impressive Off-Road Performance
The Hummer EV remains true to its roots, both with its familiar yet modern aggressive looks and offroad performance. It comes with increased maneuverability, easily adjusted torque, excellent steering response, and one-pedal driving.
Good Displays
The Hummer EV truck has some of the best screens in modern EVs: a 13.4-inch infotainment screen and a 12.3-inch reconfigurable driver's screen.
Spacious Interior
The Hummer EV has plenty of legroom and headroom in the front and rear seats, which are also big and well-bolstered for comfortable, all-day off-road riding.
The Issues with the Hummer EV Truck
Despite its admirable features, the Hummer still raises questions about whether EVs are automatically efficient. It has also attracted attention to issues that had previously received little consideration in discussions on the future of cars.
The Size
The first issue with the Hummer EV is its weight. It is a massive 9,000-pound pickup truck, equal to three Honda Civics, two Toyota Tacomas, or the fuel-powered F-150 plus 4,000 lbs. In fact, the Hummer EV is so heavy that it is not allowed on the Brooklyn Bridge.
According to the Union of Concerned Scientists, even though EVs are generally cleaner than gas-powered alternatives, larger and heavier models lead to more global warming. This automatically brings into question the environmental friendliness of the Hummer EV truck.
The Battery's Weight
The most striking feature of the Hummer EV is its massive battery pack, which weighs 2,293 lbs. It is heavier than that of most cars, including the Ford Fiesta, Honda Civic, and even Subaru BRZ. The materials used in building the battery of the Hummer EV are enough to power three Chevrolet Bolts.
Upstream Emissions
All EVs are rated as zero-emissions cars. However, this is misleading as only the carbon emissions on the road are considered. This statement also assumes that all-electric vehicles have the same efficiency, which is not true.
For example, Tesla's Model 3 sedan has an energy consumption rating of 132 miles per gallon equivalent (MPGe), which is three times better than the 47 MPGe delivered by the Hummer EV. (Since the Hummer weighs more than 8,500 lbs., GM is not required to display its MPGe on the sticker window.)
The F-150 Lightning, a direct rival of the Hummer EV, is also more efficient than the GMC outfit as it delivers 70 MPGe. The effect of such high energy consumption is not evident on the road but is significant upstream.
Increased Pollution
A car that needs more electricity per mile will lead to increased pollution, as most electricity is from oil, coal, and natural gas. The US, for example, powers over 61% of its grid from these sources.
Therefore, even though an EV does not have tailpipe emissions, it is still causing the emission of greenhouse gasses to some degree. Comparing the upstream emissions of the Hummer EV reveals another side of large and heavy EVs, which most policymakers and EV proponents do not consider.
Its upstream emission is 341 grams of carbon dioxide per mile, which is impressive considering that it is less than half of the original Hummer H1's 889 grams per mile. However, this is far from the average 90 grams per mile emitted by EV sedans.
Therefore, the behemoth Hummer EV is still polluting more than its EV counterparts, just as its predecessors were a decade ago. With its $110K plus price tag, you can get two or even three more efficient EVs.
Embodied Emissions
The environmental impact of electric vehicles goes beyond electricity consumption per mile. The emissions of greenhouse gasses at different car manufacturing stages are called embodied emissions. A zero-rated emission car can have high embodied emissions depending on the type and quantity of materials used in its manufacture.
The battery is the primary source of embodied emissions as the minerals used in the batteries are mined, processed, and then made into batteries. Two factors that increase the battery size and embodied emissions in the process are the pursuit of high driving ranges and large vehicle sizes. Hummer EV truck is guilty of both.
Despite being a behemoth of a truck, the Hummer EV also seeks to deliver 300+ miles on a full charge, just like the Tesla Model Y, which weighs almost half its weight. As a result, it uses a lot of minerals in the making of the battery.
Human Rights Concerns
Essential minerals for battery manufacture are cobalt and lithium. There is a well-documented exposé about the human rights abuses from mining these two in the US and worldwide. Lithium mining and processing, for example, is land, energy, and water-intensive. In Tibet and Argentina, lithium mining contaminated the local water supply.
Cobalt mining is also alleged to be predisposed to the use of child labor, forced labor, and other exploitative practices. Therefore, the Hummer EV goes against the driving force behind the use of EVs, which is to have more responsible and just ways of using energy.
Other Emissions 
Besides embodied emissions, non-exhaust emissions such as road wear, tire wear, and road dust resuspension increase as the size of an EV increases. Emissions from these sources can be significantly higher for EVs than their traditional counterparts. They increase exponentially when the vehicle weighs a whopping 9,000 lbs., is faster than necessary, and has a long range.
A Wake-Up Call for Policymakers
The launch of the Hummer EV Edition 1 brought to light what most policymakers have often forgotten: the efficiency of EVs. Generally, policymakers have required gas-powered cars to have specific efficiency standards and, in some countries, taxed cars that crossed some limits. This has never been done for EVs. However, it is about to change.
As climate change enthusiasts raise their voices against the overspecialized, oversized, and probably overpowered Hummer EV truck, politicians and legislatures have come to understand the importance of efficiency in EVs. Initially, all EVs received a green light from the lawmakers, but now it is clear that EVs are not the same and that vehicle regulation should reflect this understanding.
Finding ways to make smaller but more efficient batteries is one of the critical issues that lawmakers and industry players need to focus on. EPA should also include upstream and embodied emissions in the fuel-efficiency standards.
Currently, regulators only measure carbon dioxide emissions from gasoline-using vehicles and mark EVs as non-emitters. However, one Hummer EV truck pollutes the environment more than a modestly-sized conventional car.
Wrap Up
Hummer lovers certainly loved the reintroduction of the colossal truck. Especially with its modernized looks that feature prominent skid plates, massive off-road tires, and fender flares. The Hummer EV also does not disappoint when it comes to luxury features, styling, comfort, and performance.
However, when it comes to energy efficiency, it is probably the highest-polluting EV vehicle. It would be better for the planet if we bought smaller and cheaper EVs instead of this GMC model.