Apple TV has made quite a splash since its debut. While it's available to stream across a wide variety of devices, the Android platform can prove challenging. If you want to watch Apple TV on Android, there are several ways you can go about things. You might be surprised by how restrictive some methods are, however, once you venture outside Apple's ecosystem.
Where Can I Watch Apple TV?
Apple TV was a little late to the streaming party. Initially, it was only available for Apple-branded devices and the web, but more platforms rolled out soon after. That means you can watch Apple's service through smart TVs and streaming boxes, along with consoles and mobile devices.
If you own a Samsung or Vizio TV, you can watch Apple TV through the company's TV app. It's also available on TVs from Sony, LG, Roku, and Amazon — even those that run an Android-based OS. You can download the app on consoles from Sony and Microsoft, although you won't find it on the Nintendo Switch.
Streaming sticks and set-top boxes from Roku, Amazon, and other manufacturers provide access to the Apple TV app. There is an Apple TV app available from Google Play, but functionality is incredibly limited. It's not available for your average device, and it's also not been very well-received as you can see by the ratings.
If you want to watch Apple TV on an Android smartphone, you're out of luck with the app. The only way to do this is by following these steps. You'll also need an active account with Apple along with a subscription to Apple TV. If you need to create an account with Apple, skip ahead to the end of our guide.
How to Watch Apple TV on Android Phones and Tablets
To watch Apple TV on an Android smartphone or slate, you'll need to use a web browser. While not ideal, it works, and there are a few ways you can get that content to the big screen as well.
1. The Apple TV Website
Open a web browser, make sure you have a steady connection, and go to the official site of Apple TV.
2. Sign In
Click on the Sign In prompt on the right side of the screen. Enter your Apple ID and password into the corresponding fields to proceed and enter your 2FA code on the next screen. If you plan to use Apple TV on this device frequently, you can set it to "trust" the browser from here.
3. Begin Watching Apple TV
Now that you have full access to the service, choose a title and click play to begin watching it on your Android smartphone or tablet. The 3-dot menu provides a few options related to your watch list, and you can tap to bring up a few more options during playback.
You can control the volume, turn on subtitles or enter full-screen mode, but there's no cast option. If you want to send that content to a larger screen, we have you covered.
How to Cast Apple TV
The process for this will vary depending on your phone's built-in features. We're using a Samsung Galaxy Ultra, which makes this simple, but most phones have a casting function.
With Samsung phones, once you have content playing through Apple TV pause it. Pull down the notification bar and tap on Smart View. If you have a TV or external display synced to the same network, you can link to it from here.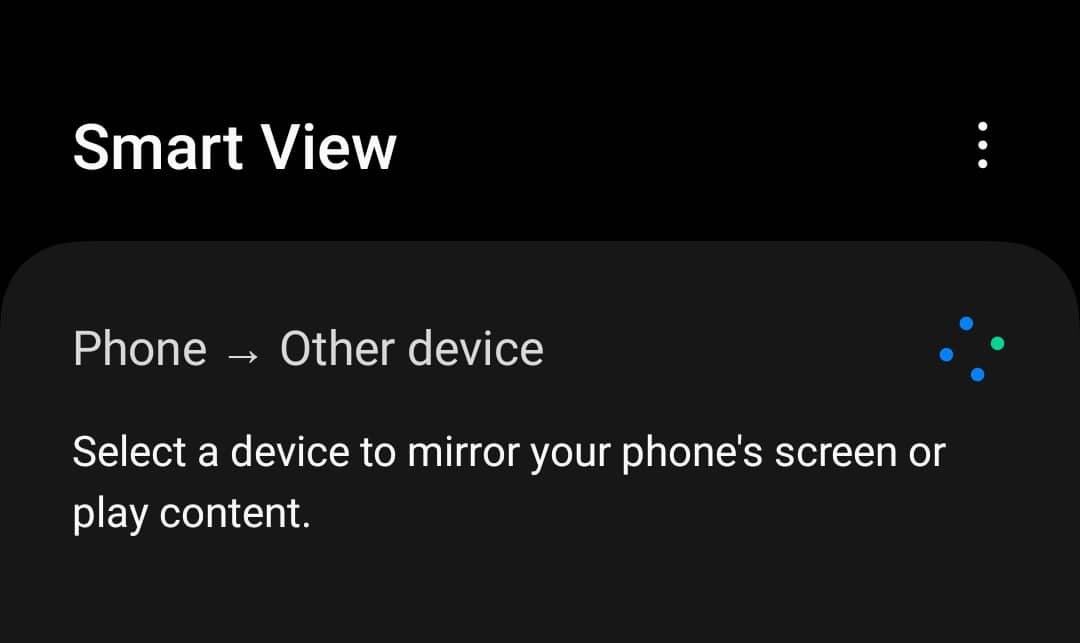 You can read more about that process in our guide on connecting Samsung phones to TVs, which has some other useful streaming tips.
How to Create an Apple ID
We'll keep this short and sweet like the process of creating an Apple account itself. You can download iTunes from the Windows App Store or use the company's official site for Apple IDs. We prefer this method unless you plan to import music for use through iTunes.
Go to Apple ID and click on Create Your Apple ID at the top right of the screen. Enter your real name, country, and birthday before picking out a strong password. Choose whether you want to receive emails from Apple and then proceed through the prompts to finalize the creation of your account.  
The Wrap-Up
Apple TV may provide its users with a wealth of entertainment value, although they don't make its service easy to use on Android phones or tablets. Watching content through a web browser is far from ideal, but it's the best solution at the moment until Google and Apple decide to get along.