Although iMessage can be a great way to communicate with other Apple users, sometimes it may be necessary to turn it off. When switching phones, you will need to turn off iMessage on your iPhone before removing your SIM card to prevent messages from going to your old phone.
If you suspect iMessage is draining your battery or using too much data, you might want to turn it off to see if that solves your issue. Follow these three easy steps to learn how to turn off iMessage on your iPhone. Let's get started!
Step 1: Open Your Settings
The first step is to open your settings on your iPhone.
Step 2: Scroll Down and Tap on Messages
Next, scroll down the list and tap on the green and white Messages icon.
Step 3: Toggle the iMessage Switch to Off
Finally, toggle the iMessage switch to grey to turn it off. Turning off iMessage on your iPhone will turn off iMessage on any device where you use the same Apple ID. Note that with iMessage turned off, you will only be able to send and receive regular SMS and MMS messages through your cellular carrier.
If you want to re-enable iMessage, toggle the switch back to the on position and wait for activation to complete. Then you can select the phone numbers and addresses to send and receive iMessages if needed.
Turn Off Messages in iCloud on iPhone
If you turn off iMessage, Messages in iCloud will continue to back up SMS messages and attachments until you disable it. Follow these steps to turn off Messages in iCloud on your phone.
Step 1: Open Your Settings
To open your settings, tap on the grey gear icon as shown in Step 1 above.
Step 2: Tap On Your Name
Tap on your name at the top of the screen to access your Apple account features.
Step 3: Open iCloud Settings
Under your Apple ID settings, tap on iCloud to open the next group of settings.
Step 4: Tap Show All
Scroll to the "Apps Using iCloud" section and tap "Show All" to view all of the apps currently backed up to iCloud.
Step 5: Tap Messages
Tap Messages to manage how you want the app to interact with iCloud.
Step 6: Turn Off Syncing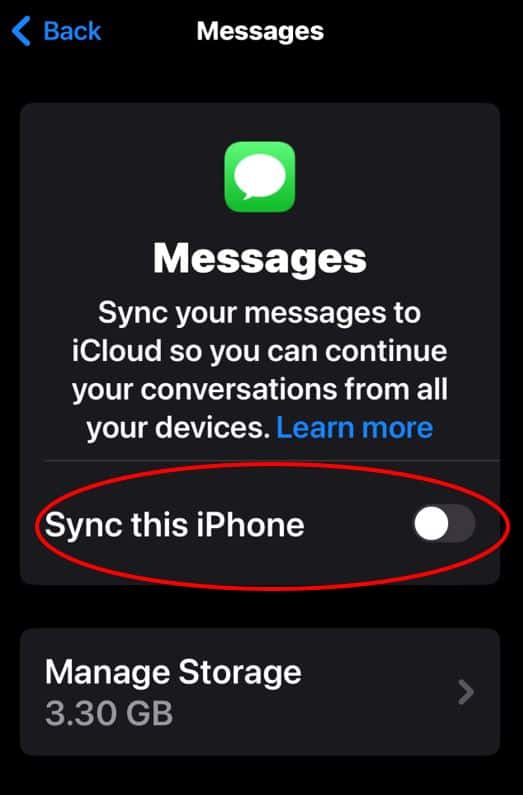 Toggle the switch to stop syncing messages on this phone to iCloud.
Recover iCloud Storage
If you've turned off iMessage and Messages in iCloud on your phone, you can get back some of that iCloud storage space. Under "Sync this iPhone" from Step 6, tap on "Manage Storage."
Then, tap "Disable and Delete" to disable Messages in iCloud for all devices and delete your message data. Note that once disabled and deleted, you only have 30 days to download your messages before they're deleted for good.
Deregister iMessage on iPhone
If you're planning to switch to a different brand of phone, you should deregister iMessage on your iPhone first. To deregister iMessage on your phone:
Open your settings.
Tap Messages.
Toggle the switch to turn off iMessage.
Return to Settings.
Tap FaceTime.
Toggle the switch to turn off FaceTime.
This process will completely deregister your phone number from iMessage services.
iMessage Is off But You're Not Getting SMS Messages
If you have turned off iMessage but you're still not receiving messages, there are a few things you can do to try to resolve the problem. Sometimes it can take a few hours before Apple's servers recognize your number has turned off iMessage services.
Once recognized, you will begin to receive regular SMS and MMS messages instead of iMessages. If it has been a few hours with no messages, give these solutions a shot.
1. Check Your Connectivity
Make sure your phone is connected to your Wifi or cellular network and that Airplane Mode is turned off. You can check your connectivity by going to Settings. Reconnect if necessary, then follow Steps 1-3 to turn off iMessage.
2. Restart Your Device
If you have connectivity, try restarting your phone. When your phone reboots, repeat Steps 1-3 to make sure iMessage is turned off.
3. Turn Off FaceTime
Open your settings and tap on General. Scroll down and tap on FaceTime. Toggle the switch to turn off FaceTime, then restart your phone.
4. Update the Software
Check to see that your phone's software is up-to-date. Open your settings and tap on General. Next, tap Software Update to see if there are updates available. Download and install the updates, then when your phone reboots, try to turn off iMessage again.
5. Check Your Text Messaging Plan
In order to receive regular SMS and MMS messages on an iPhone, you will need to make sure you have text messaging included in your cellular plan. If you are not receiving messages, contact your provider for information about your plan.
6. Double-Check iMessage Settings on Your iOS Device
If you've switched from iOS to Android, iMessages won't be delivered to your new phone as text messages by default. To ensure you're not missing messages, put the SIM card back in your old iOS device, then double-check that you've turned off and deregistered iMessage. Once your number has been identified as deregistered, you should begin receiving messages from iMessage users on your new phone.