iPhones use a native Apple iOS system and not Android. So, if you want to switch from an Android smartphone to an iPhone, you probably want to transfer your data. Wondering how to switch from Android to iPhone without losing data? Stick around for a moment. Below, we will walk you through the steps. Ultimately, you'll know exactly how to do it and enjoy your iPhone in no time. So read on!
How to Switch from Android to iPhone in 7 Easy Steps
Switching from Android to iPhone is pretty simple. Thanks to the built-in tools in both Android and iPhone smartphones, you can make the switch. Your files will be transferred before you finish setting up your iPhone. Here's how!
#1 – Turn on Your iPhone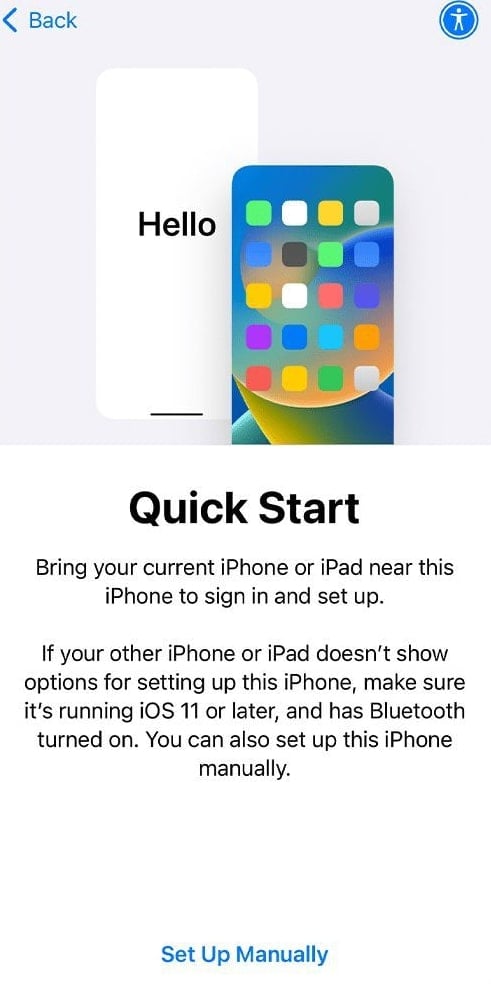 The first step is to turn on your iPhone and possibly plug in the charger (this is recommended if your iPhone has less than 30% battery). You should see the Quick Start Setup screen on your iPhone.
#2 – Select Move Data from Android
The iPhone has an option called Quick Start. It lets you keep your older iPhone near your new one and start the automatic transfer. But since you're transferring your data from Android to iPhone, click "Set up manually."
You'll get a list of options to complete the transfer of apps and data. Select "Transfer data from Android " from the list.
#3 – Install and Open Move to iOS App
Now that the iPhone is ready to receive apps and data from an Android device, it's time to set up the Android device.
So, go ahead and download the Move to iOS app from Google PlayStore. Once you install the app, open it. You will see a similar setup menu on your iPhone screen.
#4 – Verify the Process with the Code
If you install and open the Move to iOS app on an Android smartphone, you can see a list of Android phones on your iPhone.
In the list of devices available for transfer, find your Android device and select it. To start transferring data and apps, you need to confirm the process with the code. The code will appear on the iPhone device. Enter the code into your Android device to confirm the operation.
#5 – Connect to a WiFi Network
Ensure your Android and iPhone devices are connected to the same WiFi network. This is crucial as the moving process creates a temporarily closed WiFi network. Both phones will use it to transfer the files. This allows for a faster file transfer than, say, Bluetooth. Before starting the transfer, select the items or files you want to transfer.
#6 – Content Selection
Next, choose the apps and data that you want to transfer (or not). So you don't have to move the whole Android phone. Just pick what's necessary to transfer.
After selecting the content you want to move, the transfer process will begin, and you'll see a loading bar on both devices. Both devices must be juiced up or connected to a charger, as the process may take a while. You're one step closer to completing the switch from Android to iPhone!
#7 – Finish Setting Up Your iPhone
After all the data and app transfer is complete, you can use your Android device. But you'll need to finish setting up your iPhone before using it. You'll see the standard setup process for an iOS device. You can choose your settings and how you want to use your iPhone.
If you're considering making the switch from Android to iPhone, this informative video has you covered! Learn the step-by-step process of seamlessly transitioning your data, apps, and settings to your new iPhone. Discover how to make the switch effortlessly and start enjoying the iOS experience in no time.
Things to Know About the Transfer (Android to iOS)
While iOS and Android devices allow you to transfer data and apps, you need to know a few things before you switch from Android to iPhone.
The first and most important thing is your iPhone's storage space. You should have more or the same amount of storage as you have on your Android smartphone. Otherwise, you won't be able to transfer all your data and apps if you lack the storage space on your iPhone.
If you want to transfer Chrome bookmarks, we recommend you check if Chrome on your Android smartphone is up to date. Chrome isn't up to date? You'll not be able to transfer the bookmarks.
A good Internet connection is also essential. So, ensure the Internet is stable. Otherwise, you'll receive a notification about the weak connection.
It's difficult to estimate how long the transfer process will take. The duration will depend on the amount of data you're transferring from your Android device. However, the iPhone can give a fairly accurate estimate. Check below the charging bar to see the progress.
Last but not least, it's important to know that you can't transfer everything from your Android device. Yes, the transfer process can handle apps and data. However, you can't share books, music, and PDFs. Once you finish setting up your iPhone, you can transfer these manually.
Don't Have Space on Your iPhone for Transfer to Complete?
If you miscalculated the storage space difference between your Android and iPhone devices, your transfer process may be interrupted by a lack of storage space on your iPhone device. In this case, some files won't be transferred completely and won't work. If this happens, you should wipe your iPhone and start afresh. This time, you should choose the content carefully in step number six.
Even if you don't see some apps after the transfer, you should search for them in the AppStore and download them. Once you install the apps, they should work properly with the data transferred from your Android device. So you shouldn't lose any data.
Conclusion
Switching from Android to iPhone is a simple, 7-step process. Before you start the transfer, make sure you have fully charged phones, stable Internet, and sufficient storage. Besides, you should keep in mind that it's always easier to transfer data and apps from iPhone to iPhone.
It's possible to transfer data and apps from Android to iPhone, and all you need is an app on your Android device. You can download the app by scanning the QR code on your iPhone after selecting the Transfer to Android setting.
The image featured at the top of this post is ©H_Ko/Shutterstock.com.