Have you begun sharing your location with a contact through iMessage and decided you'd rather stop? We're happy that Apple lets us share our location with friends and family through iMessage. It can make it easier for them to find us before a meet-up or track our phone if it's lost. But sometimes, privacy is a good thing.
In the following sections, we'll show you how to stop sharing your location in iMessage without notifying your contacts. We'll also run through a few other ways to ensure your location is secure and your contacts can't track your whereabouts.
What is iMessage Location Sharing?
Apple's iMessage is a feature-rich messaging service that lets Apple users communicate more effectively. iMessage's location-sharing feature is exactly that — it lets you share your phone's location with ease. You can choose which contacts you trust and disable those you don't.
You can send or share your location with anyone in your iPhone's contacts. Even Android users can see your location. The iMessage location-sharing feature works with Apple's Find My service to quickly and accurately send the GPS coordinates of your iPhone, iPad, or Mac.
How to Stop Sharing Your Location Without Notifying Them on iMessage
If you decide you don't want to share your location in iMessage with a contact anymore, you'll be happy to know that Apple won't alert the other person. You can follow the steps below to stop sharing your location quietly.
It's important to remember that there's no way to keep the other person from finding out. For example, if the other user attempts to check your location, they won't see it. This means they'll know you turned off your location sharing.
Step 1: Open the Chat
First, let's go to your messages. Open the iMessage app on your iPhone or iPad.
Helpful hint: If you don't see the Messages app on your device's home screen, swipe all the way to the right until you see the App Library. Then, type and search for Messages.
Step 2: Tap on Their Contact
After opening the message thread with the person you'd like to stop sharing your location with, tap on their contact at the top of the chat window.
Step 3: Stop Sharing Your Location
Scroll down the page and tap Stop Sharing My Location.
Now, the other person can't see your location on iMessage anymore. Of course, they won't receive a notification that you stopped sharing your location, but they will know you stopped when they check your location and don't see it.
How to Stop Sharing iMessage Location on a Mac
If you aren't near your iPhone or want to use your Mac instead, you can stop sharing your location on iMessage. The only thing you need to do is open the messaging app on your Mac and follow the below steps.
Step 1: Tap the i Icon
Open the message thread and tap the i icon in the upper right corner. Note: the i has a circle around it.
Helpful hint: The i symbol on your Mac and iOS device often represents a menu that gives you more information about the contact or lets you make changes. Tapping the i in an iMessage chat lets you send your current location.
Step 2: Stop Sharing Your Location in iMessage
Similar to the instructions for iOS mobile devices, you can click the Stop Sharing My Location option that appears in the dropdown menu.
Helpful hint: You don't need to turn this option off for all your Apple devices. If you stop sharing your location on your Mac, you'll also stop sharing your location on your iPhone and iPad.
How to Share Your Temporary Location on iMessage
If you're easily distracted, like so many of us, and someone requests your location, you can set a duration. Setting a time limit means you only share the location for a short time, and you don't have to worry about returning to turn it off. Here's what to do.
Step 1: Open the Conversation
Head to your messaging app just like we did above. Then, open the iMessage conversation with the contact you'd like to share your location with temporarily.
Step 2: Tap on the Contact
At the top of the page, tap the contact's profile image.
Step 3: Tap Share Location
Tap Share Location like you would any other time.
Step 4: Choose the Duration
If you only want to share your location temporarily, tap Share for One Hour or Share until End of Day.
The contact can now see your location in iMessage. But, you won't have to go back to their iMessage profile and turn it off. When the duration is up, the location-sharing feature automatically disables.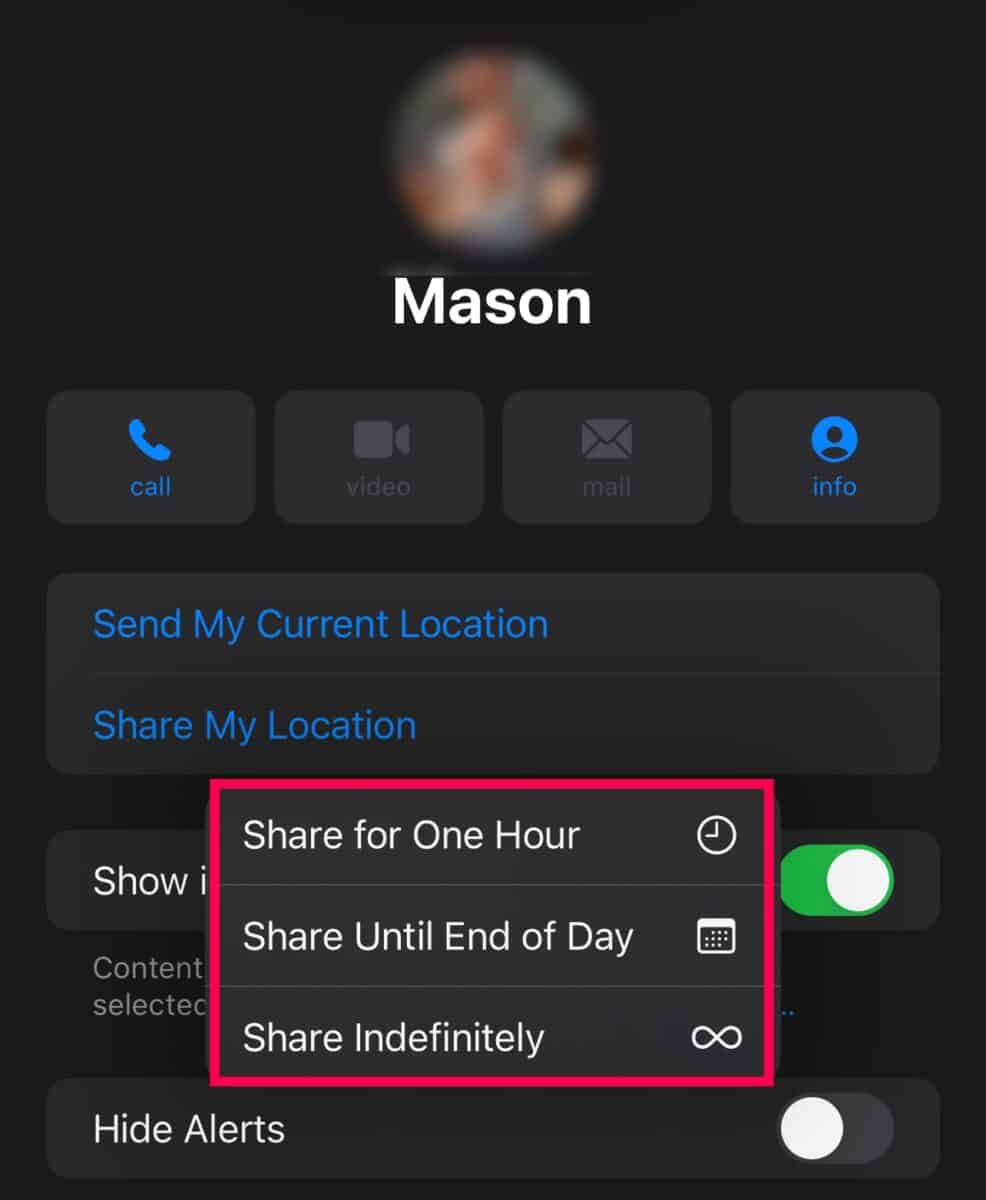 How to Send Your Current Location on iMessage
Maybe you only want to share your current location. If someone is meeting you somewhere, it's better to send your current location rather than sharing it indefinitely. You won't need to turn off location sharing or tweak the settings.
Follow these steps to send a one-time location ping to another user.
Step 1: Open the Conversation
Open the conversation in the Messages app just as we did above.
Step 2: Tap on the Contact
Tap the contact's profile picture at the top of the message window.
Step 3: Tap Send Current Location
Tap Send Current Location.
Your exact location with your GPS coordinates arrives via text to your contact. But they can't follow or track your future locations if you choose this location-sharing method in iMessage. You can also send your current location to Androids via SMS.
No More Location Sharing
Apple's iMessage location-sharing feature is great because it makes sending your current GPS coordinates a breeze. The feature uses your iCloud location function to let others you choose see your location in the Messages app.
Of course, when you no longer want another person seeing your location in their iMessages, you can revoke that permission quickly and quietly. Just take a minute to follow the steps above!