You can do so much with an Apple Watch that most users are still learning new things about their device. One of our favorite things about the Apple Watch is that you can see incoming calls, texts, and other notifications without having to pull your phone out of your pocket.
With all the amazing things the Apple Watch can do, sometimes you just want it to be seen and not heard. There can be many situations where you want to put your Watch on silent, such as in meetings, at the movies, when you are sleeping, or even if you just get tired of the noise and interruptions.
Luckily, there is more than one way to do it, and today's article will show you a few ways. Let's get started!
How to Silence Your Apple Watch
Even though the Apple Watch can have its volume turned down, there may be times when it needs to be put into silent mode entirely. Using the Control Center on an Apple Watch to turn off notifications is the fastest and most convenient way to do this.
To get to the Apple Watch Control Center, you must first unlock the smartwatch.
Then, swipe your finger up from the bottom of the screen.
Next, scroll down and tap the icon that looks like a bell on the left.
This will turn on your Apple Watch's silent mode, which will mute any sounds the device might make, like those for incoming calls, messages, or other app-related updates.
Even so, even when silent mode is enabled, the Watch will still vibrate with new notifications. So, how do you get there? Let's break it down step-by-step.
Step 1: Go to Control Center
Swipe up from the bottom of the Watch face to get to the Control Center.
Step 2: Turn on Silent Mode
Click on the bell icon in the bottom left corner to turn on Silent Mode.
Step 3: Silent Icon Lighting Up
When this function is switched on, you will see the icon light up, and the bell will have a line through it.
Step 4: Haptic Notifications
Even when Silent Mode is on, you will still feel taps on your wrist for haptic notifications, and haptic alarms or timers will still go off even when the Apple Watch is charging.
Step 5: Go to Sounds & Haptics
Go to Sounds & Haptics in the Settings app on your Apple Watch or the Watch app on your iPhone.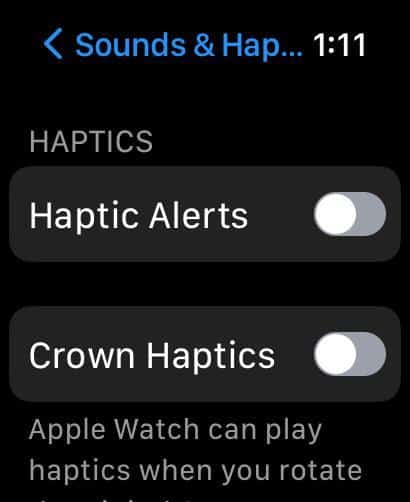 Step 6: Turn Off Haptic Notifications
Slide the Haptic Alerts switch to off to turn off haptic notifications.
We recommend this helpful video from WorldofTech on YouTube which outlines how to silence and change the volume of in your Apple Watch.
How to Turn Off Alerts on Apple Watch From Your iPhone
Cover to Mute is a new setting that you can find in the option of Sounds & Haptics section of the iPhone's settings. This is helpful when you need to mute your Watch right away.
If your Watch is set to Cover to Mute and starts to ring, you can stop the sound if you try to cover it with your hand for a few seconds.
If you forget to set your device on Silent Mode before going to a conference or gathering, this feature could be very helpful. Quickly you can mute your Apple Watch by going to the Control Center.
Follow these steps below to quickly turn on Silent Mode on your Apple Watch.
Step 1: Go to Control Center
Swipe up from the bottom of the Watch face to get to the Control Center.
Step 2: Tap on the Bell Icon
Click on the bell icon.
Step 3: Silent Mode is On
As soon as Silent Mode is turned on, the bell will turn red, with a slash sign over it to show that it is on.
Step 4: Check Haptic Alerts
If the option to get haptic alerts on your wrist is turned on, your wrist will also vibrate.
The Apple Watch has a panel of controls. In addition to the Silent Mode, your Apple Watch has two other modes that can turn off notification sounds.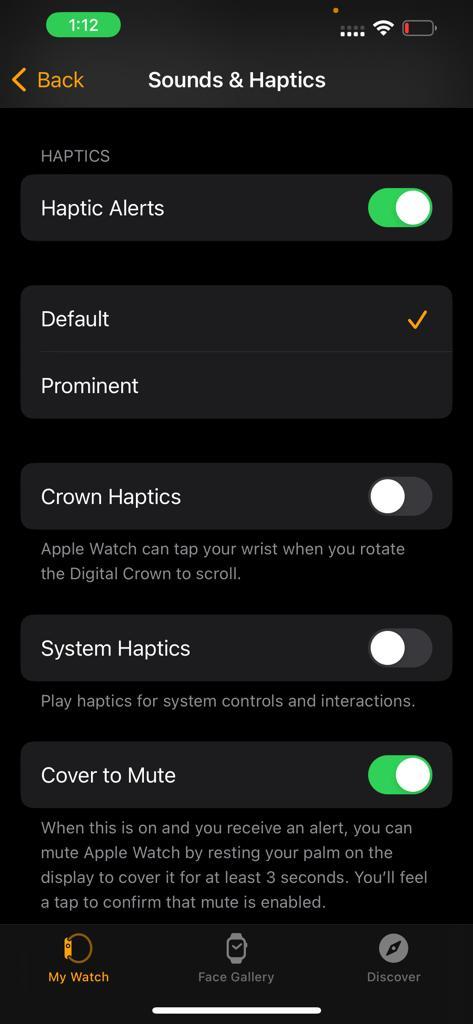 Do Not Disturb Mode on Apple Watch
You can also use the Do Not Disturb setting on your Watch when you don't want it to make any noises or vibrations, like when you are in a meeting. Follow these steps to turn on Do Not Disturb.
Step 1: Go to Control Center
Start at the bottom of the screen on your Apple Watch and swipe up.
Step 2: Scroll Down to Find Do Not Disturb
Keep going down the page until you see the moon icon at the bottom, which is Do Not Disturb.
Step 3. Turn On Do Not Disturb
Tap the Do Not Disturb button and choose the amount of time you want Do Not Disturb to be on. You can choose any of the following options.
When you turn on Do Not Disturb mode, the gray moon icon will change to blue/purple. This means that incoming calls or notifications will not bother you.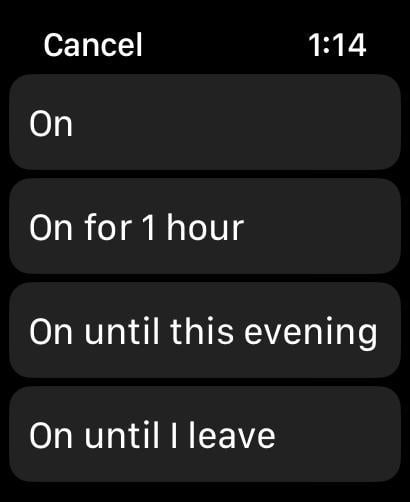 Theater Mode on Apple Watch
You can also turn off alerts by using a mode called Theater Mode.
This mode is great for going to the movies or other places where you don't want your Apple Watch to make any noise or light up.
In this mode, not only will you not get any notifications, but your Watch screen will also not wake up when you raise your wrist.
To turn on the Theater Mode, you only need to follow the two simple steps below!
Step 1: Go to Control Center
Swipe up on the screen of your Apple Watch once it's unlocked.
Step 2. Tap on the Two Masks Icon
Click on the icon that looks like two masks.
Even if Theater Mode is turned on for your device, you will still feel notifications.
When the screen is in this mode, you can easily wake it up by touching the screen, pressing the side button, or pressing the Digital Crown. Make sure you're out of the theater before you do! Nobody likes to see someone on their devices while trying to watch a movie.
The image featured at the top of this post is ©oasisamuel/Shutterstock.com.