Key Points
You may wish to change the wallpaper on your Mac to personalize it, set a unique theme, or update the screensaver.
You can set any image as the desktop wallpaper. You can also use a dynamic desktop background that changes throughout the day.
Make your desired changes in the System Preferences section on your Mac.
Setting a background wallpaper is a great way to customize your Mac's home screen. Macs contain a number of preselected backgrounds, plus you can also select any picture that is on your computer. Macs also feature what Apple refers to as dynamic desktops. These are unique Wallpapers that gradually change.
There are also a number of other ways to customize your Mac's desktop. More specifically, you can set it to change the wallpaper at set intervals with a range of preselected choices. To further customize your Mac, you can change its screensaver, which also features a range of both static and dynamic options.
Let's get into the super simple steps below!
Step 1: Go to System Preferences.
The first step to changing your Mac's wallpaper is to open System Preferences.
Do this by navigating to the top left corner of your screen and clicking on the Apple icon. A drop-down menu will appear, then click on System Preferences.
Step 2: Click on the Desktop & Screen Saver Tab.
A new window will open with a range of icons for all of your computer's various settings. Click on the Desktop & Screen Saver icon, which is located toward the top left of all the choices.
Step 3: Find the Apple Folder.
The Desktop and Screensaver window should now be open with all of the different backgrounds you can choose. To view the computer's built-in wallpapers, Click Apple on the left side menu and then select Desktop Pictures.
You can also choose to set your background as a solid color or even a picture by selecting the appropriate folder on the left side menu.
Step 4: Choose the desktop picture you want.
To set one of the choices as your wallpaper, just click on one of the images. It will immediately become your wallpaper, and you can preview it before closing out the window. Once you are happy with the wallpaper selection, go ahead and close the System Preferences window and go about using your Mac.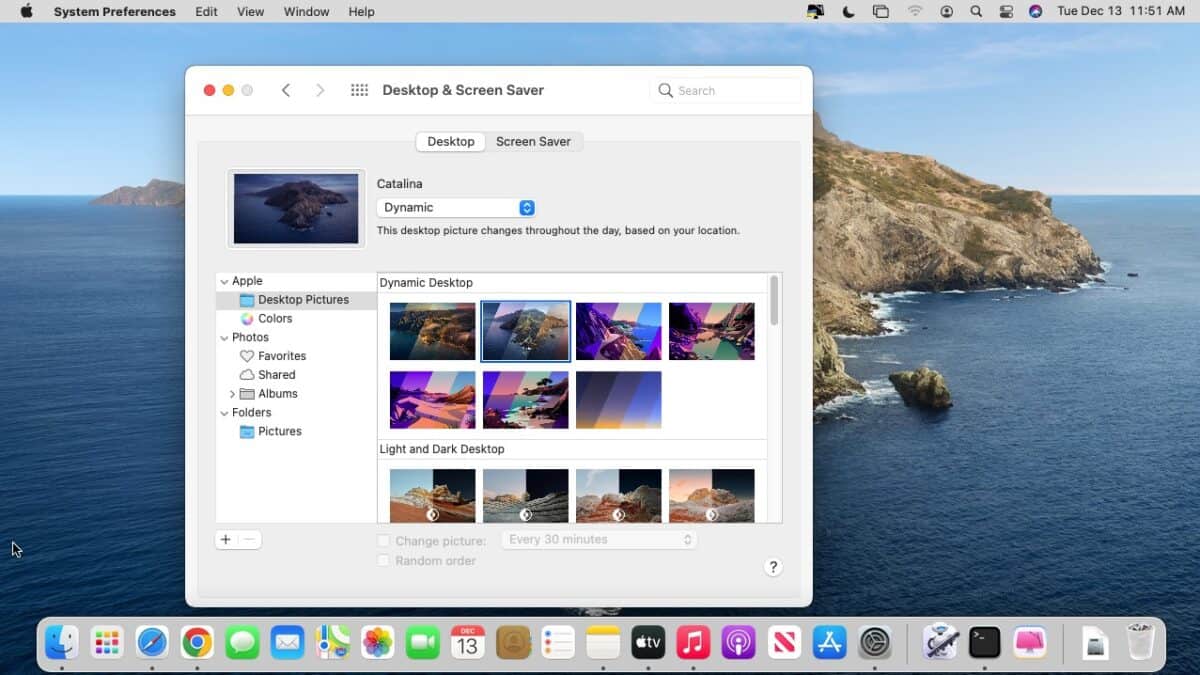 Now, any photo on the internet, or from your personal photos, can be your desktop wallpaper. With the helpful steps above, you should now know how to navigate the process. However, if you prefer a step-by-step video guide, we found the perfect tutorial on YouTube you can watch.
Set Any Picture as Desktop Wallpaper
Many Mac owners want to take customization a step further than the pre-selected desktops that are available on nearly all Apple devices. There are two options for choosing a custom desktop wallpaper. The first is to follow the above steps and locate the file from the Desktop & Screen Saver page and set it like any other background.
However, a much easier option is to locate any image you would like to set in Finder. Once you have chosen an image file, right-click it to bring up a menu. Then, go to the bottom of the menu to find Set Desktop Picture. Clicking it will immediately set the picture as your desktop's wallpaper.
There is one final option that easily allows you to set any picture as your Mac's wallpaper. To do this, go to an internet browser such as Safari and locate any picture on the internet you would like to use. Once you have a picture, right-click on it. A menu will open, and all you have to do is select Set Desktop Picture for it to become your wallpaper.
What is a Dynamic Desktop?
A dynamic desktop is a background that changes throughout the day. Typically, this involves changing shades from light to dark depending on when sunrise and sunset are. There are several factory options available on all Mac computers, whether they are desktops or MacBooks.
These Dynamic backgrounds are very different than the Light & Dark desktops that are also available. In comparison, the Light & Dark desktops change from light to dark only when dark mode is enabled on the computer, versus Dynamic backgrounds, which change based on the time of day.
Wrapping Up
A computer's wallpaper is much more than a simple background. It gives the computer a sense of identity. It is easy to leave the wallpaper alone, keeping the factory default. However, many users do not like the look of the preselected default. Therefore, you may want to mix things up by choosing an alternative.
Besides just the factory default, Mac computers come with a wide range of other wallpapers to choose from built-in. But, some of the best backgrounds are the dynamic ones that change hues or tones throughout the day. In addition, Apple wallpapers with both light and dark mode options that change automatically are also excellent choices.
Up Next
The image featured at the top of this post is ©iStock.com/HAKINMHAN.