If you've purchased the next generation of Amazon's Echo Buds, you're in for a treat. Before you can enjoy music or take phone calls, you'll need to know how to set up Echo Buds Gen 2, however. While Amazon includes a few instructions to get you started, we're going to walk you through the entire process. From customizing the tap controls to registering your new pair of earbuds, we have you covered.
Register and Pair Your Echo Buds
While it's simple to sync up a pair of Bluetooth headphones to a smartphone, you'll want to register the Echo Buds Gen 2 before you set them up for the first time. They could already be linked to your account depending on how they were purchased, but you can double-check or add them yourself with these steps.
Step 1: Download the Alexa App
Before you can fully use or register your Echo Buds, you'll need to download the Alexa app. It's free to download, and available on Google Play or the App Store, depending on your smartphone.
Step 2: Devices
After you've downloaded the Alexa app, log in with your Amazon credentials. From the row of app icons on the bottom of the screen, choose Devices.
Step 3: Add a New Device
The Device section shows any devices you currently have synced to your Amazon account, including doorbells, smart speakers, and earbuds. To add the Echo Buds 2 to that list, click on the + symbol and choose Add Device.
Step 4: Select the Device
Now you'll need to find the section that corresponds to headphones. You can scroll through the impressive list until you see the section, or take the shortcut (if available) by tapping on Amazon Echo, as shown.
Step 5: Sync Echo Buds
Select Echo Buds from the new screen and follow the prompts to turn on Location and Bluetooth. Open the case lid on your Echo Buds and press the button for 3 seconds to begin pairing mode.
The light should begin to flash blue on the front of the case when pairing mode is active. Choose Echo Buds from the list of available devices when they appear and then select Enable Alexa.
If you want to begin using your headphones, you can skip the next section by pressing X. While you can do the ear fit test later, it's something we recommend performing during the initial setup of your Echo Buds Gen 2.
And for a quick walkthrough of these steps, check out this video:
Echo Bud Ear Fit Test
Amazon includes a variety of tips to help you find the perfect fit. They also provide users with "wing tips" which provide a snug fit but are purely optional.
Take the ear tips and choose a size that feels best in your ear canal. They should be snug but comfortable, and they shouldn't fall out if you move your head from side to side. When you have the earbuds in, choose Next to begin the fit test.
If you're lucky, you'll see the screenshot below that shows you found the perfect fit with an excellent seal. You can try a different set of tips and perform the test again, but when you're satisfied, choose Next to access an on-screen walkthrough or X to skip ahead.
Echo Bud Settings
After the fit test, you're given the option to go through a few short tutorials, or you can jump straight into the settings and use your Echo Buds. You'll be asked to allow Alexa access to your phone, something you can accept now or skip.
When successfully set up, Alexa will begin speaking to you through your earbuds. She'll give you a few tips and tricks. You can stop her at any time by saying "Alexa Stop" but can resume the tutorial later if needed.
From the main screen, you can access several areas, but to get to the settings, tap the gear icon in the far right top corner.
Audio Quality and Control
Whether you purchased Echo Buds to take calls on the go or listen to music, there are a number of settings you can tweak. The first one we want to touch on is the built-in equalizer, a feature you can't access without the app.
The Echo Buds equalizer is a simple but effective system that allows users to adjust bass, mids, and treble to suit their needs. While there are no presets, you can quickly pull up and change or adjust the audio through Settings>Customization>Equalizer.
You can retake the ear tip fit test from the same section or use the audio personalization feature. This feature performs a quick test and adjusts the audio to better suit your surroundings at any time.
It's an interesting addition that was added well after the Echo Buds 2 hit the streets and something that can make a difference in certain environments.
Under Ambient Sound Control, you can turn on, off, or disable active noise cancellation from within the app. You can also adjust how much of your voice you hear during calls through Sidetone. The toggle enables this feature while a slider allows you to fine-tune the audio.
Tap Controls
Amazon designed the Echo Buds to make life easy for users with Alexa. That means you can go hands-free and use the virtual assistant to handle a variety of tasks including music playback. These earbuds also have touch controls, which can you slightly modify under Settings>Tap Controls.
There are four configurations you can adjust in this area with Single, Double, Triple Tap, and Long Hold. You can go into each of these areas and set a new option from the menu, but can't make custom commands.
Call controls can't be adjusted. Long holding on either earbud will reject a call. The same basic feature also activates ANC by default, however. If you make adjustments and want to revert the Echo Buds back to their factory settings, choose Reset to Defaults.
Notifications and Filters
One of the perks of using Echo Buds with Alexa integration is the earbuds' ability to keep your hands free. While it can be incredibly useful, it could also quickly become frustrating. If you don't want to become overwhelmed by notifications and messages, you can adjust them through the Notifications and VIP Filter settings.
Do you want Alexa to tell you when someone pings you on Discord or you receive a new email? If so, turn on the toggle for Phone Notifications.
This allows Alexa to "read" notifications to you, but you can adjust what gets through with the VIP filter. Alexa will automatically prompt you to make a choice when notifications come in, but you can access the VIP filter to add or remove apps manually.
Adding an app to your VIP list only takes a few taps. It won't cover every app on your phone, but a wide mix of apps and games are included, from Netflix to Angry Birds and Gmail.
Once you're done setting up the VIP list for your apps, you can do the same for your contacts list. That can keep a sibling from annoying you or ensure your boss or a co-worker can always get through while your earbuds are in.
You can pause new requests for apps or reset both VIP lists if needed. There's also a toggle for Group Messaging, along with a section for notification sounds. There isn't much to adjust here, but you can turn off audio descriptions and set notifications to a chime.
Other Echo Buds 2 Settings
None of these areas allow users to go deep into the settings, but they're important nonetheless. The key feature is also one you can't access through touch controls or other menus — Power Saving mode.
If you're on the go and don't have the charging case handy for your Echo Buds, you can turn on Power Save to extend battery life. This turns off Alexa, ambient sound modes, and other settings all at once, and immediately begins to conserve battery life.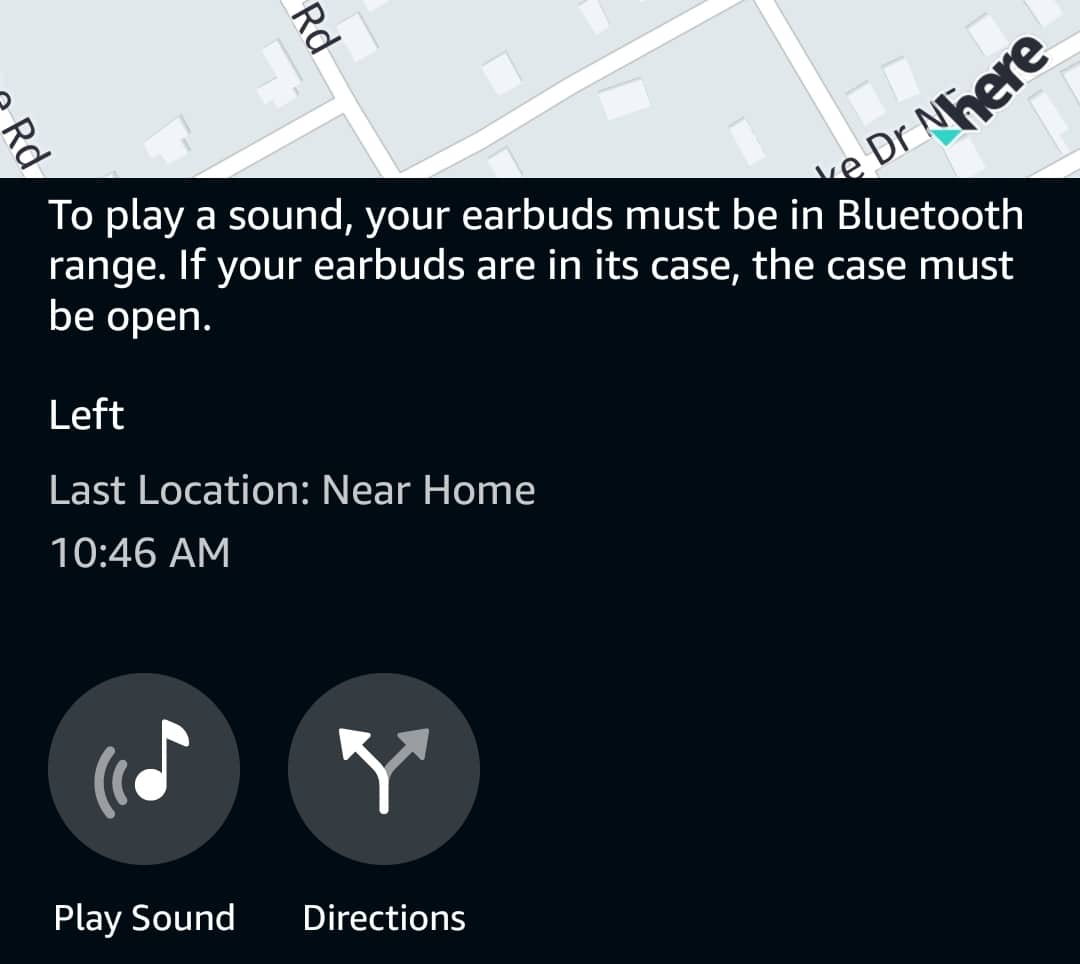 Worried about losing your Echo Buds? You can solve that by going to Settings>Locate Device>Find My. This feature uses GPS location and sound to help you find lost earbuds, whether it's one or both of them. The Alexa app also allows users to set a workout profile with their height and weight for light-duty fitness tracking with the earbuds.
Charging Status and Charging your Echo Buds
Once you've gone through the settings for Amazon Echo Buds 2, it's time to make sure your new earbuds are fully charged and ready to go. There are several ways you can check on the battery life of the Echo Buds 2. There are also two ways to charge them, depending on the case.
In the Alexa app, you can view the status of each earbud and the case. The battery percentage can give you a rough idea of how much battery is left but will drop considerably with ANC on. A green light on the case or earbuds means there's at least 40% or more battery remaining. Yellow lights are less than 40% while a red charging light means you've got less than 5% left and need to recharge.
When it's time to recharge your earbuds, place them back into their respective slots inside the charging case. Charging times are the same on both models, but the Echo Buds 2 with the wireless charging case add Qi compatibility.
The Wrap-Up
After unboxing and syncing up a pair of Echo Buds Gen 2, you can have them set up and play your favorite music or podcast in less than 5 minutes. The Alexa app keeps things relatively simple, as well, with its streamlined, easy-to-use interface. If you decide to trade in your Echo Buds or sell them at a later date, remember to reset the earbuds in the Alexa app and remove them from your Amazon account.
The image featured at the top of this post is ©Liam Sorta/Shutterstock.com.