Whether you want to buy something online or pay for a subscription, there's a good chance you'll use PayPal. It's a great way to shop and send money anywhere around the globe in seconds. If you're wondering how to send money on PayPal, our simple guide will teach you the basics so you can start sending money in minutes.
How to Send Money on PayPal App
You can access PayPal through their website or their mobile app. Sending money using either method is simple, provided you've already set up an account with PayPal and set up payment information.
1. Log in to PayPal
Open the PayPal app. If you're not logged in automatically when you open the app, log in with the account you want to use to transfer money.
2. Choose Send
Once you access your account, look for the Send button and tap on it to proceed.
3. Select Recipient
As soon as you click Send, a new screen will open showing your "Top Contacts" through PayPal. This section could be empty if you're new to the app or filled with past recipients (individuals and businesses.)
You can scroll to find the contact you want to send money to from here or use the search bar at the top to locate anyone with a PayPal account. Alternatively, you can use the QR code next to the search box.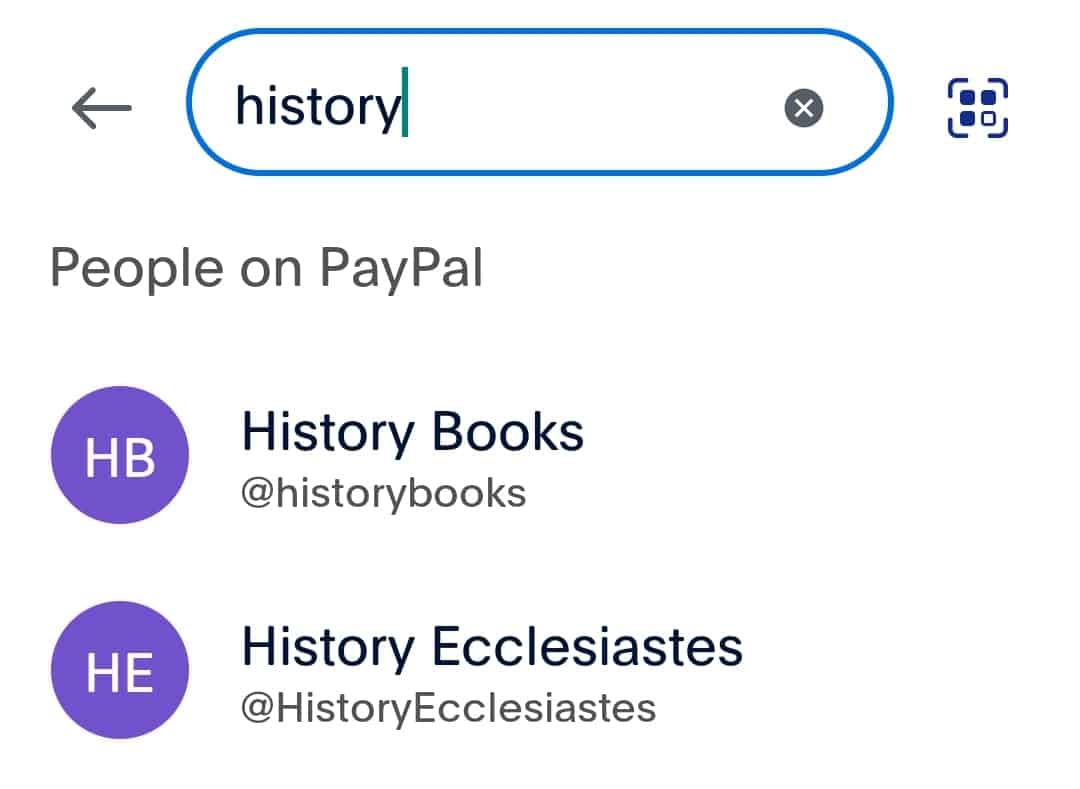 4. Enter the Amount
Now you'll need to choose an amount of money to send on PayPal. Enter how much money you want to send, and you can type a short message or add stickers from here. When satisfied, choose Next to review the payment.
5. Choose Payment Type
At this point, you select the payment method. Wondering how to send money on PayPal for free? Make sure the "Friends and Family" box is checked.
When you send money on PayPal to friends and family, it's not protected. Selecting "Goods and Services" provides a measure of protection for some online purchases.
6. Send Money
After setting a payment type, check to see if the money is coming from your PayPal balance or a connected method of payment. Set the option you need, and tap on Send to start the transfer and send money on PayPal.
Paypal is one of the world's most popular cash-sending apps. To better help communicate how to send money through the app, we recommend this video by content creator Dennis Trufin at TruFinancials.
How to Send Crypto on PayPal
When most people think about how to send money on PayPal, they are thinking of cash. That cash could come from a bank account linked to your PayPal or a credit card. You can also send money on PayPal with cryptocurrency.
To send money on PayPal with crypto, you'll need to buy some crypto first in your account. You can follow the steps in this guide to buy Bitcoin with PayPal, along with a few other cryptocurrencies. If you already have crypto in PayPal, follow these steps to send it to another user's account.
1. Choose Crypto
From the main PayPal screen, you should see a section for Crypto next to your PayPal balance. Tap on that section to access PayPal's crypto menu.
2. Select a Token
Scroll and locate the cryptocurrency you wish to send and select it to bring up buy, sell, and transfer options for the token.
3. More Crypto Actions
This menu gives you the current price of the token you selected, along with the option to buy or sell it. To send cryptocurrency to another address, choose the arrow icons next to buy, which brings up a section called more crypto actions.
4. Set Recipient and Send
From here, you can choose a contact if you're sending crypto to someone you know or enter an address for BTC. The important thing is to make sure you are sending the token to the right address on the right chain. If you try to send BTC to an LTC address, you're going to lose the money.
Select the recipient and confirm your selection to send the crypto. Some small fees may apply. You can also expect a temporary hold if you've just purchased crypto through PayPal and attempted to send it immediately.
Cryptocurrency has skyrocketed in popularity and money transfer apps such as PayPal have integrated buying and selling crypto into their platform. To see a live demonstration of the steps pictured above, we recommend this video by content creator Make Money Anthony.
How to Send Money on PayPal Anonymously
We have good news and bad news if you are curious about how to send money on PayPal anonymously. The bad news is that it's almost impossible, given the nature of payment processing and financial regulations. You can hide some of your details, however, if you're willing to take some extra steps.
While it is impossible to make a fully anonymous payment through PayPal, you can set up a business account to mask your identity. This provides a layer of protection for online sellers who don't want their names and personal details going around on the internet. It's obviously not a step the casual user will want to take, but a viable option if you send or receive a lot of money through the platform.
Guides may recommend using a fake email account and pen name, but that's not something we advise. Your ability to fund or receive money is incredibly limited, and you could also end up with a permanent ban from the service.
The Wrap Up
Now that you know how to send money on PayPal, you can transfer money to family, friends, or anyone in a matter of seconds. That includes funds in your account along with cryptocurrencies like Bitcoin and Ethereum. If you're considering using Venmo vs. PayPal, check out our comparison of these two payment systems.