Key Points
Etsy allows artists to reach a global audience and tap into an existing market of buyers.
Artists should define their niche and consider their selling strategy before creating their shop.
Having multiple pieces of art ready to go before launching is important for a successful Etsy shop.
Optimizing product listings and shop page, as well as promoting on social media and building an email list, can help grow an Etsy art shop.
If you're an artist, then you've probably dreamed about making a living from your art. With the power of Etsy, you can make this dream a reality. Etsy allows you to reach a global audience and tap into an existing market of hungry buyers.
In this article, you'll learn how to sell art on Etsy in 5 simple steps. Let's break it down!
Step 1: Decide What Kind of Art You'll Sell
If you've spent any time browsing Etsy, then you've seen the sheer volume of different types of art present across the site. You have prints, posters, photos, glass art, drawings, collectibles, and so much more. That's why you must define your niche before you create your shop.
For example, are you going to be creating individual sculptures to sell? Or, will you create digital artwork and sell multiple different prints and posters of it?
Another thing you'll want to consider is what type of seller you'll be. Will your goal be to sell a high volume of prints at a lower price point, or will you sell one-off originals at a higher price?
There's no set and stone rule here, but spend some time seeing what's popular across the different niches and see where your store will fit in. You want there to be active buyers in your niche, but it's not so oversaturated that your work won't stand out.
As you analyze other popular stores in your niche make sure to take note of how many items they sell, which items are the most popular, and the price points they offer. Your goal will be to create something similar, but different enough so it stands out.
Step 2: Create or Source Your Artwork
Now, the time has come to create your art. At the very least, you need to have one piece of art ready to go for your first listing. If you're an artist, then you probably have a lot of finished pieces that are ready to list. Or maybe you've uncovered an art niche during your research above and it's time to start creating.
Some artists also work with print-on-demand companies like Printify. With Printifiy, you can upload an existing design and have it printed on posters, mugs, t-shirts, and more. If you're a digital designer, this can be a great way to scale your shop, since you can create a design once, and sell it indefinitely.
The important thing is to have at least a few pieces ready to go before you launch. You want to launch your online shop with a few items to sell, not just one lonely item.
Step 3: Set Up Your Etsy Shop
Once you've decided on what kind of artwork you're going to sell, it's time to create an Etsy shop. The first thing you need to do is navigate to the Etsy website here, click the Sign In button, then click Register.
Then, you'll be asked to enter your email address, name, and password, and click the Register button one more time. Once you've done that, you'll be taken back to the homepage. Here, you need to click on your account icon, then select Sell on Etsy from the drop-down list.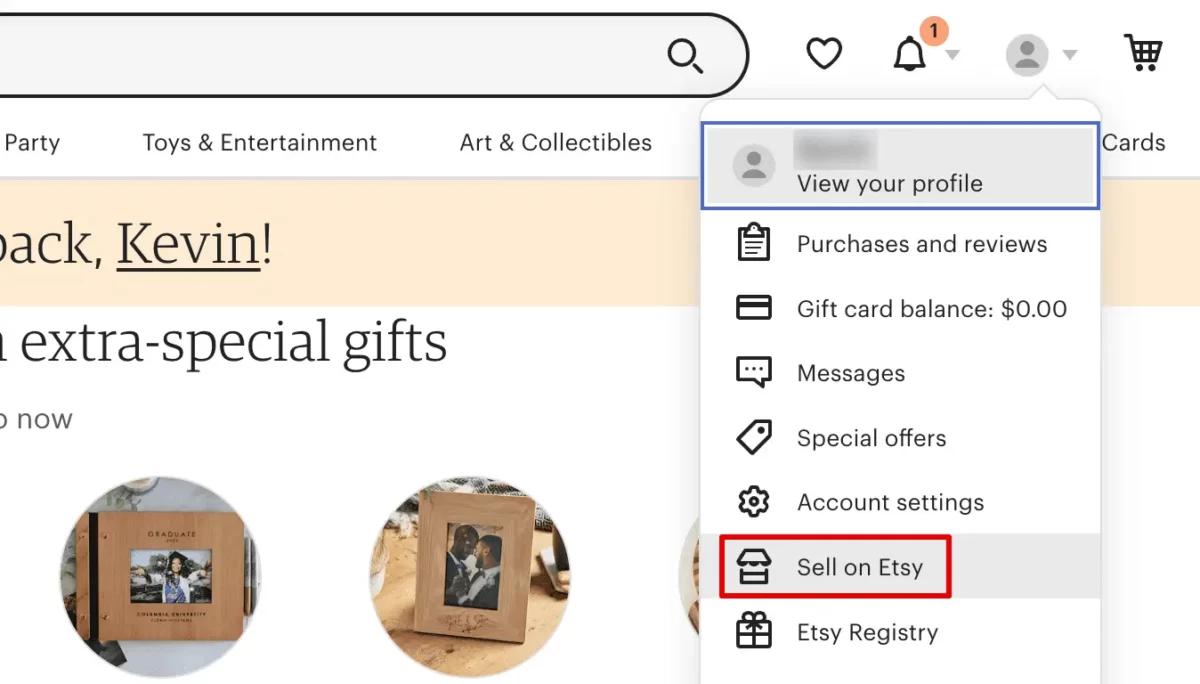 This will guide you through a series of questions about your shop including your experience level. Then, you'll need to enter even more information about your shop including your preferred currency, country, language, and more. You'll also be asked to name your shop, then it's time to create your first listing.
Step 4: Create Your First Listing
Before your art shop is live for the world, you'll need to create your first listing. The process is pretty straightforward, all you need to do is add a picture, name your piece of art, write a description, and choose your price.
When adding photos of your art make sure to take photos from multiple angles, and show your art in action. For example, you might show your art in a picture frame hanging on the wall. Also, optimize your title and description for keywords while making it interesting and relevant to potential buyers.
You'll also need to set the pricing and shipping options. Here, you need to calculate the total cost of producing a piece of art so you can still make a profit. Finally, select relevant categories for your listing and add tags to help boost your Etsy store's SEO.
Once you're finished, simply click the Save and Continue button to save your art listing. You can always edit this listing later on and add more listings once your store is live. Finally, you'll need to enter your bank account details, so you can get paid.
Once they've been confirmed, you're officially running an Etsy art shop!
Step 5: Optimize Your Shop Listings and Shop Page
After your initial listing is live you can add more listings by clicking on the Listings option in your store dashboard. Nearly every successful Etsy store has multiple listings, so if you have more pieces of art to sell, then you'll want to continue to add more listings. After all, it's better to launch with a full shop page, rather than have 1 or 2 items to sell.
Once your shop has been live for a while, you'll want to experiment with your product listings. You might find that your products rank for keywords you never thought of. Or, you might try adding more images using natural light or in different settings. You may also want to spend more time analyzing the most popular listings and seeing what makes them sell so much. Chances are, you'll be able to find some tricks that all the highest rankings art listings employ.
Finally, you can also customize your shop page by going to your dashboard and clicking the Edit icon next to the name of your store. Here you can add a banner, edit your tagline, create a message for buyers, and more. All you need to do is click the + icon next to any area to change it.
Step 6: Promote and Grow Your Etsy Art Shop
You've already done the hard part of putting your art into the world, now it's time to reach your target audience to make sales. Here are some of the best ways to get more people to purchase your art.
Get Active on Social Media
Social media can be a great way to grow an audience of potential buyers. Since you're in a more visually oriented niche platforms like Instagram, Pinterest, and even TikTok can work well. First, you'll want to create social media accounts on all the popular networks using the same name. This will help build a strong brand around your store.
You can grow your account by posting regular content of your art, sharing behind-the-scenes content about your process, and more. The brand MyMaxDesign does a great job of showcasing their latest art on their Instagram account.
As you explore different accounts in your niche, you'll start to uncover patterns about the type of content that performs well. You might also find that some accounts don't have their stores hosted on Etsy, but utilize other Etsy alternatives.
This is completely fine, for all you know, they could have started their stores on Etsy and outgrown the platform once they reached a certain level. The important thing is to mimic what these popular accounts are doing while showcasing what makes you unique. Finally, don't forget to list your store in your bio. You can either add the link directly or use a URL shortener like TinyURL, so you can track who clicks and learn more about your audience.
Grow Your Email List
Another great way to build an audience around your store is to create an email list. Now, Etsy doesn't let you create an email list directly on the platform, but there are still a few ways you can build an email list on Etsy.
An email list is valuable because it helps you build a relationship with your buyers over time. Plus, you aren't dependent on a specific platform. No matter where you're selling, you can always direct your list to your new listings.
It's Time to Go Live!
Starting a store on Etsy and selling your art isn't too difficult. Especially, if you already have your art and designs created. All you need to do is decide on the type of art you're going to sell, create an Etsy shop, add your art listings, and then promote your new store.
Whether you're a budding artist or have been creating art for years, Etsy can be an incredible platform to help you run a business doing what you love.
Summary Table
| Step | Action |
| --- | --- |
| Step 1 | Decide What Kind of Art You'll Sell |
| Step 2 | Create or Source Your Artwork |
| Step 3 | Set Up Your Etsy Shop |
| Step 4 | Create Your First Listing |
| Step 5 | Optimize Your Shop Listings and Shop Page |
| Step 6 | Promote and Grow Your Etsy Art Shop |
The image featured at the top of this post is ©justplay1412/Shutterstock.com.