One of the best places to shop for just about anything online is eBay. We can find all kinds of treasures we didn't know we needed just by browsing the colossal eCommerce site. But digging through the weeds and finding what you're after can be challenging. Especially if you're searching for a specific seller on eBay. That's because missing the most straightforward way to search for a seller is easy.
While it could be more intuitive for users to know how to search for a specific seller on eBay, doing so doesn't take more than a few clicks. However, you must learn to use the Advanced search option. But don't stress. We're not reviewing each search criterion today, just the one that touches on finding a seller by their eBay ID. And while "Advanced" is near the big blue search box at the top of the page, we may miss the link altogether if it's not something we're looking for.
Using the Advanced search option, you can search for any eBay seller by their ID. In addition to searching by their eBay ID, you can find sellers using typical eBay filters such as item number, distance away, and category.
If you're ready to find the seller you're looking for, let's take it step by step.
How To Find a Specific Seller on eBay:
Before starting, make sure you are on the eBay website. You don't have to be logged in to find the seller.
Step 1: Go to Advanced Search
You can find this next to the search box at the top of the page.
Step 2: Select By Seller
Choose the "By Seller" option under the "Items" heading of the menu on the Advanced Search page. Once you select the option, scroll down to find "Sellers".
Step 3: Check the Box Next to "Only show items from:"
You may have to enter the seller's ID before checking this box.
Step 4: Enter the ID of the eBay Seller You're Trying to Find
You can choose to include or exclude what you enter into the text field. Use your best guess if you're not sure of the exact spelling.
Step 5: Select the Search Button
Click on the blue "Search" button at the bottom of the page to find the items sold by this seller.
You should see a list of items you can buy from their store. If the seller has a lot of things for sale, you can further your search by adjusting filters for condition, price, and item location, just to name a few.
If an eBay user has an ID but doesn't have anything for sale in their shop, you will see "0 results" under All Listings.
Here is a step-by-step video for further reference:
What if I Don't Know the Seller's ID?
You can still find their store if you don't know a seller's ID. First, search for an item you know they are selling. Once you find the item, you can find their name next to whatever they're selling under "Seller Information". If you select their name, the next page will appear with all seller's offerings in their eBay store.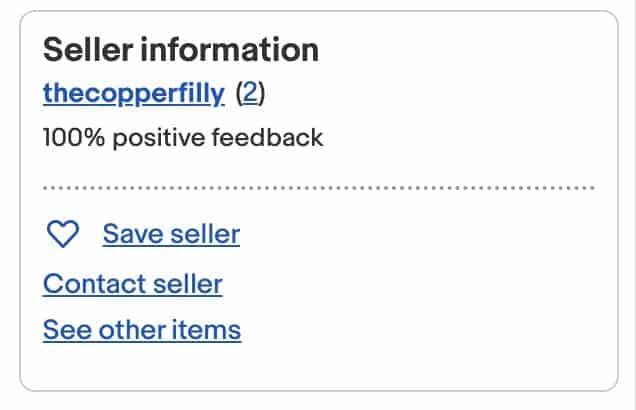 How Do I Find Reputable Sellers on eBay?
It's always nice to know that you're buying from a dependable person. You can find a lot of sellers on eBay with a negative reputation. From slow shipping speeds to incorrect item descriptions, you want to be wary of anything that can go awry during your buying process. But don't worry, you can easily spot those sellers that will probably give you excellent service at a good price.
To find a seller with an excellent reputation, look for those that have a "Top Rated Seller" badge next to their name. Also, you can double-check a seller's reputation by selecting the feedback number that displays under their eBay user ID. Look for positive feedback left within the last six months. Most sellers with negative reputations don't stick around on eBay for long because most buyers will skip their store if they see something off or suspicious.
Remember, you can always report an issue with a seller on eBay.
Search For a Seller Using the eBay App
If searching for a seller using the desktop version of eBay is taking too long, use your mobile device instead. Open the eBay app using your iPhone, Android, or any other device, then follow these directions.
Step 1: Select the Search Bar.
Tap on the search bar at the top of the page (next to the magnifying glass).
Step 2: Enter the Seller's ID
Type the Seller you're searching for's ID into the search bar and tap on search/enter.
Step 3: Select Seach for User
A menu option will appear with the words "Search for User" followed by the ID you typed in. Tap on this.
Step 4: Select the Seller
Scroll through the results until you find the seller you are looking for. Tap on their name to find their profile.
Wrap Up
Searching for a seller on eBay is relatively simple if you know where to look. However, once you understand the advanced search function, you can really narrow down the results. Or, if you need to find a seller quickly or while on the go, simply open the eBay app and enter their name in the search field.
The image featured at the top of this post is ©Ascannio/Shutterstock.com.