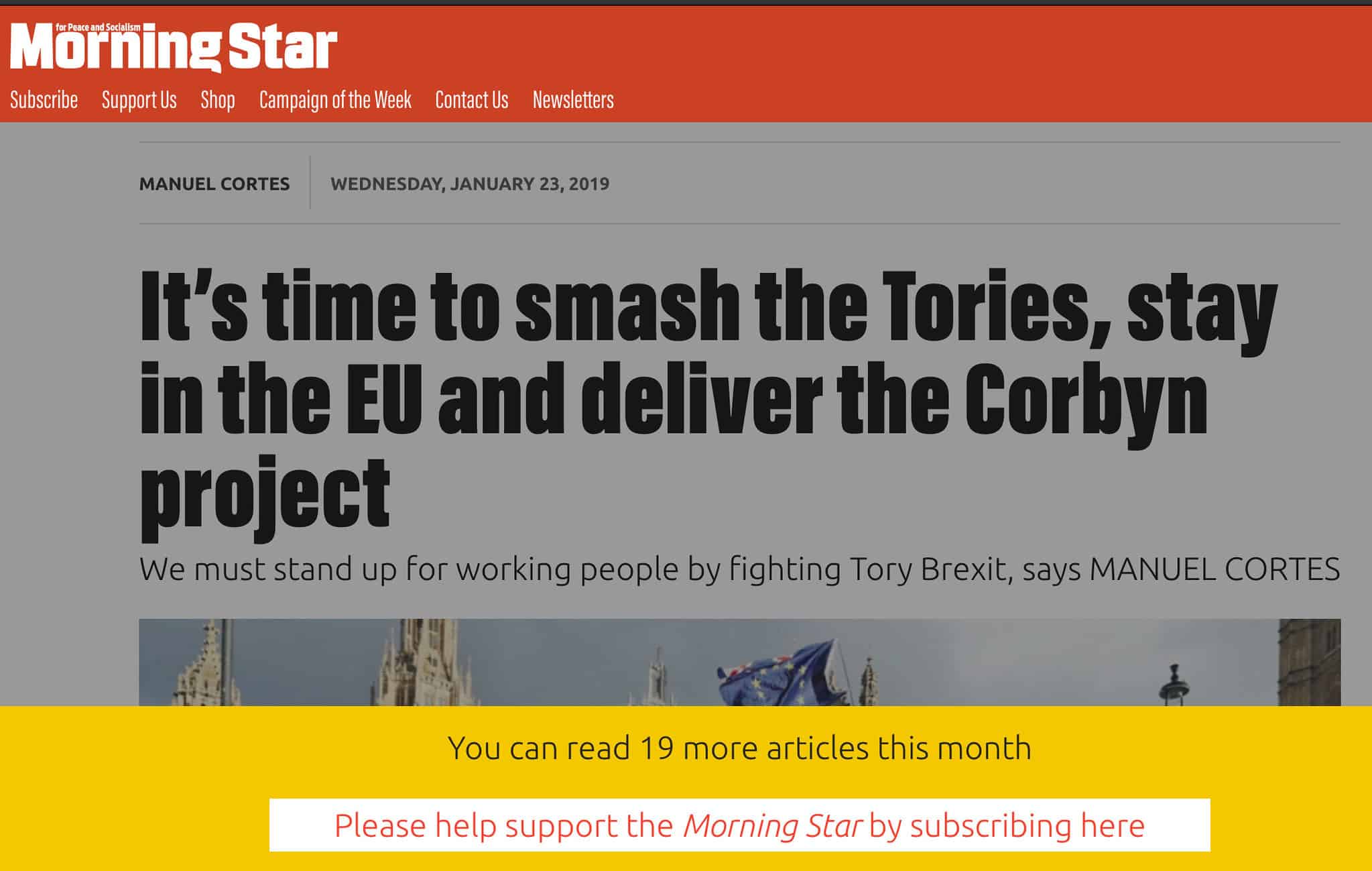 Nothing is worse than reading an article when the paywall pops up halfway. Whether it's a national news headline worth keeping up with or a local story directly impacting you, it's frustrating to be blocked from reading something you need to know about. Your first instinct would be to shell out the money for a monthly subscription to the site. However, there's a way to read articles behind a paywall that won't cost you a single cent. It's incredibly simple, too.
Gone are the days when paywalls keep you from knowing what's happening around you. You have a right to know stories relevant to your life and interests. Thankfully, we'll walk you through the steps you need to know to circumvent that pesky paywall. Before long, you'll know exactly how to read articles behind a paywall — No payment necessary.
What's the Point of a Paywall?
Other than generating revenue for the publication in question, there's another reason for paywalls to exist. Ads. Or, rather, a lack thereof. When a digital publication charges readers to use their site and read their articles, they can get more money than they would have from ads alone. Even with a reduction in readers due to the paywall, the number of paid digital subscribers makes it so that the publication can drastically reduce the number of ads readers will see on the page.
Ultimately, the purpose of the paywall is mutually beneficial. The publication gets money from its readers, while the subscribers enjoy an ad-free or ad-lite reading experience. This helps make the idea of a paywall a lot more digestible. Still, some sites see as much as 90% of their former audience disappear after introducing a paywall. That happened to The Times in 2010 when they first implemented a paywall: only 10% of their former audience was willing to pay. However, a paid audience of 10% made them more than ad revenue from 100%.
Different kinds of paywalls exist, each with its own strategic use. A hard paywall gives site visitors zero free articles, asking them to pay or leave. Another type is a metered paywall, which gives readers a certain number of free articles per month before asking them to pay. A third type — the freemium paywall — gives basic access to readers free of charge but asks them to pay for premium, ad-free stories. No matter the type, it helps to know how to read articles behind a paywall. Here's how.
How to Read Articles Behind a Paywall
Whether you're facing a hard paywall, a metered paywall, or a freemium paywall, there's an easy way to sidestep the paywall and read articles for free completely. For the purpose of this how-to, we're going to be using a desktop computer. Now, here's exactly what to do.
Step One: Copy the Link
First, copy the web address of the page you're trying to read. Any paywall will do, so long as the paywall's there in the first place. The New York Times, The Washington Post, Wall Street Journal, Game Informer… any popular paywalled sites will do. Simply copy the link and hold onto it for now.
Step Two: Go to Archive.ph
With the article link still copied to your clipboard, type archive.ph into your browser and hit enter. This will take you to webpage archiving site archive.today. In simple terms, the site exists as a public service: To snapshot webpages for posterity's sake, keeping a record of the internet even when the page in question is altered or disappears completely.
Archive.today keeps these snapshots forever, hoping to preserve transparency across the web. Archive.today copies both text and images, making these snapshots about as accurate and thorough as can be. What's more, archive.today creates an accessible link to share with others, too.
Step Three: Paste the Link
Next, paste the URL into the appropriate text box and click Save. This will snapshot the page and save it to archive.today's library. Not only will you now be able to read it, you'll also be able to let others read it, too. It's now a part of the archive.today collection forever.
Step Four: Read Articles Behind a Paywall
At last, you will now see the previously paywalled article without interruptions. Best of all, there's nothing objectionable about it whatsoever. Because archive.today's intentions are pure and good, simply hoping to create a reliable and accountable record of the internet for generations to come; there's nothing wrong with adding the articles you want to read into their library.
Not only do you get past the paywall, you're also ensuring the article is archived for others to read for days, weeks, months, and years to come.
Bonus: Search the Archive
In addition to allowing you to read articles behind a paywall, archive.today also allows you to search for other previously archived articles. Any link you paste into the red box above will be accessible at this blue bar below. Now, anyone searching for the article you pasted above can find it in the bar below.
NEXT UP…