Amazon's Alexa-enabled devices are one of a kind. Whether you have an Echo or Echo Show, you can control them via Alexa's voice command feature. You can stream music, listen to podcasts, and perform daily activities — all through your Alexa device. In previous years, Amazon users faced difficulties playing YouTube content on Alexa devices. Unfortunately, some issues are still relevant, mainly because Amazon and Google are competitors.
Luckily, playing YouTube videos on Amazon devices through Alexa is possible. In fact, you can even watch videos on your Amazon Echo Show if you know a few tricks and tips. In this guide, we will take you through every step in detail to help you enjoy the best YouTube videos on your smart speakers. So let's get started:
How To Play YouTube on Amazon Echo With Bluetooth
Playing YouTube on Amazon Echo isn't as easy as you might think. No, you can't do it just by asking Alexa. Instead, you have to first connect your device (smartphone or tablet) to Amazon Echo. Once connected, Echo will act just like a Bluetooth speaker.
Here is how you can connect and play YouTube on Amazon Echo:
Step 1: Pair Your Smartphone With Echo
You can ask Alexa to pair your device with Echo. Simply say, "Hey Alexa, pair Bluetooth" to put your smart speakers into pairing mode. Then, open Bluetooth settings on your smartphone and connect it to Echo.
For Android
If you have an Android phone, follow these steps:
First, go to the "Settings" option.
Then, choose "Connected Devices."
Next, tap on "Pair New Device," and you'll see your Echo in the list of devices available for pairing.
For iPhone
If you have an iPhone, follow these steps:
First, open Settings.
Then, tap on Bluetooth, and the Echo will appear in the list.
No matter what device you have, just click on your Echo device to pair both devices. A contact or call history access prompt will appear. Allow access if you want to; it isn't necessary to play YouTube on Alexa.
In some instances, Alexa may say she didn't find any device to pair with. You should try again and wait for the device to search and detect nearby devices. After a few seconds, Alexa will pair with your phone successfully.
Step 2: Connect Your Echo and Phone
After pairing your Echo and phone, you'll have to connect them to play YouTube through your Echo. Fortunately, it's pretty easy to do — just say, "Alexa, connect Bluetooth." As Echo is already paired to your phone, both will automatically connect.
You'll know both your devices have been connected when Alexa says, "Now connected to (your device name)" after the tone. However, if it doesn't work, you can connect both devices manually.
On Android
On your Android phone, follow these steps:
First, open "Settings."
Then, tap on "Connected devices."
Finally, select your Echo device to connect it to your phone.
Note: If you have many nearby available Bluetooth devices, tap on "See all" to find your Echo.
On iPhone
On your iPhone, follow the steps below:
Open Settings.
Then, tap on Bluetooth.
Find your Echo device and tap on it to connect.
Step 3: Open YouTube and Play Any Video on Echo
Now, you can play YouTube on Alexa just like on your other Bluetooth speakers. Simply open YouTube through the app or browser on your phone and play your favorite videos. The Echo will play the audio flawlessly.
Whether you have an Echo or Echo Dot, you can only listen to the audio if it's just a speaker. This means you can easily listen to podcasts, songs, and speeches on your Echo.
However, if you can't hear the audio, check the volumes of the YouTube video and the Echo. Increase it if it's too low, and you'll be able to hear the audio.
When you're done listening to the YouTube video, say, "Alexa, disconnect Bluetooth" to unpair Echo from your phone. Alternatively, you can visit the menus on your phone and tap "Echo" to disconnect the speaker.
What Can You Control on Your Echo?
You can control the Echo Bluetooth speaker through voice commands. It also offers users multiple advanced options, such as playing and pausing the YouTube video, skipping to the previous or next video, and adjusting the audio. Unfortunately, these are the only options you can enjoy with Echo as a Bluetooth speaker.
There are also limitations YouTube applies to watching videos on the phone. The most annoying is when the video stops just as you turn the screen off. You won't face this issue if you have YouTube Premium, but there is a subscription fee for this service.
How To Play and Watch YouTube Videos on Echo Show
While Amazon's Echo doesn't have a screen, the company's Echo Show has one. This means you can listen to YouTube video audio and watch it simultaneously. Luckily, the process is pretty easy.
To play YouTube on Alexa Echo Show, update the device to enjoy its most recent browsing features. Doing so is important if you have an older Echo Show. To do that, follow these steps:
First, open "Settings" on your Echo Show.
Next, go to "Device Options."
Finally, click on "Software Updates," and you're done.
Once you're done, just say, "Alexa, open YouTube." Previously, there was a prompt asking the user if they wanted Firefox or Silk as their default browser. As of May 2021, the Echo Show no longer supports Firefox, so you'll only be able to access YouTube on the Silk browser.
Upon selecting the Silk browser, you'll be directed to YouTube's mobile website version. You can now search and play YouTube just like you do on your phone or tablet. You'll have a search bar at the top and navigation tabs at the bottom.
Unfortunately, most of your voice commands won't work on Echo Show. However, you can still command Alexa to play a video. Just say, "Alexa, play Cheap Thrills by Sia on YouTube," and she will search the web for it. This way, you can easily watch and play YouTube on Alexa.
Can You Play Amazon Music on Alexa?
Amazon Music comes free with Amazon Prime. Thankfully, you can play Amazon Music on Alexa in multiple ways. The two methods include:
Using Bluetooth
To play Amazon Music on Alexa via Bluetooth, follow these steps:
First, turn Bluetooth on both your mobile and Alexa device and pair them.
Then, connect both devices.
Finally, ask Alexa to launch Amazon Music on your phone. You'll be listening to your favorite songs through your Alexa speaker.
Changing Your Default Music Service
The easiest way to listen to Amazon Music on Alexa is by making Amazon Music your default music service. This way, you won't have to spend time pairing and connecting your phone and speaker with Bluetooth.
To do that, follow these steps:
First, open the Alexa app on your phone.
Then, tap the three-line menu icon in the upper left corner.
Finally, tap on "Settings."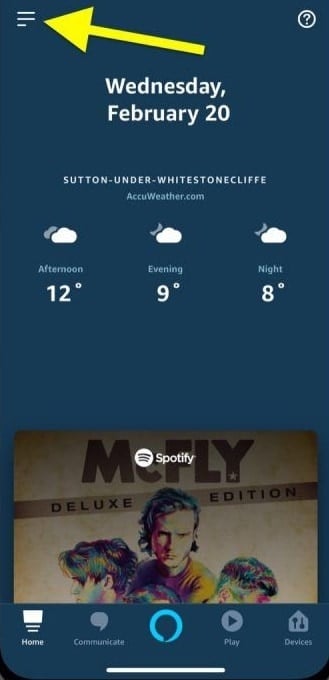 Select "Music" present under the Alexa Preferences tab.
Choose "Default Services" present under "Account Settings."
Finally, tap on "Amazon Music" to make it your default browser.
Summary
Playing and watching videos and audio from different streaming platforms on Alexa devices is quite easy. Whether you have Amazon Echo or Echo Show, you can play YouTube videos on most Alexa-enabled devices.
The Echo doesn't have a screen, so you can only listen to songs, speeches, and podcasts. On the other hand, Echo Show is the best for both watching and hearing YouTube videos. Hopefully, this guide made it easier for you to play YouTube on Alexa.
The image featured at the top of this post is ©Karsten Neglia/Shutterstock.com.