Key Points
Roblox is a popular online game platform released in 2006 that allows users to create and play games built on the platform. Some of those games are compatible with VR systems like the Oculus Quest 2 (now known as the Meta Quest 2).
To play Roblox on the Quest 2, you will need to connect the VR headset to your computer through Oculus Link. You can do this wirelessly or via USB cable.
Since Roblox is not officially supported by the Oculus store, you have to enable unknown sources your Quest 2.
Roblox is one of the most popular online gaming platforms for children and young adults, with millions of users worldwide. Its simple but engaging gameplay makes it easy to understand why Roblox has become so popular.
Recently, Oculus Quest has brought VR gaming into the mainstream, and now Roblox fans can experience their favorite games in VR. This guide will show you how to play Roblox on the Oculus Quest 2 for a totally immersive gaming experience.
Whether you're a new player or an experienced Robloxian looking to try out VR gaming, keep reading for all the info you need!
What is Roblox?
Roblox is a user-generated online gaming platform with millions of active users worldwide. It's similar to other online gaming platforms like Minecraft or Fortnite, focusing on user-created content and social interaction. Players can create their own games or play games created by other users.
Roblox is an excellent platform for experienced and novice game developers with easy-to-use game creation tools. It also offers in-game purchases for features and items within the platform that can be redeemed for money.
What is the Oculus Quest 2?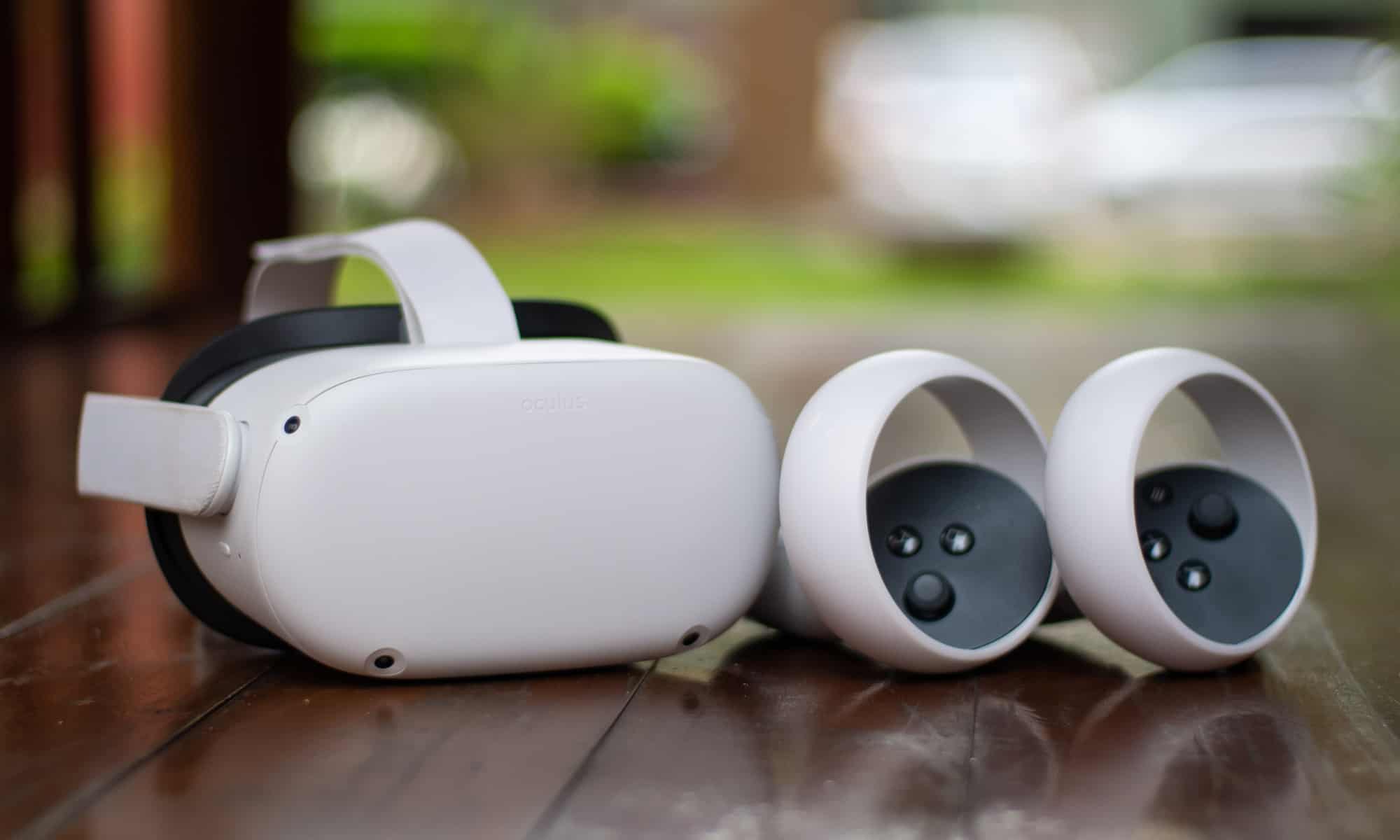 The Oculus Quest 2, rebranded to Meta Quest 2, is a virtual reality headset designed by Facebook Reality Labs. The Oculus Quest 2 runs as a standalone Android system with the option to connect to personal computers using USB or Wi-Fi for supported PC programs. As such, the Oculus Quest 2 is an ideal option to run games found in Roblox for more exciting and realistic gaming in virtual reality.
Playing Roblox on the Oculus Quest 2
The ever-growing library of Roblox sees over 20 million games created on the platform each year, making it an ideal library for many gamers. Using the Oculus Quest 2, gamers can take their gaming lifestyle to the next level.
However, the Oculus Quest 2 has yet to offer official support for Roblox. You can play your favorite Roblox games in virtual reality using a few safe tricks. You will need to set up your Oculus Link to link your computer to the Oculus Quest 2 for streaming wirelessly or through cables. Join us and learn how to play Roblox on Oculus Quest 2 to upgrade your gaming experience on Roblox with VR.
What Do You Need to Play Roblox on Oculus Quest 2?
Set up your Roblox on the Oculus Quest 2 to start your journey to a fun and immersive gameplay. Follow the steps below:
Get a PC That Runs Virtual Reality
You will need a PC that smoothly handles VR streaming and plays games simultaneously. Ensuring your PC specifications can handle both the game and streaming to your Oculus Quest 2 is important for smooth gameplay.
Oculus Quest 2
Fully charge your Oculus Quest 2 so it's ready for use in the setup process and playtime. The Oculus Quest 2 drains battery, so you should charge it fully for uninterrupted fun.
Roblox Player
To run your Roblox, you must install the platform on your PC. You can do this by clicking the play button on any Roblox game, and it will automatically install the Roblox Player to your PC.
Oculus Link Setup
You will need to set up the Oculus Link on your PC as the main software that connects your VR to your personal computer. This allows you to play Roblox on Oculus Quest 2. You can set up your Oculus Link using USB or wirelessly as described below.
How to Connect the Oculus Quest 2 to a PC Using USB
Turn on your Oculus Quest 2.
Navigate, click on devices, and select Add Devices from the prompt.
Pick Quest 2.
Select the Connection method as Link Cable.
Connect your Oculus 2 headset to your PC using the cable link by plugging each end into the respective ports.
Go back to the Oculus app, and click Continue. You can test your cable connection on the prompt that comes up or click Continue to proceed.
The Oculus Quest 2 is now linked to the PC and is ready for use.
Linking Your Oculus Quest 2 to the PC Wirelessly
You will have to Connect your Quest 2 and PC to a similar Wi-Fi network, preferably a 5GHz network, for smooth streaming.
Go to your Oculus app on the PC, and click Devices. Proceed to select Add Headset.
On the next screen that appears, pick Oculus Quest 2 and click Air Link (Wireless) as the preferred connection channel.
Grab and wear your headset. Go to Open Quick Settings, which appears when you hover over it and select the clock button on the left navigation bar.
Select the gear icon in the upper right corner of your window to reveal the menu Settings.
Click on the Experimental box.
Navigate to the Air Link, and toggle it to be on.
Navigate to the main Settings window, and click on the Air Link box. A prompt listing all available PCs on the network with Air Link will come up. Choose your PC.
On your Oculus Quest 2, a pairing code comes up. Remove your headset and confirm if the code matches the one that appears on your PC.
Wear your headset and finish the pairing process as prompted.
Your PC is now connected to your Oculus Quest 2. You can now stream from your PC to the Oculus Quest 2 and get ready to play virtual reality-compatible games.
A Functioning Roblox VR Game
You will need to pick a game that is compatible with the Oculus Quest 2. To find a VR-compatible game, simply search VR Games in the Roblox search engine to get options on available VR Oculus Quest 2 games.
How to Enable Unknown Sources on Oculus Link
Roblox is yet to be officially reviewed and placed in the Oculus Store, so you will need to take a few steps to use it for your virtual gaming experience. However, it's a safe process that ensures the smooth running of your Oculus Quest 2.
When you are done with your Oculus Link up, the following steps will guide you on how to play Roblox on Oculus Quest 2.  
Click open the Oculus Link app on your computer.
Navigate to the left sidebar and select Settings.
Select the General tab to unveil the settings.
On the option for Unknown Sources, toggle the button on.
You have now successfully allowed Roblox to play. It is safe to play as Roblox is virus-free and compatible with the Oculus Quest 2.
Playing a Game in Roblox on the Quest 2
Once you are through with setting up the requirements and configurations, you are set to start enjoying your game. Pick a game that is VR-compatible and take the next steps to begin your gameplay.
Set up the guardian boundaries in your Oculus Quest 2 Guardian to begin this process.
Navigate to the Oculus app on your PC and click Airlink or Cable Link, depending on your connection. Remember that, for wireless connection, you must be connected to the same Wi-Fi network on your PC and Oculus Quest 2.
Go to your PC, and in the Oculus Link's Desktop window, select the Play button for your preferred Roblox VR Game you would like to play.
Accept the Roblox permission request to launch on the browser. Click Always Allow if you want the prompt not to appear again when playing the next time.
Get your headset, put it on, and enjoy the new gaming experience. You have successfully started gameplay on your Oculus Quest 2. Move your hands around like other VR games, and you are ready to go through your new game levels.
After following the above steps, the games should play smoothly. You now know how to play Roblox with Oculus Quest 2, and you can enjoy the broad genre of games available on the platform. You can also learn more and experience various virtual reality games from other platforms and have different immersive gaming experiences. 
If you need to learn more about setting up and resetting your Oculus Quest 2, check out our prepared guide and make your gaming experience much more fun. 
Up Next…
PlayStation VR vs. Meta Quest 2 – Check out our comparison guide to see the differences between the PlayStation VR and the Meta Quest 2.
Oculus Quest Pro vs. Meta Quest Pro – The Oculus Quest and Meta Quest names are often used interchangeably, and for good reason: they are the same product. See how Meta's acquisition of Oculus changed the VR market and what that means for the Quest Pro model.
Oculus Quest Pro vs. Oculus Quest 2: Is It Worth the Upgrade? – Check out the Quest Pro and how it differs from the Quest 2 in our detailed guide.