Did you know your iPhone's iMessage app allows you to play games besides texting? While many people use it to chat with their friends, one undiscovered feature of this app is the iMessage games. You can even play while texting with someone! Pretty cool, right?
To play iMessage games, you need a stable internet connection and the game downloaded on your phone. If you're playing with your friend, they must also have the same game installed on their iPhone.
The good thing is downloading and playing iMessage games on your iPhone is not rocket science. But, can you play iMessage games on your Android phone? Yes, but through a third-party app. This guide will discuss how to play an iMessage game and make your life more enjoyable.
How to Play iMessage Games on iPhone: A Step-by-Step Guide
Here is how you can enable, download, and play iMessage games on an iOS device or iPhone. Follow these simple steps!
Step 1: Enable iMessage From Settings
First, you must ensure that iMessage is enabled on the device. For that, open Settings, scroll down, and select Messages. On the next screen, turn on the toggle next to iMessage. This will enable the app on your phone.
Step 2: Open Messages and Create a New Message
Now, launch Messages on your iOS device and start a conversation with the friend you want to play the iMessage game with. Simply tap on the conversation or the New Message option in the top right corner of the screen. Enter the info of the friend you want to play the game with.
Step 3: Tap the App Store Icon
As the conversation opens, find the App Store icon from the options available above the keyboard and tap on it. It is blue-colored with a white A.
Step 4: Find "Play Games on iMessage"
On the Apple store page, scroll down till you find Play Games on iMessage. You can either tap the search bar or tap See All to view a list of games. The See All option will be present next to Top Free.
Step 5: Download a Game
Next, browse through the list and find the game you find interesting. Tap on Get to download the game. In the iMessage app, some games are free, while others require in-app purchases. We think the best iMessage games app is GamePenguin.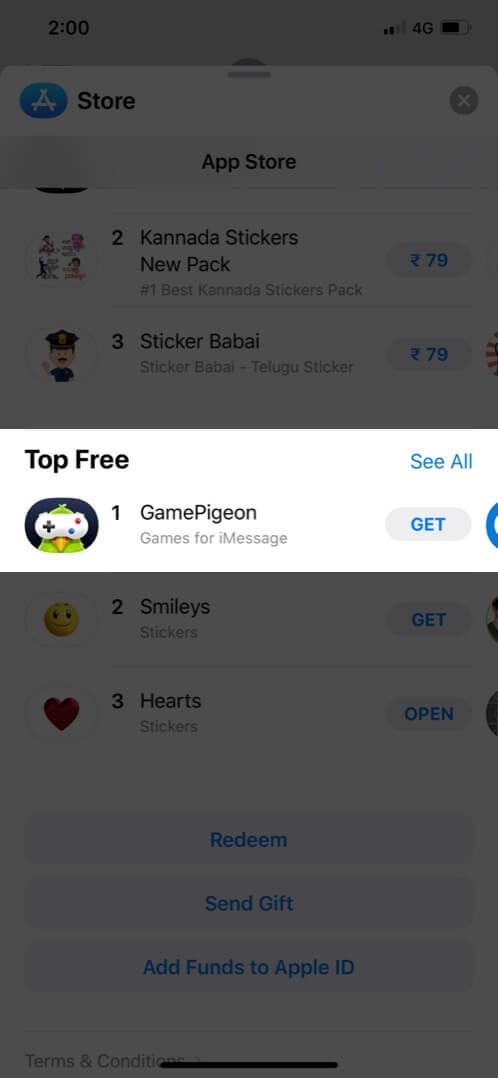 Step 6: Find the Game in the Toolbar
After the installation, the game will be available in the toolbar on the top of the keyboard in iMessage. Swipe the bar on the left side to see other games installed.
Step 7: Choose a Game in GamePenguin
Launch GamePenguin and choose any game from the total 24 games available. Here we have chosen 8 Ball. Tap on the blue send button to send the game in the conversation.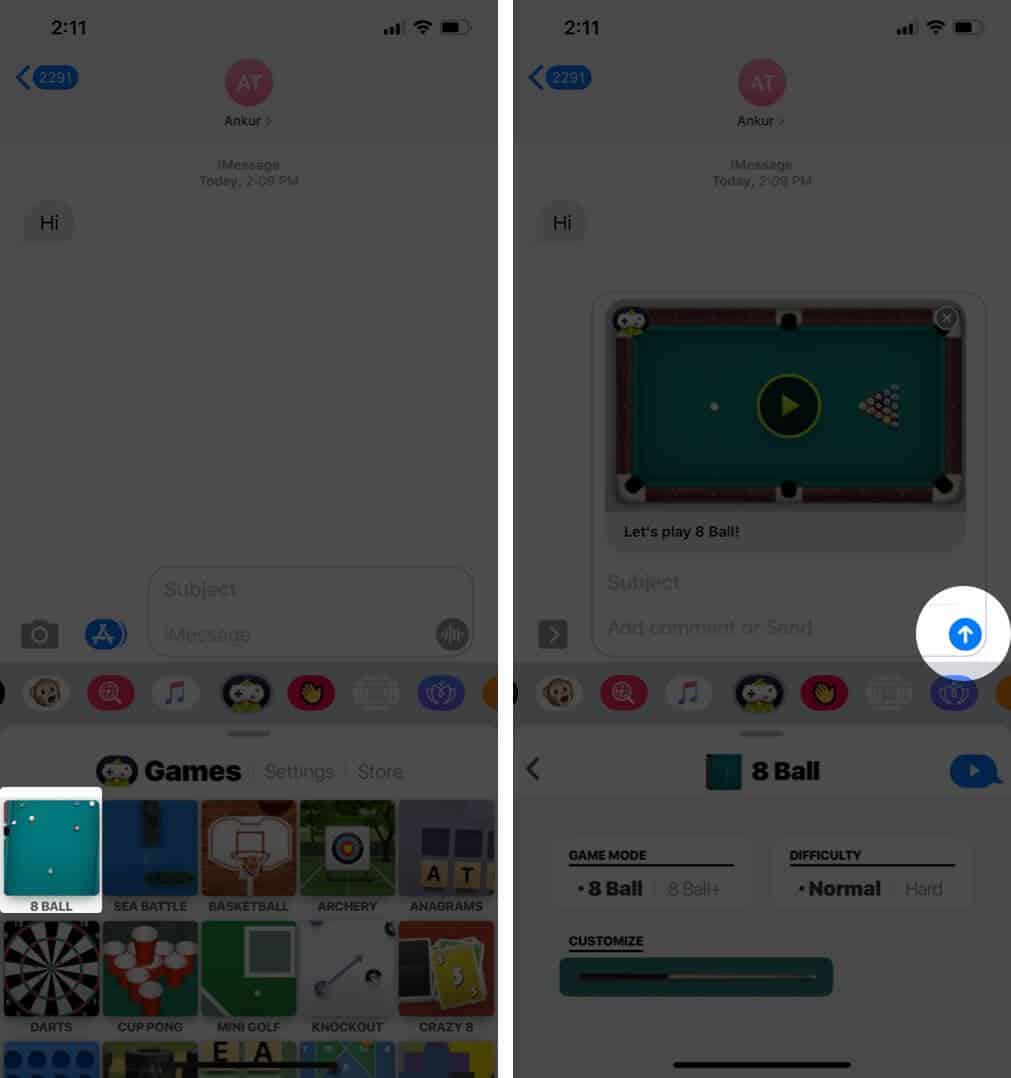 Step 8: Launch the Game and Play
Tap on the game link and play your move. The person you're playing with may have to download the game on their iPhone to play it. Once you send the move to them in the game, they will receive the link to install it on their phone.
As your friend installs the game, you'll be able to start playing with them. Wait for them to make their move, and you'll receive a notification when they do. Tap on it to play your next move. And that's it!
Can You Play iMessage Games on an Android Phone?
It's typically impossible to play an iMessage game on Android, as iMessages are only compatible with Apple devices. The devices that send and receive the messages are end-to-end encrypted in iMessage, and only Apple devices know how to decrypt them.
However, if you are still willing to play the iMessage games on your Android phone, you can do so through weMessage. The app combines iMessage's cloud messaging with Android smartphones, offering almost all iMessage features.
There are some things your Android phone must have to play an iMessage game. First, of course, you will have to download weMessage on your phone while keeping the below things in mind:
You should have an Apple ID to access the iMessage app.
You'd also need a Mac with macOS 10.10 or a later version.
Ensure that your Mac device has Java 7 or a later version downloaded and installed.
Your Android smartphone should have an Android OS 5.0 or above.
You need macOS to play iMessage games on your Android phone. All the iMessages on your Android phone will pass to the Apple device in two steps. First, the weMessage's server receives the messages. Then, in the following step, it sends these messages to iMessage, which sends them to macOS and the Android device.
All the messages sent with the weMessage app are encrypted by Apple through its security system. Follow the steps below to learn how you can play iMessage games on your Android through the weMessage app.
Step 1: Download Java SE Development Kit on MacOS
First, you must download the Java SE Development Kit on your Mac and install it. Then, you'll have to modify its System Preferences to give your server access to terminal rights to exchange messages between your Android and Mac.
You can visit Oracle's official website to download the latest Java for your Mac OS.
Step 2: Install weMessage on Android
Meanwhile, install weMessage on your smartphone from Google Play.
Step 3: Download the weServer Zip File
Next, you'll need to install the weServer zip file compatible with your Mac's operating system. For that, enter wemessageapp.com on your browser to find a downloadable zip file. Once downloaded, extract the file named run.command from the weServer zip folder. Then, open it by double-clicking on the icon.
Step 4: Link weMessage to iMessage
The next step is to connect the iMessage with the weMessage app. Open the weMessage and enter your primary iMessage email to connect both apps. Always choose a strong password for better security.
Step 5: Add Contacts to the weMessage App
weMessage is now installed on your Android. Simply enter your friends' contact info one after another into the app and start using the iMessage services.
Step 6: Connect the weMessage to Your Mac
Now, on your smartphone, open the weMessage app and click on Continue. Allow the app to access the iMessages. You may also turn on the toggle titled Allow modify system settings next to weMessage.
Now, you'd need to link weMessage to your device. Suppose your Mac already has the weMessage server, and both your devices have joined the same internet network. In that case, the weMessage app on your Android will automatically connect to your Mac.
Step 7: Manually Enter the Mac IP Address in the Android
If your devices don't connect on their own, you can manually provide the Mac IP address in the weMessage app on your Android. For that, open System Preferences, select your network, and then Advanced, TCP/IP. You can easily see your Mac's IP address here written as an IPv4 address.
Finally, enter the IP address of your Mac and your credentials in weMessage on your Android. Then, choose Sign In to connect both devices. Once you sign in, the app will open the conversation screen where you can easily send and receive messages, videos, audio, etc., to and from your Android smartphone to iMessage.
Note: remember that you can only connect your macOS and Android phone through the weMessage app when both devices are connected to one wireless network.
Can You Play Games With a Friend Through weMessage?
Now that you know how to play iMessage games on your Android phone you're probably wondering if you can still enjoy them with a friend. The good news is that you can play iMessage games with a friend through weMessage. If they have an iPhone then you're good to go once you've got weMessage connected on your phone. However, if they have an Android phone then they will also need to follow the steps above and download weMessage to connect to the iMessage system.
Final Thoughts
Contrary to popular perception, iMessage is not only to send or receive messages, video, and audio to iPhone users. Instead, you can also play iMessage games on your iPhone and iPad and have fun with some friends. The good thing is that the setup process is pretty easy.
If you have an Android phone, you can still play iMessage games. All you have to do is install the weMessage app on your phone and follow the steps mentioned above to enjoy fun games anytime, anywhere.
Up Next:
The image featured at the top of this post is ©oasisamuel/Shutterstock.com.