Connect 4 is also known as Four in a Row and Plot Four, among other names, but it's one of those games that's most fun when played against friends and family rather than strangers or a computer.
If you have an iPhone, you can easily integrate this game into your iMessage app, so you can play it with your contacts at any time in just a few steps.
The setup is something you shouldn't be afraid of, and if you want to learn how to play Connect 4 in iMessage, you've come to the right place. We'll show you a detailed process in the steps below, so let's break it down!
How to Play Connect 4 on iMessage on an iPhone
Not only can you play Connect 4 on iMessage with the add-on, but we also show you how to download and integrate it into your iMessage so you can play many different games in just 3 easy steps.
Step 1: Open the App Store in iMessage
To play the Connect 4 game in your iMessage on your iPhone against your contacts, the first thing you need to do is download the app. GamePigeon is an app that integrates games into iMessage, providing easy access to games for iPhone users who want to test their strengths against their friends and family.
Open iMessage, open a new chat thread, and to the left of the chat box, you will see a gray App Store icon. When you click on the gray App Store icon, a sliding menu will open below it. In the sliding menu, you will find the blue App Store button. Tap it once to open the App Store in iMessage.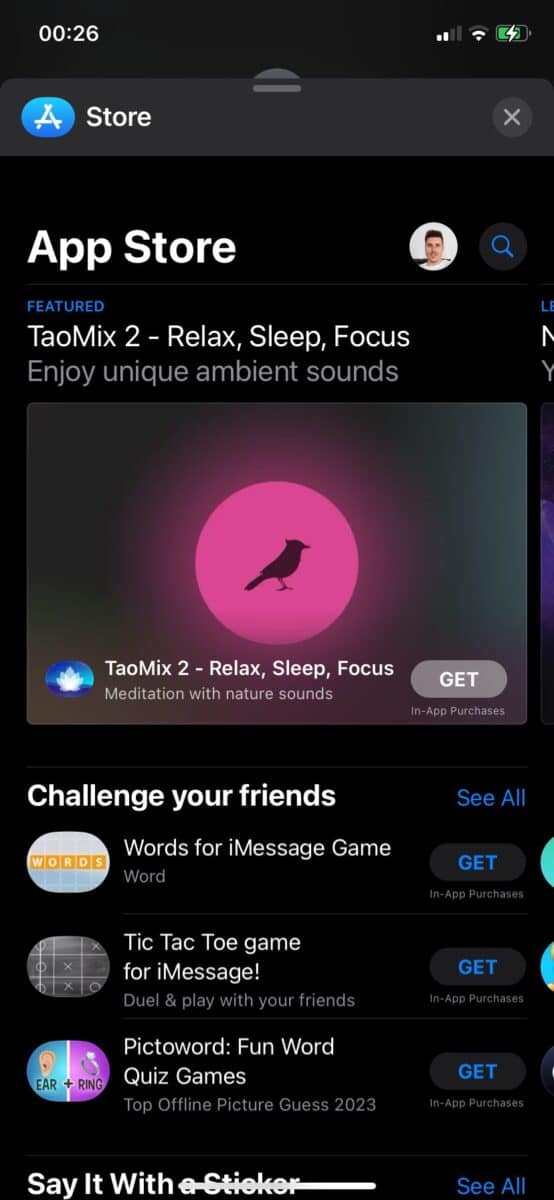 Step 2: Install GamePigeon
In the new App Store pop-up, use the search function to look for GamePigeon. Click the Install button to download the GamePigeon app on your iPhone.
Note that this app is not typical and you won't see it on your home screen. Instead, you'll access it through iMessage, because it's an iMessage add-on that lets you play games with your contacts.
Step 3: Launch and Play Connect 4
When you install GamePigeon, you can close the App Store screen and you should still be in iMessage.
In a chat with one of your contacts, click the gray App Store icon to open the sliding menu, if it's not already open. In the sliding menu, slide to the right to find the GamePigeon icon.
Clicking on the GamePigeon icon will open a menu of games to choose from. Connect 4 is the first game in the third row, but keep in mind that on the iPhone it is called Four in a Row. Click on the Four in a Row game icon and you'll see an invitation in the chat box.
Click Send and you'll send the invitation to your contact. When both you and your contact open the invitation, you will connect and a game will begin.
Can You Install GamePigeon Using the Standard App Store?
Yes, you can go to the regular App Store from your iPhone's home screen. Note that you won't see a GamePigeon icon on your screen after download, even if you installed it from the App Store. The same version of the App Store is also used via iMessage but in the form of a pop-up.
Using the App Store via iMessage is purely a convenience feature and you can download the GamePigeon app the way that works best for you.
Wrapping Up
Playing Connect 4 via iMessage is just more fun when played with friends and family. With the ability to start a game in a second by sending an invitation via iMessage, you can set yourself up for hours of fun.
The whole setup should only take a few minutes, and the good thing is that you only have to do it one time. Plus, the GamePigeon app offers many other games that you can play in the same way!
The image featured at the top of this post is ©oatakoi/Shutterstock.com.