Even though Amazon would like you to use all of their services, they do play pretty well with third-party apps. So, on Echo devices, you have your choice when it comes to music streaming services. Whether it is Spotify, YouTube Music, or Apple Music, you can stream your favorite tunes on your Echo device with a simple voice command.
If you are already using Apple Music, then you know that lossless audio is a significant advantage over other music streaming services. Thanks to an excellent integration with Echo devices, you can expect to keep the lossless audio, making your home sound system sound even better.
You can connect Apple Music and Alexa with the mobile app or Amazon website, regardless of your preference. We will be going through both of these in this article, but let's first start with the mobile app.
Pros and Cons of Apple Music
Apple Music is best described by Apple itself. Tim Cook said it was, "all the ways you love music, all in one place." If you are looking to make a switch to a new music streaming service or start streaming music in general, Apple Music is an excellent option. Here we will go over the pros and cons of Apple Music to help you make a somewhat hard decision.
A Massive Music Catalog
You will have no fear of running out of music possibilities, with over 100 million songs to choose from. Plus, the "For You" section uses an excellent algorithm to help you find new artists and even genres. If you are looking for a fun genre hole to dive into, we recommend checking out some Cosmic Country.
Offline Listening
Even though, at this point, most music streaming services offer offline listening options, it is a feature that you cannot take for granted. Whether you are a plane or just don't want to use a bunch of data, offline listening is an absolutely excellent feature.
Price and Availability
If you are trying out Apple Music for the first time, you can get a 1-month free trial to test the waters. After that, the monthly cost is $10 a month, which is pretty comparable to Spotify and other music streaming services. You can also sign up for a family plan which is $14.99 a month and gets you and 5 other accounts under the same plan. Apple Music is also available in 167 countries.
No Free Listening
One of the only downsides we have run into with Apple Music is that they don't offer a free listening option or ad-supported. Even though you don't really see it a lot, Spotify does still offer ad-supported listening, and so does Pandora. We think this fact makes a lot of people turn their noses up at Apple Music and go for Spotify instead. If Apple Music starts to offer an ad-supported tier, we think it will be an even better competitor to Spotify.
Steps to Use the Alexa App to Play Apple Music
Step 1. Download and Open the Alexa App
If you don't have it already, you can download the App for Alexa for Android and iOS devices. After you have it downloaded to your device, open it.
Step 2. Tap on Devices and Set Up an Echo Device (Optional)
If you haven't already set up your device, tap on the Devices tab in the bottom toolbar menu. Follow the on-screen instructions to set up your new Echo device. You can skip this step if you have already connected your Echo device to the app.
Step 3. Select More and Settings
Now tap on More in the bottom toolbar, then select Settings from the bottom of the More page.
Step 4. Click on Music and Podcasts
In the Settings screen, scroll down until you are in the ALEXA PREFERENCES section, and tap on Music and Podcasts.
Step 5. Link New Services
Next, tap on Link New Services, and from the list, find Apple Music. Most of the time, it is towards the top, if not the first result in this list.
Step 6. Tap on Enable To Use
After tapping on Apple Music, you will be brought to a page to turn on a new skill for your Alexa. Tap Enable To Use to continue.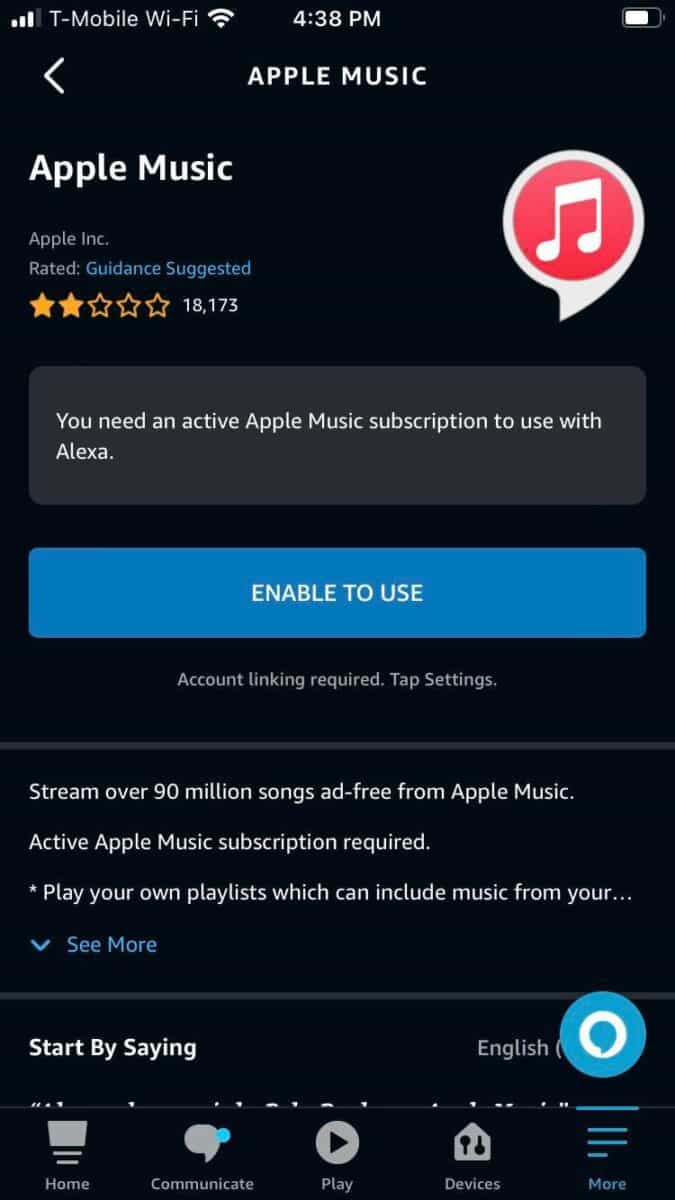 Step 7. Sign in to Apple Music
Now, you will be brought to a page to sign in to your Apple Music account. If you are doing this process on an iPhone or iOS device, you should be able to use Touch or Face ID to log in instead of the traditional way.
Note: You do need to have a paid Apple Music account to link it to an Alexa device.
Step 8. Say "Alexa Play Apple Music"
With your Apple Music account synced with your Alexa device, you can now ask your Echo device by saying, "Alexa, Play Apple Music."
Step 9. Set As Default (Optional)
If you exclusively want to listen to Apple Music and don't want to have to clarify every time you ask Alexa to put on music. Tap on Your Default Services in the Music & Podcasts menu. Then tap Change by each setting you want to change. We recommend changing all three over to Apple Music to make the listening experience more consistent.
You can also watch this step-by-step tutorial on how to link Apple Music and Alexa.
Using the Alexa Web App
Using the Alexa Web App will not support all Amazon devices and features, but if your phone is out of commission for whatever reason, it will do in a pinch. Unfortunately, you will not be able to add a new music service through the web app, but you can choose a new default.
Step 1. Open the Alexa Web App
You can find the Alexa web app by clicking here or searching Alexa Web App in your browser of choice.
Step 2. Click on Settings
From the menu off to the left-hand side of the page, click on Settings.
Step 3. Tap on Music and Media
Scroll down a bit on the Settings page and click on Music and Media.
Step 4. Select Apple Music
From the list, click on Apple Music to set it as a default service.
The image featured at the top of this post is ©nikkimeel/Shutterstock.com.