Recent updates to the Apple iOS have focused on iMessage. From the creation of Animojis to the debut of the special screen and bubble effects to the addition of the App Store for iMessage, it seems each new iOS update brings new and exciting features to iPhone's iMessage app. One of the most popular examples in recent years? The ability to play games like 8 Ball within an iMessage conversation thread. But how exactly do you do it? If you don't know, follow along with our helpful guide on how to play 8 Ball on iMessage below.
Playing Games in iMessage
Not long after iOS 10 launched, GamePigeon arrived on the new App Store for iMessage. Free to download, the app also came with the option for in-app purchases. These unlocked additional skins and avatars, unveiled additional game modes, and added the option to go ad-free. Its free version currently boasts 25 unique games for iMessage users to play with one another. These games include:
8 Ball
9 Ball
20 Questions
Archery
Basketball
Shuffleboard
Tanks
Anagrams
Word Bites
Word Hunt
Mancala
Miniature Golf
Paintball
Reversi
Sea Battle
Dots & Boxes
Filler
Four In A Row
Gomoku
Knockout
Checkers
Chess
Crazy 8
Cup Pong
Darts
How to Play 8 Ball on iMessage
Playing games within the iMessage app is far simpler than you'd think. Follow these three easy steps below, paying close attention to the photos at each step, and you'll know how to play 8 Ball on iMessage in no time.
Step One: Download GamePigeon
To learn how to play 8 Ball on iMessage, you must first download the appropriate app. However, you won't find this app in the regular App Store. You'll have to go to the App Store for iMessage.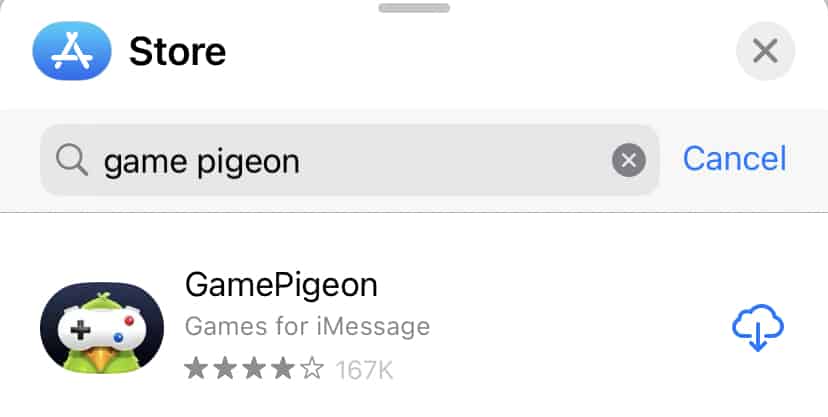 Open up a conversation thread with an iPhone user on the iMessage app. Tap the grey app icon next to the camera icon to the left of the text box. From here, you'll see a range of apps between the text box and the keyboard. Tap the App Store icon and search "GamePigeon." Hit download.
Step Two: Choose an Opponent
After downloading the game, you'll need to choose an opponent. (Ideally, one who also knows how to play 8 Ball. If they don't, they can follow along with this guide, too!) Then, open up a conversation thread with your opponent and tap the GamePigeon app. It's one the same row we found the App Store for iMessage.
Step Three: Start a Game
Finally, tap the 8 Ball game on the GamePigeon app. Set your preferred rules, and then hit send. When your opponent makes their move, they'll send the move back to you. You'll keep going back and forth until the game is over. Learning how to play 8 Ball on iMessage is that simple. Good luck, and happy playing.
And, if you'd like a helpful walkthrough of the steps covered in this article you can check out the video below:
The image featured at the top of this post is ©oasisamuel/Shutterstock.com.