You would typically pair your Apple Watch when you initially connect your watch to your iPhone. However, even if your watch is already set up, there may be times when you need to pair your watch and phone again.
If your devices will not sync, re-pairing can get them working together again. Or, possibly your Apple Watch and iPhone will not pair automatically and you need to pair them manually. Regardless of the reason, this guide will show you how to pair Apple Watch in just 4 simple steps!
Getting Started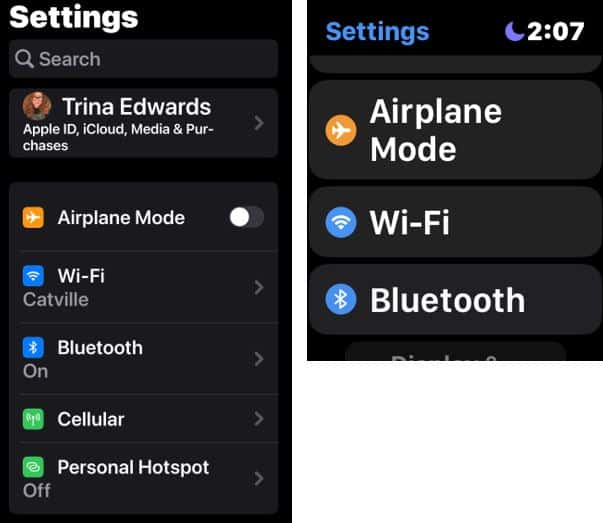 Before we begin, there are a few settings you'll need to check. On both devices:
Turn off Airplane Mode.
Turn on Wifi. (For GPS plus cellular models, make sure you are connected to your network.)
Turn on Bluetooth so the watch is discoverable.
Pair Apple Watch Automatically
The easiest way to pair your Apple Watch is to let your watch and your phone do the work for you. Follow the prompts on your devices as you go through the steps. Now, let's get started!
Step 1: Bring Your iPhone Near Your Watch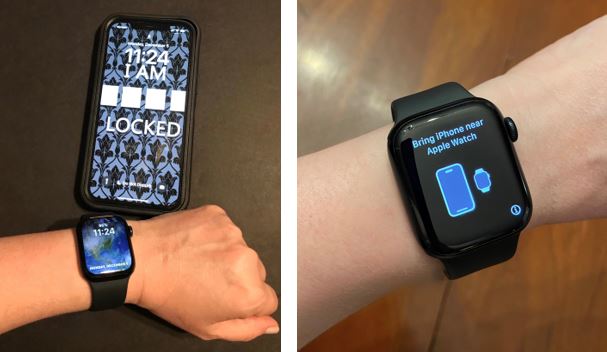 Put on your watch and bring your phone near it. For Apple Watch to pair automatically, your devices have to be nearby. If your devices are not close enough during the process, the watch will prompt you until your iPhone is in range.
Step 2: Start Pairing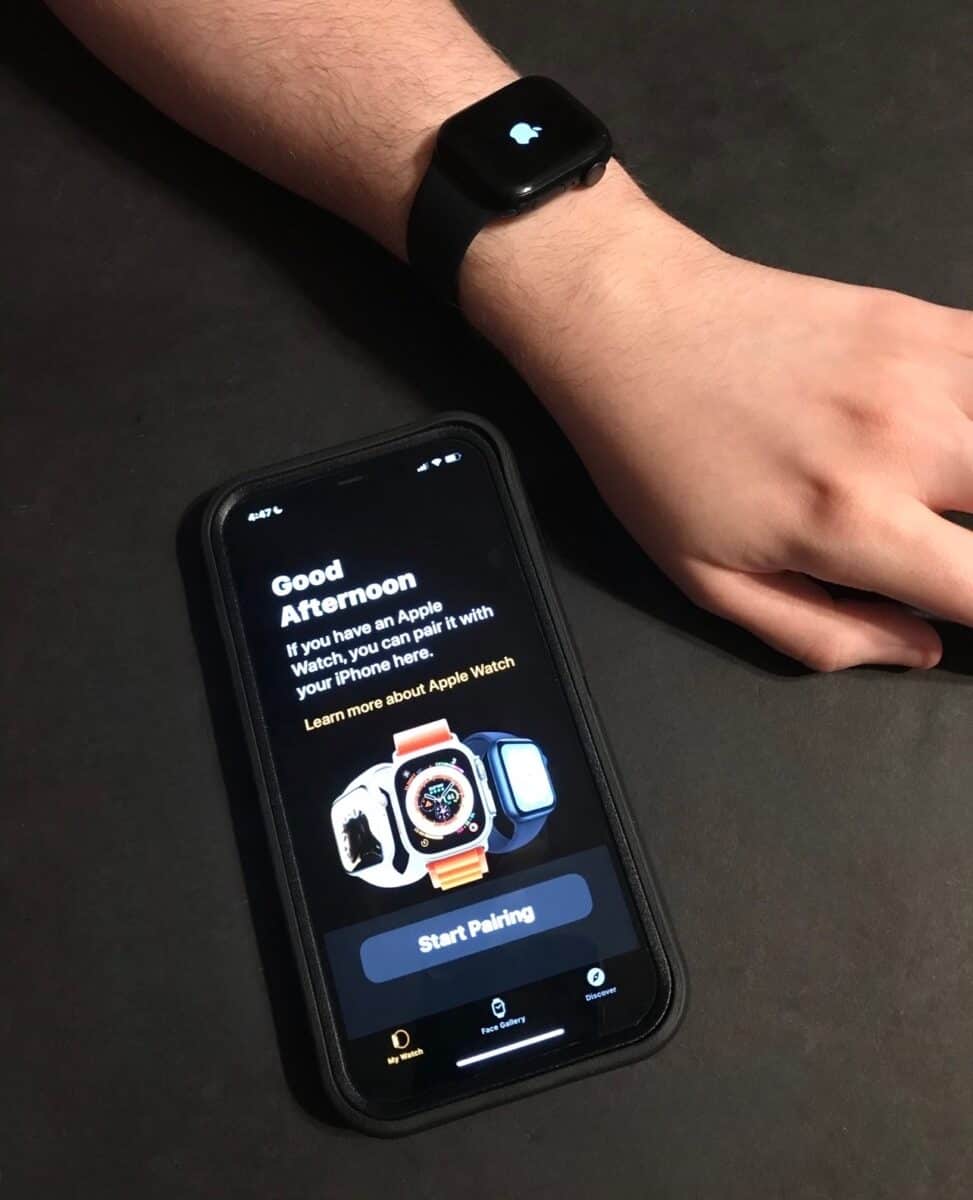 When the devices are close enough, the Watch app will open and the pairing screen will pop up on your phone. Click on Start Pairing underneath the image of the watches.
If you want to pair an additional watch with your current iPhone, open the Watch app on your phone. Then tap on All Watches in the top left corner. Next, click on Add Watch and continue to Step 3.
Step 3: Select Set Up For Myself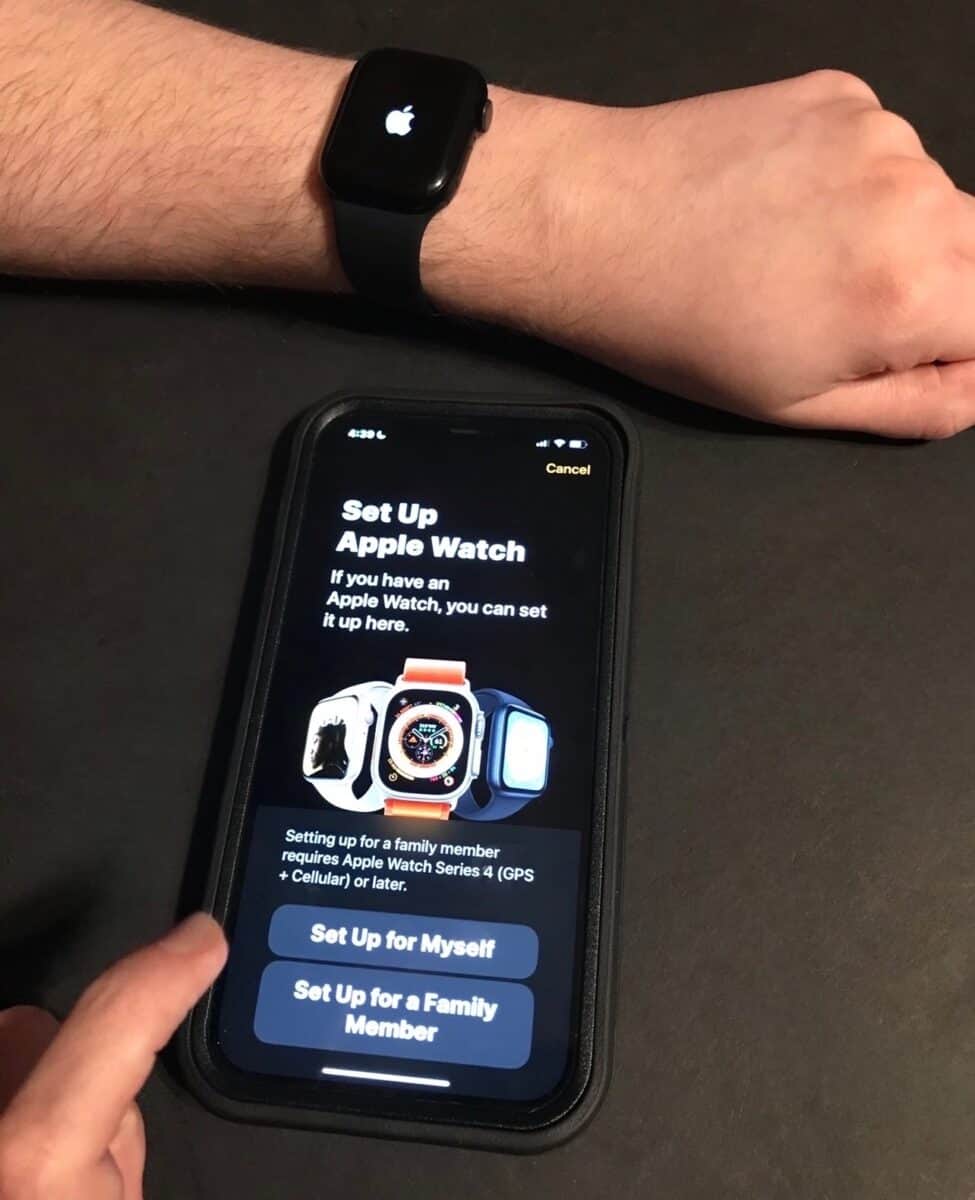 On the next screen, select "Set Up for Myself" unless you are pairing the devices for a family member. Your phone may briefly say, "Searching for Apple Watch" while trying to connect.
Step 4: Align Your Watch with the iPhone Viewfinder
Finally, align your watch with the iPhone viewfinder. Hold your watch up to the camera, or hold the viewfinder over the watch, until you can see the watch face in the frame. When pairing is complete, your phone will say, "Your Apple Watch is Paired."
Pair Apple Watch Manually
If you reach Step 4 and your watch will not pair automatically, do not worry! You can still pair your Apple Watch manually. Follow the steps below to pair your devices using a 6-digit code from your watch. Note that the first three steps are the same, regardless of whether you pair it automatically or manually.
Complete Steps 1-3 as Shown Above
Bring your watch and iPhone close together.
Tap "Start Pairing."
Select "Set up for Myself."
Step 1: Tap Pair Apple Watch Manually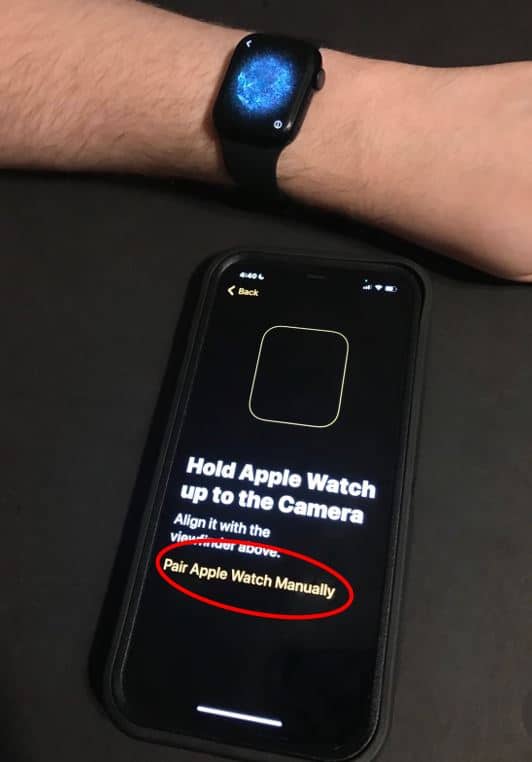 If your phone does not detect the pairing animation on your watch, tap Pair Apple Watch Manually at the bottom of your screen.
Step 2: Tap the Information Icon on Your Watch
Next, tap on the information icon in the bottom right-hand corner of your watch display.
Step 3: Select the Name of Your Watch from the List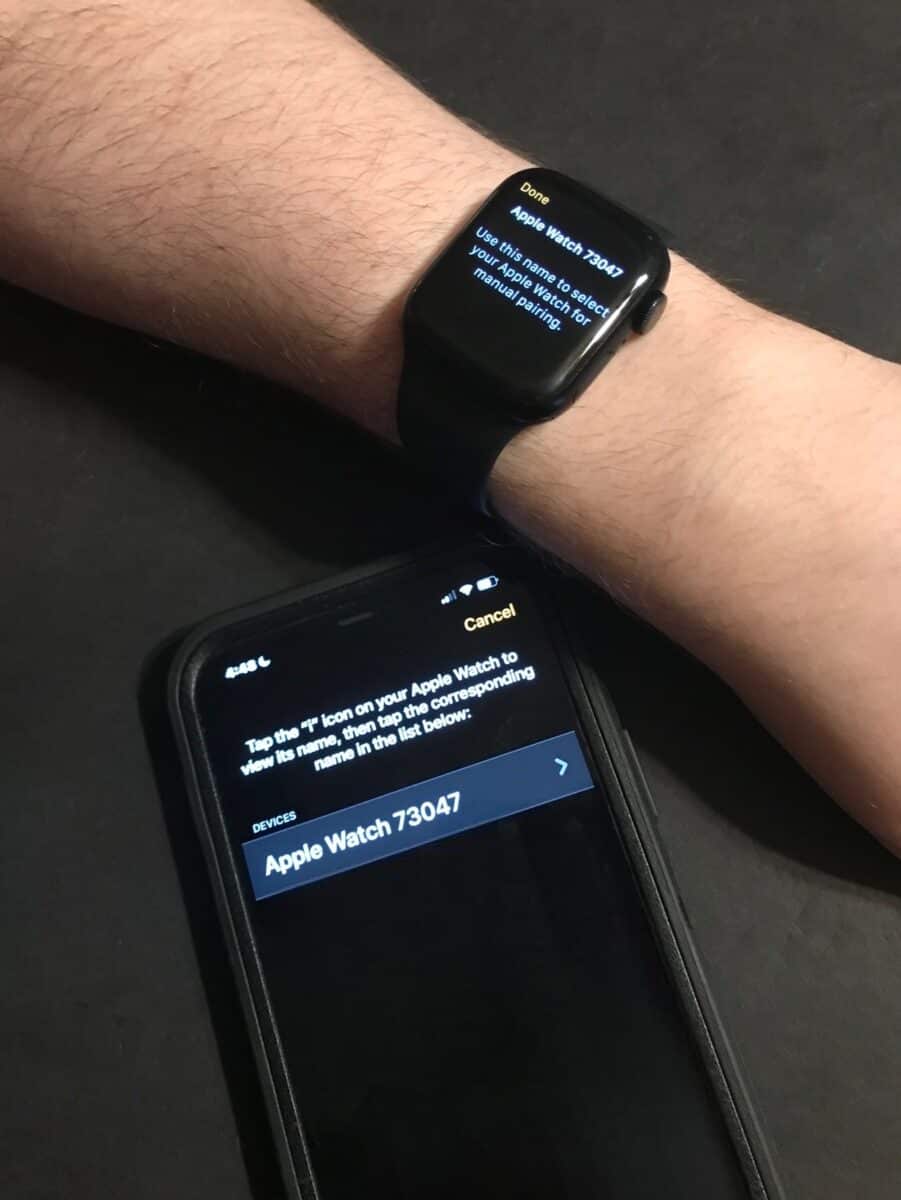 When the name of your watch appears, select the matching name from the list on your iPhone. We only had one watch, so there is only one name on the list. If you have multiple watches, you may see additional names here.
Step 4: Enter the Code from Your Watch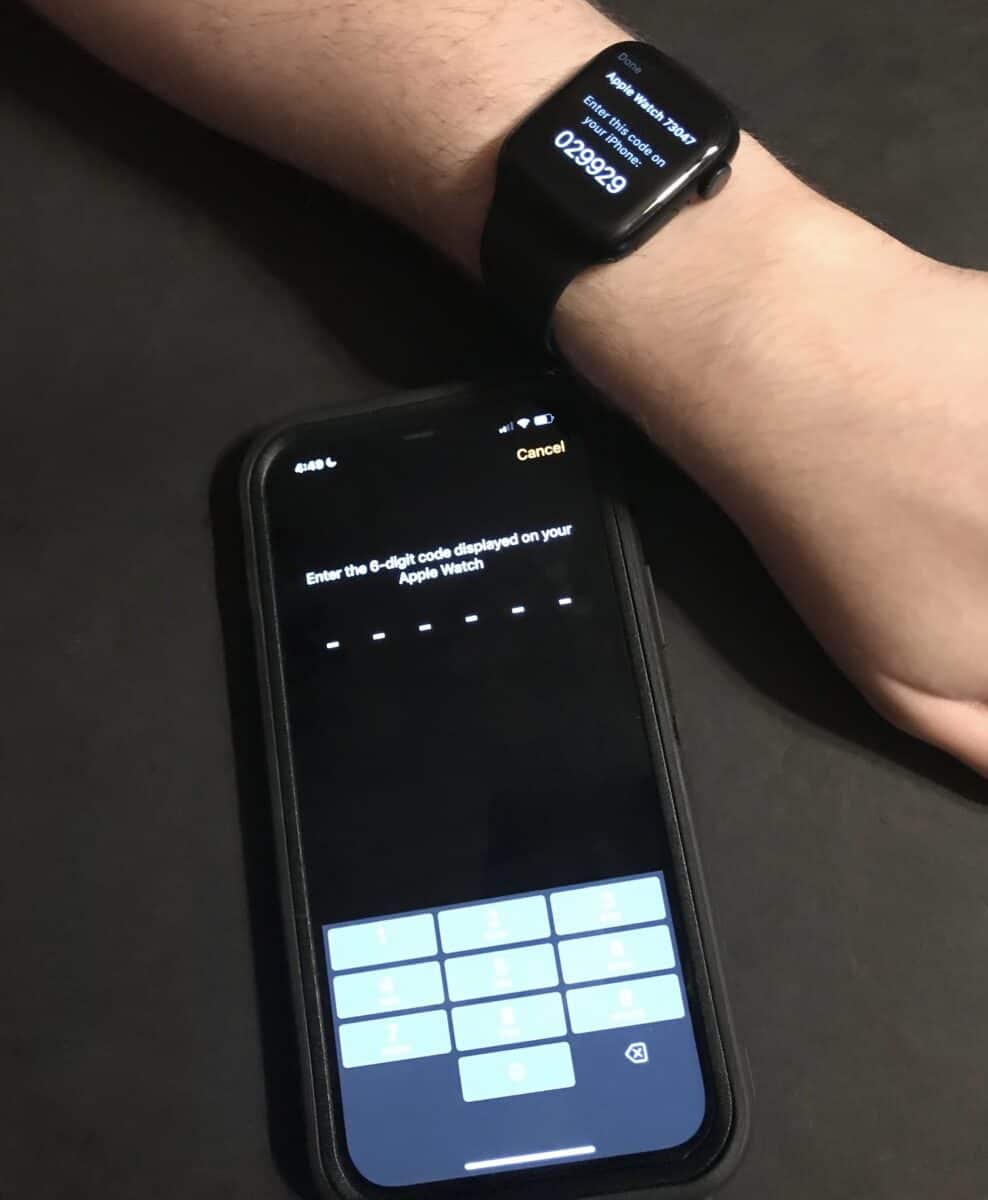 Next, enter the 6-digit code from your watch on the touchpad on your iPhone. Your watch will display a geometric logo while the devices are pairing. Your phone will say, "Your Apple Watch is Paired" when the process is complete.
If You Can't Pair Your Apple Watch
If you have wifi or cellular connectivity but can't pair your watch with these methods, there are a few things you can check. Continue reading to learn about some common problems and how to solve them.
1. You Didn't Get the Pairing Screen
If you did not even get the "Start Pairing" screen from Step 3, you can still pair your watch manually.
Turn off your watch but leave it on your wrist.
Open the Watch app on your phone.
Tap All Watches on the top left.
Tap Add Watch.
Now turn your watch back on.
Choose to manually connect and follow steps 4-7 under Pair Apple Watch Manually.
2. Your Watch is Paired with Another iPhone
If pairing is unsuccessful, your watch might be paired with another iPhone. If you still have the other phone, unpair your watch via the Watch app. Once complete, you can pair your watch again.
Open the Watch app on your phone.
Tap on All Watches.
Tap the information icon next to the watch you need to unpair.
Tap Unpair Apple Watch at the bottom.
Follow the instructions on the screen to unpair.
You can also unpair from an old phone by resetting your watch to factory settings. Erasing all content and settings will unpair your watch from any phone it is connected to.
Open Settings on your watch.
Tap General.
Scroll down and tap Reset.
Tap Erase all content and settings.
Enter any passcode and tap Erase All.
3. Activation Lock Is Still On
If you are not the original owner of the watch, the Activation Lock may be enabled. You will need to contact the previous owner and ask them to disable it for you. You will not be able to pair your devices until Activation Lock is turned off.
4. Your Software Needs to be Updated
If you still can't pair your watch, check to see if your devices are running the latest version of the software. Check both devices by opening Settings. Then tap General and scroll down to Software Update. If there is a newer version of the software available, tap Download and Install to update. When both the watch and phone are up to date, try pairing again.
Hopefully, this guide has helped you learn how to pair Apple Watch. Now that your devices are paired, complete the setup process by restoring from a backup or setting your watch up as new. Follow the instructions on your devices, then just sit back and wait for your watch to finish syncing!