Key Points
Using game compatibility tools is one of the easiest ways to check if a game is compatible with your PC.
You can also check your PC's specs and compare them to the game's requirements to determine compatibility.
Steam and the Xbox app both provide system requirements for games, allowing you to check compatibility before downloading.
Ensuring compatibility is important to avoid overtaxing your system, experiencing crashes and lag, and getting the most out of your games.
Are you ready to start PC gaming but you don't if a game is compatible with your machine?
If you've ever spent $60 on a game only to realize the game isn't compatible with your PC, you've learned quickly to check your machine's specs. Fortunately, most companies offer refunds for these mishaps, but we're here to teach you how to avoid them in the first place.
There are a few methods you can use to check if a game is compatible with your PC and we'll show them all to you in the following sections. Hopefully, all of the games are compatible, because if not, your machine may need some upgrades or you'll have to invest in a different game.
Let's break it down!
Method #1: Using Game Compatibility Tools
One of the absolute easiest ways to find out if your game is compatible with your PC is to use a compatibility tool. These tools are typically free to use and instantly cross-reference your PC's specs with the game's requirements.
While we should note that our readers be careful when using these tools, the ones we've tried are perfectly safe (based on our experience). For this part of our tutorial, we're using Can You Run It? but you can also use PC Game Benchmark for free and without downloading any additional software.
If a game compatibility tool seems right to you, follow these steps.
Step 1: Type in the Name of the Game
First, visit the compatibility checker tool website. Then, select or type the name of the game you want to download on your PC.
Step 2: Click Can You Run It
The Can You Run It site will have an option, interestingly enough, that says, Can You Run It? Click that option.
Step 3: Click Can You Run It (Again)
Now, we get to see the game we've selected. Assuming the site pulled the correct game, click the Can You Run It? button again.
Step 4: Click the Downloaded File
Now, you will need to download a file. We've never had a problem with this, but it may be a bit slow. Click the download icon in the top right corner of your browser. Then, click the file to run it.
The tool will begin working and you can see the process.
Step 5: Review the Results
Finally, and hopefully, you'll see all the green checkmarks! If the game is compatible with your PC, the tool will let you know.
Furthermore, the game checker tool will let you know which components aren't compatible. This setup makes it super easy to find out what you need to upgrade so you can play your game!
Method #2: Checking PC Specs for Game Compatibility
If you don't want to download any software or allow random sites access to your computer's specs, you can check to see if a game is compatible using this method. This isn't as easy as the one above, but you can compare your PC's specs to the game requirements by looking at each separately.
Here's how to check your PC specifications.
Step 1: Open the Task Manager
You can open the Task Manager by typing it into the search bar or clicking ctrl+alt+esc on your keyboard. The Task Manager will open on the Processes page.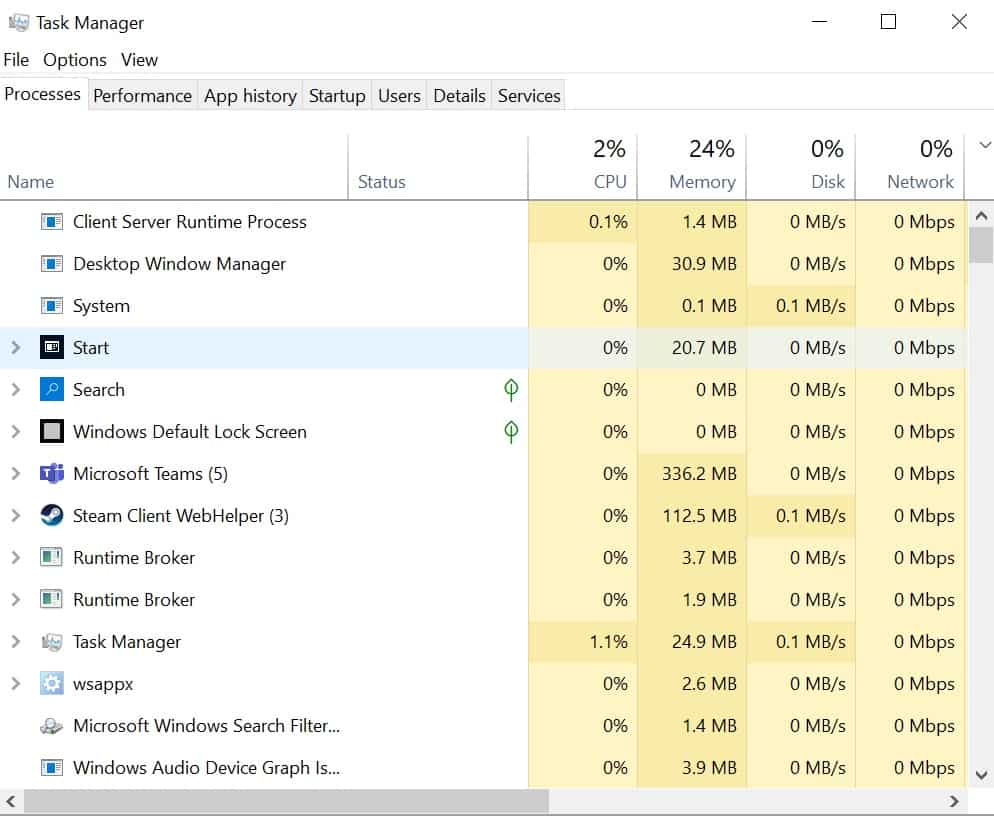 Step 2: Click Performance
Click the Performance tab at the top of the page.
Step 3: Review Your Computer's Specs
You'll see all of your computer's specs on this page. Scroll through the list getting familiar with each one.
Note: You can use the Alt+Tab keyboard shortcut to quickly switch between the Task Manager and your game's requirements page. This shortcut will make comparing your PC's hardware and software to the game's requirements.
Checking Game Specs on Steam
Now, it's time to search for the game's specs. Steam is one of the more popular places to source games for PC gamers. If that's what you're using, follow these steps to see if the game is compatible with your PC.
Step 1: Select the Game
First, start out in the Steam game store. Click the game you're interested in downloading (or search for it).
Step 2: Scroll to the Game's Requirements
All Steam games list system requirements. Scroll down the page until you see them. Then, use the Alt+Tab keyboard shortcut to quickly switch between Steam and Task Manager, comparing the requirements with your specs.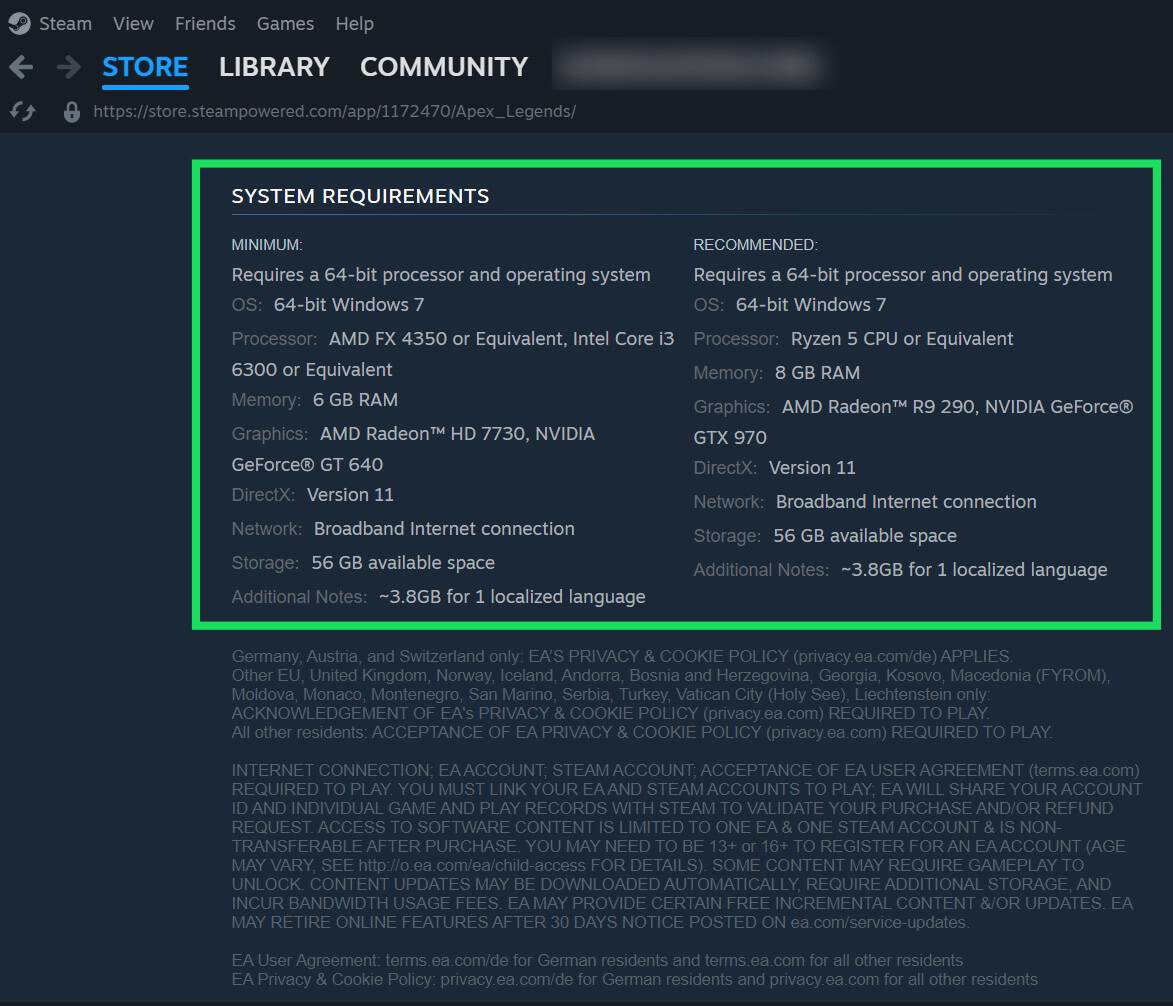 Check Game Specs with Xbox
Aside from Steam, we also use the Xbox app to play games on our PCs. If you do too, you'll need to check that the game is compatible with your PC before downloading.
While this does take more steps than it does for Steam, you can follow these steps to ensure the game is compatible. Here's what to do.
Step 1: Click the Game
Launch the Xbox app on your PC and click the game you want to download.
Step 2: Click More
The game will open to an information page. The game's requirements aren't on this page. You must click the More tab. If you don't initially see it, scroll down just a bit.
Step 3: Scroll Through the Requirements
Finally, scroll through the requirements. Then, click Alt+Tab to switch to the Task Manager while you compare your system to the game.
Does PC and Game Compatibility Matter?
If you aren't convinced you should follow the methods above before downloading a game, we're here to tell you that it does matter. First, you don't want to overtax your system trying to play a game. An overheating GPU or CPU can cause serious problems, and this is one of the side effects of playing a game that isn't compatible.
Next, you won't get to enjoy the game if your PC doesn't meet the requirements. Even if the game will load, it will crash and lag. If you've ever gone up against a Legendary Scorchbeast only to have your PC crash right before you can collect the loot, you'll see why we're sticklers for compatibility.
Lastly, games cost anywhere from $60-$80 these days. You want to get the most out of them. It's best to meet the recommended requirements, but meeting minimum requirements is critical.
Wrap Up
Some would argue that PC gaming is the wave of the future. You can upgrade your hardware as needed, get early access to new games, and run faster processors with better frame rates. But before you can enjoy the beauty that is PC gaming, you'll have to make sure your machine can run the game.
Fortunately, you don't need a computer science degree to check compatibility. All you need is our guide above!
The image featured at the top of this post is ©DC Studio/Shutterstock.com.