While there are thousands of mobile games on Android, you can find the most popular titles on iPhone and other platforms as well. Fortnite is no exception, but if you want to get Fortnite on Android, the process isn't exactly straightforward.
You can't find it in the Play Store, and we're going to tell you why. We're also going to walk you through downloading and installing Fortnite on Android, regardless of your carrier or device.
Why Is Fortnite Not on Google Play?
If you've wanted to play Fortnite on your mobile, you're in for a rude surprise when you fire up Google Play. The game was available on Google Play and the App Store for a brief period of time after it launched, but was pulled from both marketplaces not long after.
Epic and Apple eventually ended up in a lawsuit over in-app purchases, which is the reason the game was removed. Google Play and Apple take a cut of purchases made within games, but Epic wanted users to be able to pay directly circumventing the fees. After an update, the game was removed from Google Play and hasn't been back since.
Despite Fortnite being available for Android since around 2018, you cannot download it directly from Google Play. Instead, you'll need to follow the steps in our guide to get Fortnite on Android through Samsung or Epic's website.
How to Get Fortnite on Android Through Epic Games?
For most users, the best and quickest way to get Fortnite on Android is through Epic games. The company makes things relatively simple, although you'll need to keep a few things in mind before starting.
Fortnite is a "large" game that requires a lot of space on your device. Make sure you have at least 3GB of space available before you begin the download. Given the size, it could also take some time depending on your connection.
1. Go to Epic Games
Using a web browser on your mobile device, go to Epic's official site for Fortnite on Android.
2. Download Epic Games App
From this page, you'll see a loading screen and then a message should appear asking you if you want to download the Epic Games App. As you can see, the message says it could be "harmful" but it's not as long as you obtain it from their official site. Click on download when you're ready to proceed.
3. Install Epic Games Store
When the file finished downloading, choose Open from the pop-up prompt and you'll be asked if you want to install the app. If you miss the pop-up, you can locate the app in the downloads section of your device.
If you get a message asking you to allow app installations from "unknown sources" follow the prompts to enable access. Once the app is installed, tap on Open.
4. Download Fortnite
Now you'll see the option to download a handful of apps from Epic including Fortnite. Tap on Fortnite, choose install, and select launch to begin downloading the update.
How to Get Fortnite on Android Through Samsung
If you own a Galaxy-branded device from Samsung, you're probably familiar with the Galaxy Store. It's Samsung's version of Google Play, and there are some interesting options including exclusives like Fortnite.
1. Open the Galaxy Store
On your Samsung smartphone, locate and open the Galaxy Store app. If it's your first time using the service, you'll need to enter your credentials and may need to update them before proceeding.
2. Select Games
With the Galaxy Store open, choose the Games tab at the bottom of the screen. Now you'll need to locate Epic Games, which shouldn't be hard as it's generally in the top-ranked games list as shown.
3. Download Epic Games
Choose the Epic Games app and select install. You can set this app (and others) to automatically open after installation from here as well.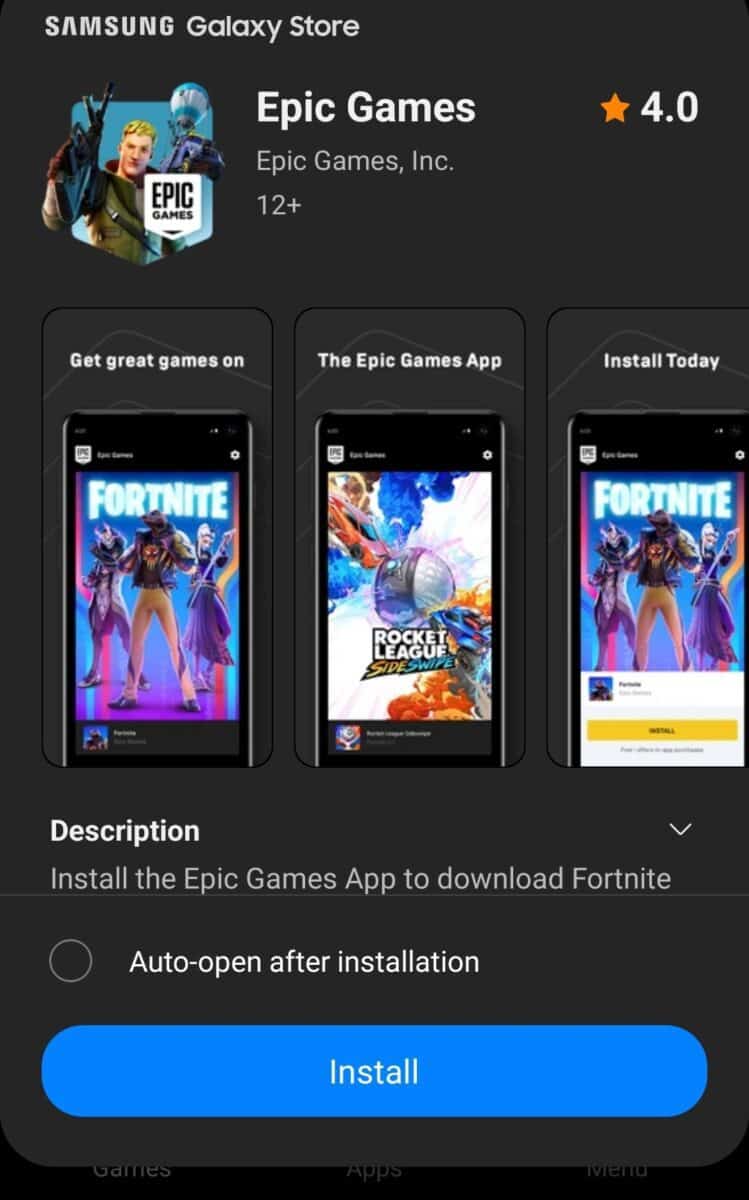 4. Get Fortnite for Android
After Epic's app has been installed, tap on Fortnite from the options shown on the game's screen. When you're ready to begin the installation process, click on Install and follow any on-screen prompts that appear.
How to Get Fortnite Through Cloud Gaming
If you're unable to Samsung's Store and don't want to download Epic's app just to get Fortnite on Android, there's another solution. You can turn to cloud gaming to play Fortnite on Android, and the best way to do that is through Xbox Cloud Gaming.
Fortnite for Android Through Xbox Cloud Gaming
Microsoft's cloud gaming service for Xbox allows gamers to play Fortnite on Android along with dozens of other titles. The easiest way to take advantage of this service is through the Game Pass mobile app. It works in a similar fashion to Epic's app, as it's a gateway that lets you access Fortnite. The difference is you'll need to pay to use Game Pass, but don't need to download the game at all.
Keeping your game saves and the game itself in the cloud frees up space on your device. Game Pass provides a lot of bang for your buck as well, and the app is easy to set up. If you're interested in playing Fortnite through the cloud on Android, follow the steps in this guide.
Fortnite for Android Through GeForce Now
GeForce Now is another game streaming service that relies on the cloud. You can play Fortnite and other titles on smartphones and slates, but it differs from Xbox's cloud-based service in several important ways.
With GeForce Now, gamers can stream titles they already own or choose from hundreds of games in the company's library. It's also free to use in a limited capacity, with additional plans for priority and ultimate access. There are plenty of top-tier PC games available through GeForce Now, and it's a great way to play Fortnite on Android.
Steam Link
This method is only ideal if you have a strong internet connection, but is perfect if you have a library full of Steam games. Steam Link acts as a bridge between Steam and your smartphone, which opens the doors to some interesting possibilities on the small screen.
Steam Link replaces the cloud with your Wi-Fi network. You'll need to have your PC and phone on the same network and within range of your router, but when working properly, it's marvelous. It's also the only way to actually play Fortnite "through" Steam even though it's technically a workaround.
While those are three of the most popular ways you can use the cloud to stream Fortnite to your phone, they aren't the only options. The Google Play store has a number of game streaming services that utilize the cloud including services like Parsec, Moonlight, Vortex, and JoyArk.
The Wrap-Up
Fortnite is one of the most popular games in the world, and while you may have to jump through a few hoops, you can certainly get it on Android. It may not be available in the Play Store, but any of the options in our guide will have you building and battling quickly. Just remember to keep storage space in mind if you're not using the cloud as the latest version is over 6GB.