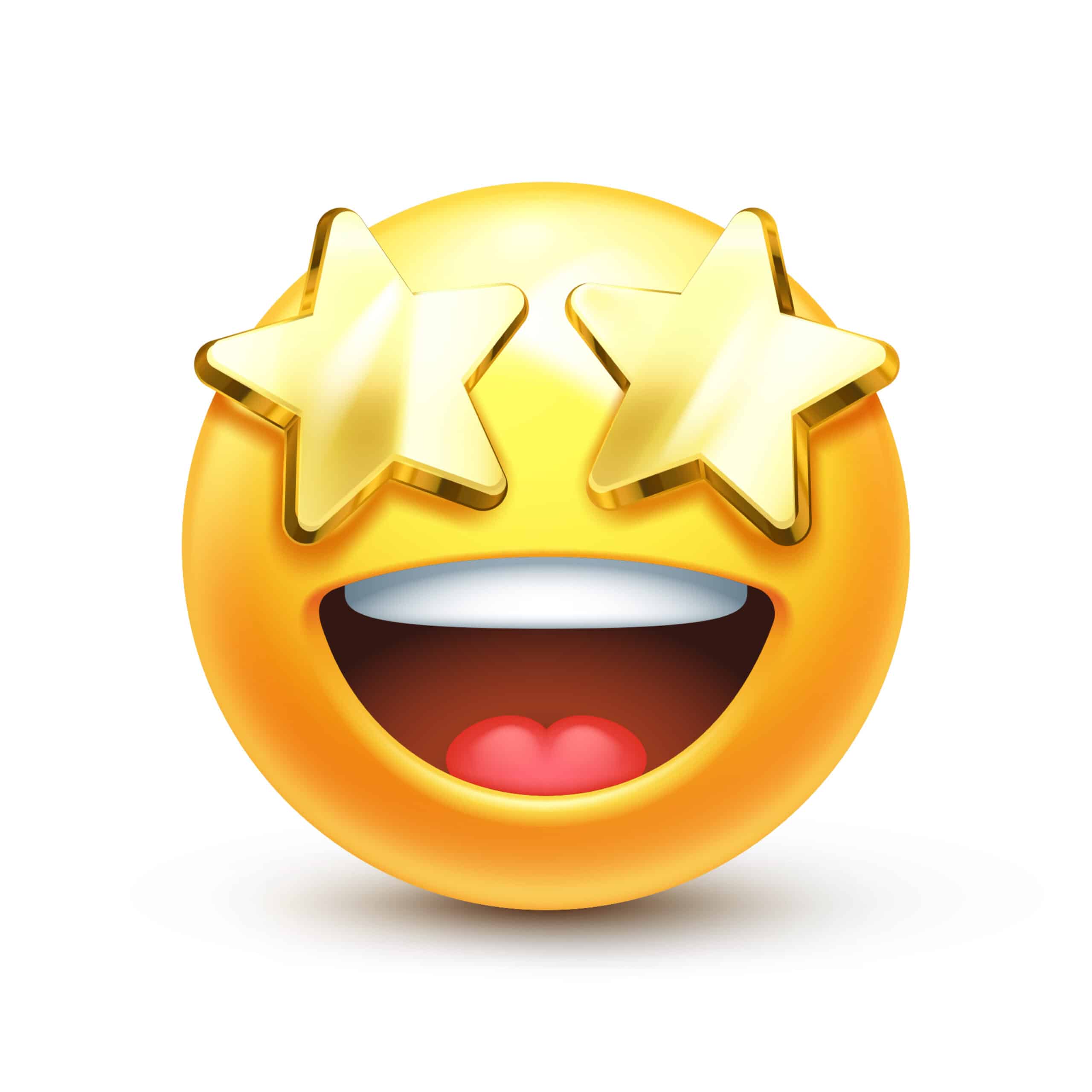 Did you know that 92% of the world's online population uses emojis? These high numbers are understandable, given how boring it can be to communicate using plain text. Additionally, it is tricky to show your attitude and tone using words alone.
Thanks to emojis, getting the human touch in conversations is now easier than ever. Windows is not left behind in adding these communication aids to its operating system. If you use Windows 8 and later, you can get the emoji keyboard and add them to messages and documents. 
Continue reading to understand how to get emojis on Windows and make your text more engaging!
History of Emojis
Like computers or the internet, emojis are not modern but have evolved over the years. Humans have used pictograms to express emotions since time immemorial. Nevertheless, emojis can date their history back to the 1990s. Back then, they were mainly used as emoticons where different symbols represented a certain face. For instance, 🙂 was used to show a smiling face and 😀 was used to show a very happy face. 
The faces currently used as emojis were first developed in Japan by Shigetaka Kurita. In fact, although the word emoji may seem like a short form for the English words emotions or emoticons, it is actually a blend of two Japanese words. E means picture, and Moji means character. 
Kurita developed emojis in 1999 while working for a Japanese cell phone company. He intended to come up with a simple and clear method of communication. For instance, a symbol to show your mode instead of having to type it. To achieve this, he developed images of 12-by-12 pixels that were selected from a keyboard-like grid. Initially, he got 176 emojis, which are now part of the permanent collection at the New York museum. The mobile company he worked for, NTT DOCOMO, used these emojis on their phones. 
Other companies copied the emojis from NTT DOCOMO and included them in their products. In 2007, Google led other Software Internationalization teams in a petition to get emojis recognized by the Unicode Consortium. This is a nonprofit group that maintains text standards across computers. The proposal was accepted in 2010, opening the way for emojis to be used everywhere. 
Apple added the emoji keyboard to its devices in 2011, and Android followed in 2013. Since then, the Unicode Consortium has accepted new emojis added to the emoji vocabulary. Currently, in 2022, there are 3460 emojis. Software engineers and developers are also working hard to ensure this emoji database is as inclusive as possible. This has helped manage emoji politicization, where some people see certain people or groups of people prioritized over others through emojis. 
How Do You Use Emojis on Windows?
The Windows operating system has had emojis since 2012 when they released Windows 8. Emoji colors for Windows were introduced in 2013 in Windows 8.1. In this version, emojis were only in black and white. Windows has continued adopting these emojis and enables users to use them in almost all functions. 
There are several ways through which you can use emojis on Windows. Let's get into the different methods below!
Method #1: Using the Keyboard and Mouse
Step 1: Open the program you want to send an emoji on and press the Windows key + period (.) or the Windows key + semicolon (;).
This will open the emoji keyboard on your screen. 
Step 2: Search for the emoji you want.
For instance, if you want a smiling face, you can type "smile."  
Step 3: You can also use your mouse to select the category where you want to look for the emoji.
The categories include smiling faces and animals, people, celebrations and objects, food, plants, transportation, places, and objects. 
Step 4: Use your mouse to select the emoji you want to use.
The emoji will automatically appear where your cursor is. 
Step 5: If you select a face emoji, you can change the skin color using the options available at the top.
Method #2: Using the Touch Keyboard
The touch keyboard enables you to have a larger emoji keyboard. Here are the steps to access the touch keyboard and use its emojis. 
Step 1: Right-click on the taskbar and select Taskbar settings.
Step 2: Under Taskbar corner icons, turn on the touch keyboard to move the touch keyboard to the corner of your taskbar.
Step 3: Click on the keyboard icon on the taskbar to open the keyboard and then the emoji icon on the keyboard to open the emoji keyboard.
Step 4: On the emoji keyboard that opens, select the category and the emoji that you wish to use.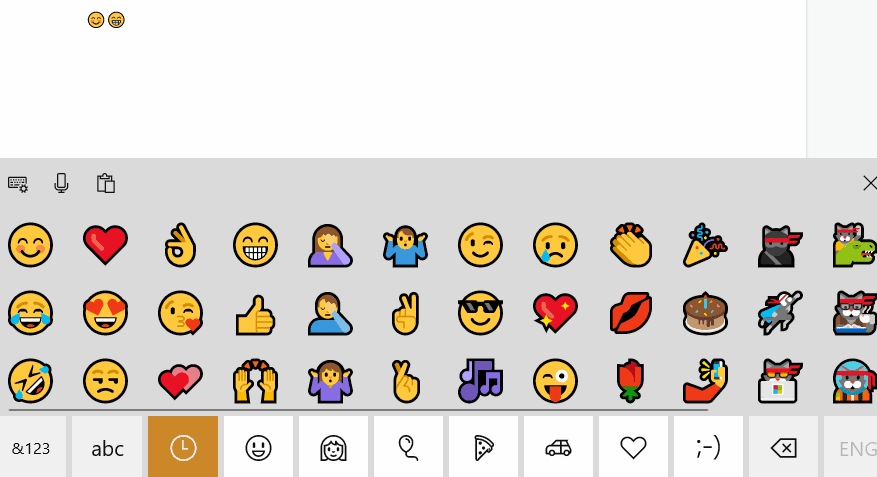 Method #3: Using the Keyboard Only
You can use emojis using your keyboard if you don't have a mouse or if you don't want to interrupt your typing by using the mouse. Follow the below steps!
Step 1: Open the emoji keyboard using the Windows key + period (.).
Step 2: After opening the emoji keyboard, use the keyboard navigation keys or arrow keys to navigate the emojis.
Step 3: Press the Enter key to select an emoji and insert it into your typing space.
Step 4: To switch between categories, use the Tab key.
If this doesn't work, use Shift + Tab.
Step 5: Exit the emoji keyboard using the escape key (Esc).
Method #4: Typing the Emoji
Before emojis existed, people used "emoticons," which is short for emotion icons to represent different facial expressions. These are punctuation marks, letters, or numbers. After emojis were introduced, the emoticon you type is transformed into an emoji. Therefore, you don't have to open the emoji keyboard to insert the emoji if you master the emoticons. 
| Emoticon | Emoji | Meaning |
| --- | --- | --- |
| 🙂 or 🙂 | 😊 | Smiling face |
| 😀 or 😀 | 😀 | Excited |
| :'C | 😢 | Crying |
| 😉 | 😉 | Winking face |
| :O | 😮 | Surprised |
| 8) | 😎 | cool |
| O:-) or O:) | 😇 | Angel (halo)  |
| <3 | ❤ | Heart |
| :-/ | 😕 | Irritation or disappointment  |
| 😛 or 😛 | 😝 | Mischievous smirk |
| 🙁 or 🙁 | ☹ | Sad face |
Method #5: Using Chrome Extensions
If the document you are typing is on a Chrome browser, you can get emojis through Chrome extensions. To get these extensions, follow the below steps!
Step 1: Click on Menu and scroll down to More tools.
Step 2: Under More tools, select Extensions on the extended menu.
On the display that opens, click on the three horizontal lines at the top left corner. 
Step 3: Under Extensions, select Open Chrome Web Store.
Step 4: On the search field, search for "emoji keyboard."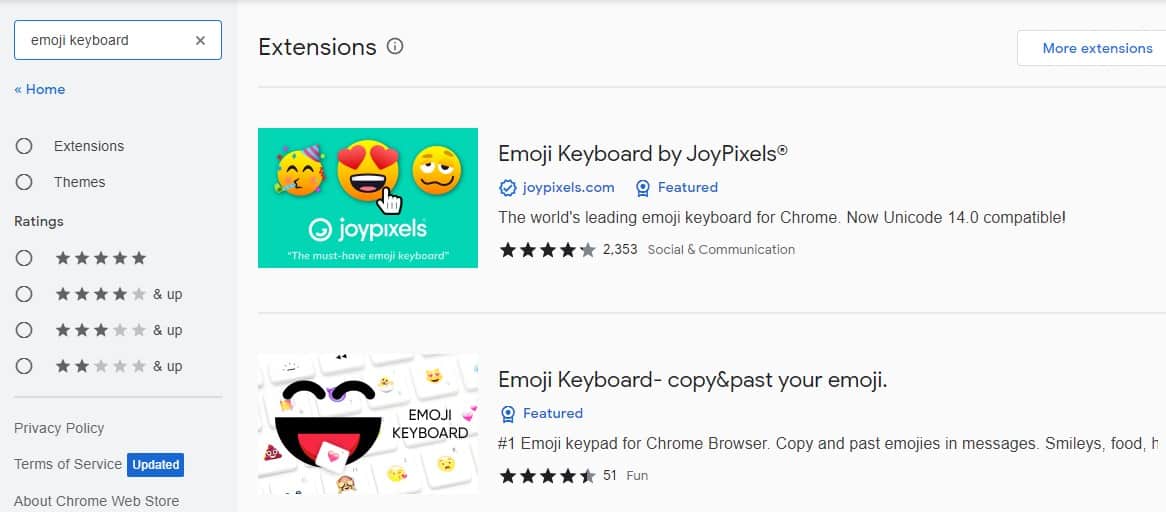 Step 5: Select any of the options and then click on Add to Chrome.
Step 6: If the extension isn't on the Chrome toolbar, click on the extension's icon to open the extensions and click on the pin next to Emoji Keyboard.
Step 7: When using an emoji on Chrome, click on the emoji extension to open the emojis, select the emoji you want to use, copy it, and paste where you want to use it.
Method #6: Using GetEmoji or iEmoji 
GetEmoji and iEmoji are websites that you can use to get emojis and paste them on the document you want to insert the emoji. 
To use GetEmoji on your Windows computer, open the GetEmoji website on your browser.
Select the emoji you want to use on the emoji keyboard. Right-click on the emoji you select to copy. Alternatively, use Ctrl + C to copy. You can also search for your emoji on the search bar. 
To use iEmoji, open your browser and search for iEmoji. Then, select the emoji you prefer and click on copy. The keys Ctrl + C will also work. After, paste the emoji you copied where you need it.
Final Thoughts
Communication has never been easier than when you have emojis. Thankfully, you can also use these emojis on your windows computer. Click on the Windows key + period (.) to open the emoji keyboard and select any emoji you want. However, this feature is only available if you use Windows 8 and later. 
Up Next: