How do you get a free laptop with food stamps or EBT? Getting the tech needed to participate in the modern world can be a daunting financial prospect. Even low-cost laptops and tablets can be out of reach for lower-income households. Thankfully, you don't need to be too concerned about getting what you need.
There are a variety of programs around that help low-income households get a laptop for free. Typically you'll only need some proof that you are receiving some form of government assistance to participate in a program. These programs come in a variety of different forms as well, as you'll see throughout this guide. You don't need to worry about being online, there are options to get the help you need.
What Is Available for Food Stamps or EBT?
There are a variety of different programs that handle getting a low-cost laptop or tablet to any household. You'll need proof that you're actually receiving some form of government assistance. The primary one to be concerned with from the government is the ACP program, which has been covered previously.
Typically speaking, the income requirements for the ACP are similar to the qualifications needed for food stamps or EBT. If you qualify for SNAP or EBT from your home state, you likely qualify for the ACP. The ACP allows users to receive a one-time $100 voucher that applies to the purchase of a laptop or tablet. This isn't fully free, but it is low-cost enough to be affordable for most users.
Other programs use the same qualifications for a completely free laptop, which will be explored in further detail.
What Sort of Laptops Are Available?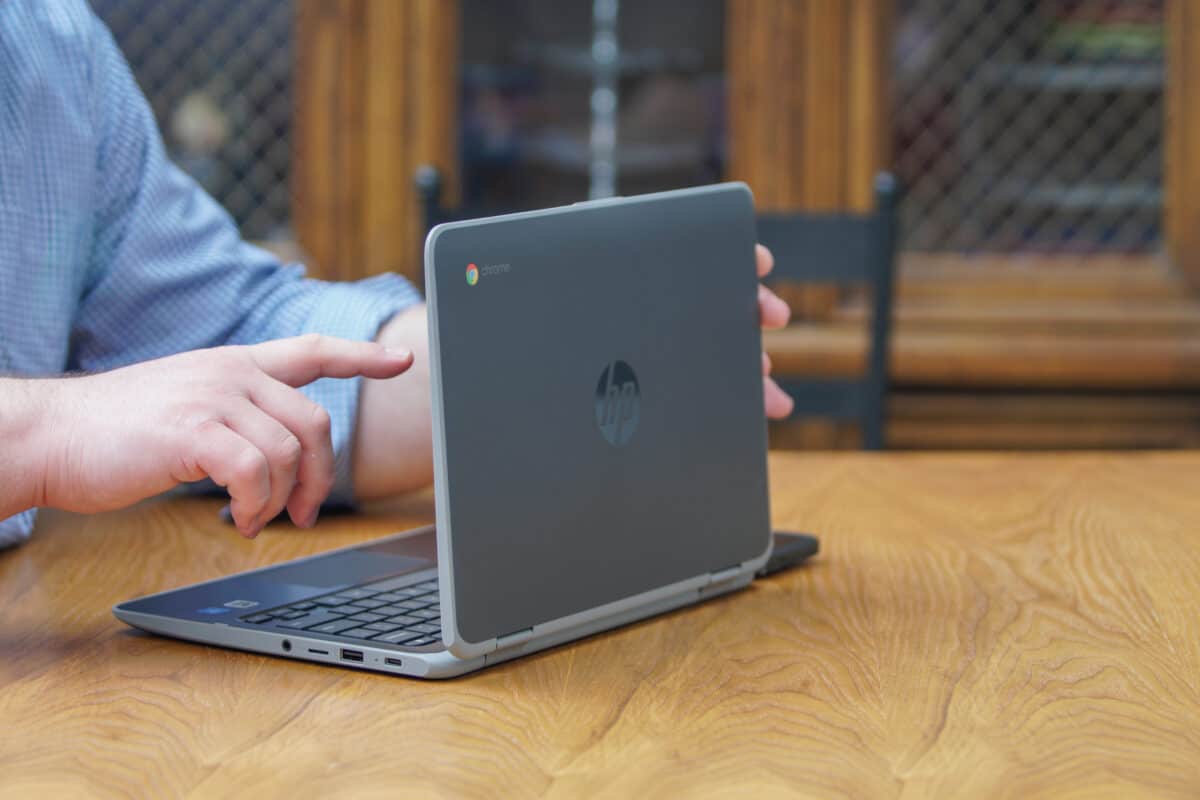 Typically, you're going to be looking at older business laptops or Chromebooks as your primary options for a free laptop. These are great options, since in most cases, these machines are perfectly usable even if they aren't the latest and greatest. You might not be able to game or do AI work on one of these laptops, but there's plenty of functionality for school and work purposes.
Criteria Needed
Most of the programs covered are going to require a form of photo ID alongside documentation proving you are below the poverty threshold. You can check ACP eligibility here. This can be contingent on a few different factors. You may not exceed 200% of the defined poverty line for the federal government. In some cases, a program may instead rely on the median income in your area.
Typically, you'll not want to exceed 50% to 60% of the median income. Other forms of documentation required may include a copy of your EBT or SNAP card, current bank statements, pay statements, or anything else that proves you are lower-income.
Free Providers for EBT or Food Stamps Participants
The ACP program is a bit restrictive, especially since it requires some form of payment to apply the $100 one-time voucher provided. There are a number of charitable causes that can get you the help you need, as you'll see below.
Computer with Causes
Computers with Causes is a non-profit dedicated to providing a working computer to students, teachers, parents, the elderly, foster homes, and anyone else who might be at a financial disadvantage. EBT or food stamps aren't a must to qualify for the program, but they do a go long way in helping prove your eligibility.
The application process is fairly rigorous, taking up to thirty days from the time of application to complete. This helps to keep fraudulent claims from being honored. However, if you don't mind a bit of a wait, there is a completely free working computer. Most computers are going to be older business-grade laptops and Chromebooks, but you can also request a desktop or tablet if desired.
On It Foundation
On It is another non-profit seeking to provide connectivity to low-income households. These are typically aimed at students, which is essentially required for any sort of schoolwork these days. The application process is also rigorous, as you might expect. The parent or guardian of the student has to fill out the application, along with requiring proof from the school in question.
Additional proof might be needed to prove the child is on free or reduced school lunch plans. There aren't any hard stipulations requiring proof of EBT or SNAP enrollment, but you're likely qualified for reduced or free school lunch if you are a participant in any of these government programs.
On It doesn't always have computers available, but after successfully qualifying, a recipient can be placed on a waiting list for their area.
PCs for People
PCs for People is another non-profit aimed at giving internet and usable computers to impoverished households. To qualify for the program, you'll need to fill out an application, provide a photo ID, and provide any documentation proving you are receiving any form of government assistance or you're in a lower-income household.
PCs for People has a constantly rotating inventory of low-cost laptops, which qualifying individuals can readily purchase for free. If you qualify for the Affordable Connectivity Program, you can also use that benefit towards getting affordable internet access as needed.
National Cristina Foundation
The National Cristina Foundation isn't necessarily a service intended to give free laptops to EBT or food stamps recipients. However, what it does do is link up impoverished individuals and households with resources and the means to contact a refurbisher for low-cost or free laptops, desktops, and tablets.
The National Cristina Foundation is dedicated to eliminating electronic waste while also providing the means to connect non-profits, at-risk, and impoverished individuals to the modern world. With so much of modern society requiring constant connection and the use of computers, this can be an invaluable service if you qualify.
Human I-T
Human I-T isn't a means to get a free laptop, tablet, or desktop. However, you can still get a rather affordable low-cost device if you need one. Laptops are available that qualify for the ACP benefit, and obtaining a device is generally quicker than going through some of the other non-profits covered.
This isn't the best alternative, but it might be a viable one if you've applied and are unable to get a free laptop from any of the other non-profits listed in this guide.
Everyone On
The final non-profit, Everyone On, focuses on providing affordable means of connectivity to financially disadvantaged households. You aren't necessarily getting a free laptop, desktop, or tablet, but you can get one at a greatly reduced cost overall. If the other programs are unavailable, Everyone On and Human I-T are great options.
Why Should You Apply?
So, why should you try and apply your EBT or food stamps benefit toward a computer? There are a few solid reasons to explore your options.
Savings
First up is the overall savings. You won't need to stretch your budget or spend money you shouldn't. A lot of these programs will provide free or low-cost laptops. You will need proof to qualify. However, that shouldn't be an issue if you're already receiving government benefits.
Increased Connectivity and Opportunity
A lot of the modern world requires a computer to access. Having a readily available and contemporary laptop opens up opportunities. You can't apply for jobs without a laptop these days. Students can't complete assignments without a computer. It puts you on the back foot to not have the means to connect and interact with the world.
Environmental Benefits
Pursuing a free or low-cost laptop is a great way to keep electronic waste out of landfills. Electronic waste is horrific for the environment. A refurbished laptop has a multitude of benefits, but keeping waste out of the environment is just a bonus.
Closing Thoughts
If you're in a lower-income household, you aren't without options when it comes to getting a computer. There are multiple programs, both government-run and independent, that can get you the help you need. It might not be the newest machine, but it is more than enough for getting things connected in your home.
The image featured at the top of this post is ©Ground Picture/Shutterstock.com.