There is a feature on Xbox called Game Share that allows you to share your digital games with other users. If you have a friend that you trust, you can easily have them share their Xbox games with you and vice versa. With Game Share, only one person needs to pay for the games. Since most console games today cost upwards of $60, sharing games can save you a lot of money. In this article, we will cover the exact steps you need to Game Share on Xbox. It's a fairly straightforward process, but there are a few important points to keep in mind. We'll also cover the most common questions about Game Share.
How Does Xbox Game Share Work?
Before we dive in, it's important to understand how Xbox's Game Share works. Xbox designed Game Share for people who have multiple consoles in a single household. The idea is to make it easy for family members to play console games together while also using their individual profiles.
Here's an example:
You have Elden Ring on your Xbox, and your friend has Red Dead Redemption 2. Game Share allows you both to access each other's games. What that means is you both will be able to play Elden Ring and Red Dead Redemption 2. Even better, you can play online together!
However, Game Share only works between two accounts. You can't share games with more than one person. It's also recommended to only share with someone you trust because they'll have access to your account and have the option to buy games with your payment information.
Another great thing about Game Share is that you can also share subscription services such as Game Pass and Xbox Live Gold. Therefore, only one of you has to buy a Game Pass subscription. In short, more money saved. Microsoft has confirmed this is a supported feature.
How to Game Share on Xbox:
Now that you understand the basics, let's dive into the specific steps to Game Share on Xbox.
Step 1: Send Each Other Your Login Information
To Game Share on Xbox, each of you needs to sign in on the other's console. In other words, you will log into your friend's account, and they'll log in to yours. Therefore, it's important to only share with people you trust. To be safe, change your Microsoft password to something unrelated to your other passwords. You could even use a password manager to generate a unique and strong password for your account.
One point to keep in mind, if your friend has nothing to share, you don't need to sign in to his or her account. You only need to sign in to the account that has games or Game Pass. This makes it a little easier. So, for example, let's say that you have Game Pass and digital games to share. In this case, your friend will need to sign in to your profile on their console. You don't need to sign in to their account. It works the other way too.
Once you have the login credentials ready, it's time to sign in.
Step 2: Add Your Friend's Profile to Your Xbox
Press the Xbox button on your controller to open the Quick Settings overlay. Press the Right Bumper (RB) until you reach the last menu labeled Profile & System.
Under your Xbox profile, tap on Add or Switch and select Add New. Enter your friend's email address and password and wait for the profile to be added to your console. You should see their Xbox username and picture in your list of profiles. Remember, your profiles will be linked to each other's consoles.
Keep in mind that when you sign in to your friend's profile on your console, they won't be able to use it on their console. Be sure to tell your friend when you're about to use their account or you might boot them from a game!
Step 3: Set Your Xbox as Home Xbox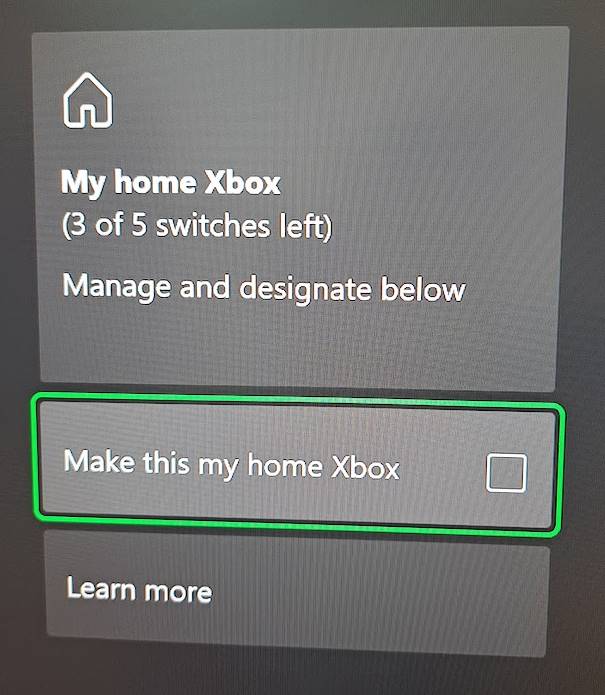 The next step is to set your Xbox as Home Xbox while logged into your friend's profile. This will make Microsoft think that your console is your friend's console, but in a different location. Don't worry, Microsoft officially supports this feature; it's not an exploit. Be sure to do this while in your friend's profile or it won't work.
To set your Xbox as Home Xbox, open Xbox Settings, go to General, select Personalization, and then My Home Xbox. Enable the option labeled "Make This My Home Xbox" and confirm the option. Xbox will warn you that you can only switch your home Xbox five times a year. After switching, you might notice that you have 3 out of 5 switches left. When you set up your console for the first time, that counts as a switch. If you set up your console more than a year ago, it will say 4 out of 5 switches remaining.
Step 4: Switch Back to Your Profile
Once you enable the Home Xbox using your friend's profile, you can switch back to your profile. As mentioned earlier, only one account can play games at a time. If you try to play games using your friend's profile on your Xbox, he or she won't be able to use their account on their Xbox. Be sure to switch profiles!
Step 5: Download Your New Games
What's amazing is that even though you are back on your account, you'll now have access to all of your friend's games and subscriptions. To view the list of games, open My Games & Apps, and scroll down to Full Library. You will see a list of all of your friend's games that are available to download, including their Xbox Game Pass games. To filter the games, use RB to switch between categories, such as Owned Games, Xbox Game Pass, EA Play, amongst others.
Sometimes, when using Game Share, the official Game Pass app on Xbox will ask you to register for the subscription. When that happens, check your list of Owned Games and download the games from there. Just download a game, launch it, and it will be linked to your profile, not your friend's.
Can You Play Online Games With Game Share?
A common concern is whether you can play online games with Xbox Game Share. I can confirm that you can play online games with your friends while sharing your games. I've spent many hours playing Elden Ring with a friend that I'm Game Sharing with.
Why does that work? Console games have unique licenses that are linked to your Xbox profile. Every game has two licenses: one linked to a specific console and one linked to a digital license. When you Game Share, you're sharing the digital license of your games, so it's as if your friend owns their own copy. The other license is linked to your physical console.
An easy way to convince a friend to play an online game with you is simply to share it with them. Nobody can say no to free games! Since you can also share your Game Pass subscription, you can now play any of the multiplayer games with your Game Pass buddy. It doesn't get easier than that.
Purchased Content Will Automatically Download on Home Xbox
One point to keep in mind is content you buy in the Xbox store, such as games or apps, will automatically download on the Home Xbox too. For example, if you're the one sharing your games with a friend, then their Xbox will be marked as your home Xbox.
So when you download content on your Xbox it will also be sent to their Xbox because – technically – both consoles are marked as yours. It can create some confusion when you want to remotely download a game.
What Can't You Share With Xbox Game Share?
You can't share most products that are linked to a specific profile. For example, in-game currency, skins, and some exclusive content. You can share everything else, even game DLC. Some special game content, such as open BETAs, may not be shareable, depending on the developer.