If you are habitual of misplacing your belongings, you might have lost your Apple Watch once or twice in your lifetime. Sometimes you find it lying underneath your sofa and the other time behind the cushions. But what if you leave your Apple Watch at work or someone else's house? How would you know where your watch is?
Fortunately, if you misplace your Apple Watch or it's stolen, you can easily track it with your iPhone. Apple specifically includes the "Find My" feature in all iPhone models to help users retrieve their Apple Watch anytime, anywhere. However, your iPhone should have iOS 10 or above, and your Apple Watch should run watchOS 3.0 or higher.
Also, your Apple Watch and iPhone should be within the standard Bluetooth range to be detected easily. But newer Apple Watch models, such as Series 2 or later, come with a built-in Wi-Fi or GPS that helps you find your watch from larger distances. Here are 7 steps to locate your Apple Watch with an iPhone:
Step 1: Open the My Watch App
Open the My Watch app on your iPhone and tap on your watch's name. Then, tap the information icon, represented by a small "i," on the next screen.
Step 2: Log In With Your Apple Credentials
Now, select "Find My Apple Watch" and log in with your Apple credentials (ID and password) to start the search for your Apple Watch. Make sure that the "Location Services" on your device is enabled.
Step 3: Track Your Apple Watch
The next screen will open the "Find iPhone" app and show the location of your watch. However, the map will only give you a broad or general indication of your watch's location.
Step 4: Play Sound
You can now use some options to find the exact location of your Apple Watch. For example, you can send a signal to make the watch beep if it's nearby or in your house. For that, tap on "Actions" present at the screen's bottom and then select the "Play Sound" option. Apple will also send you an email notifying you that your lost watch has been detected.
Step 5: Tap the Dismiss Button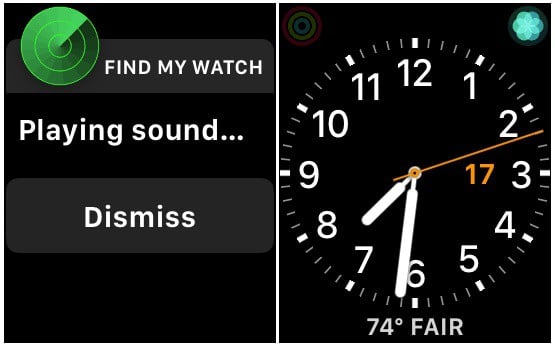 Once you locate your Apple Watch, tap the "Dismiss" option below the "Playing Sound" notification. This will send the Apple Watch to its original face.
Step 6: Use the "Lost Mode" Option (Alternative To Step 4)
If your Apple Watch is present miles away, you will not hear its beeping. In such a case, you can use the "Lost Mode" option to mark the Apple Watch lost. Instead of tapping the "Play Sound" option in the Actions menu, tap "Lost Mode."
Step 7: Provide the On-Screen Information
You will be asked to provide your personal contact information when you select the Lost mode option. The next screen will ask for your phone number, so anyone who finds your Apple Watch can easily reach out to you. Remember, no one can unlock your Apple Watch unless they know your password.
You can also type a message, which will be displayed on your Apple Watch's screen if anyone picks it up. You can also change the contact number and the message displaying on your Apple Watch from the Lost Mode option. Just open the mode and change the information anytime. You can also turn off the Lost Mode from here.
What To Do If Your Apple Watch Is Unretreivable?
In worst cases, you may find your Apple Watch located miles away on the map at a place where you can't retrieve it. At this point, you must think of protecting your data saved on the Apple Watch.
That's when the third option in the "Action" button, "Erase Watch," comes into play. To wipe your device, follow the below steps:
First, open the Actions section and tap "Erase Watch."
Then, follow the on-screen instructions.
As you enter your correct Apple credentials, your Watch will be remotely wiped, and all your personal data will be removed.
Remember, you can use the "Erase Watch" option if you set the option before losing your device. However, if you had "Find My Phone" enabled on your iPhone, all your paired Apple Watches are automatically added to the devices list.
You can also find Apple Watch if you don't have your iPhone available nearby. All you have to do is use the browser and visit "https://www.icloud.com/#find." Then, log in with your Apple ID and locate your Watch easily.
What To Do If You Don't Find Your Apple Watch on the Map?
You may not find your Apple Watch on the map if you didn't enable the "Find My" feature before your Apple Watch got misplaced or stolen. Also, if the watch wasn't connected to a cellular or Wi-Fi connection or paired with your iPhone, you can't possibly locate it on your iPhone's map.
If you're in this situation, you should consider protecting the information the Apple Watch has. Follow these steps to ensure your data's safety:
Place the Watch in Lost Mode. First, you should put your Apple Watch in Lost Mode. We have already told you how to do it easily. In Lost Mode, the Apple Watch will ask for your password to unlock before anyone turns the "Find My" option off, erase the data, or pair the Apple Watch with another iPhone.
Change Your Apple Credentials. You must also change your Apple ID password to prevent anyone from accessing the watch. Just open the Settings options on your iPhone, tap your name, select Password & Security, and then tap Change Password to enter a new password for your Apple ID. Doing so will protect your iCloud information, and no one can use any other iCloud service from your missing Apple Watch. Be sure that you're entering a strong password.
Report the Missing Device. Your last safety resort should be to report the lost Apple Watch to your local law enforcement. The professionals will ask for your watch's serial number to register the application. You can find the serial number on your Apple Watch from the Settings option. Go to General and tap About to access your watch's model and serial number.
Note: "Find My" is the only option to track or locate your lost Apple Watch. If it wasn't enabled on your device before it was lost, you can't find or track your watch from any other service.
Summary
Apple Watch is a handy device that makes it easy to perform basic functions without having an iPhone in your hand all the time. To find your Apple Watch with an iPhone, you must keep the "Find My" option enabled on your watch. Otherwise, Apple doesn't offer any other service that allows you to track or find your Apple Watch with an iPhone.
However, if your Apple Watch doesn't seem retrievable, you must take the necessary steps to protect your data. Put your lost device in Lost Mode, change your Apple ID password, and report the watch to local law enforcement.
Check out the video below for more information and a quick visual guide to locating your Apple watch using your iPhone.
Up Next
The image featured at the top of this post is ©Hadrian/Shutterstock.com.