If you've recently purchased a new Apple Watch, you may wonder how to disconnect your old one. Maybe you have a new iPhone and need to disconnect your watch from your old device. Or perhaps you just need to disconnect your watch and reconnect it to improve performance. If unsure of the proper process, follow our guide to learn how to disconnect Apple Watch in only seven easy steps.
Step 1: Keep Your Watch and Phone Together
You cannot disconnect your Apple Watch from your iPhone unless the devices are close to each other.
Step 2: Open the Watch App on Your Phone
Your second step is open the Watch app on your phone. Look for the black icon with a picture of an Apple Watch, as shown in the photo above.
Step 3: Go to All Watches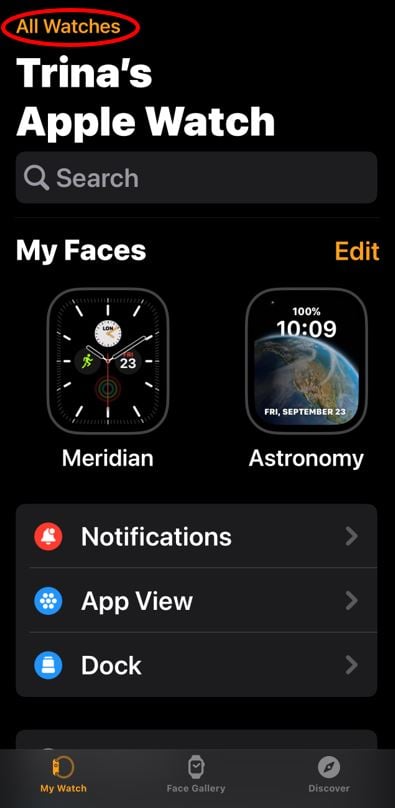 Step 4: Tap Info on the Watch You Want to Disconnect
Step 5: Tap Unpair Apple Watch
Tap it to disconnect your watch from your phone.
Step 6: Confirm You Want to Unpair The Watch
If your watch has a cellular plan, decide whether to keep or cancel your plan. Tto pair this watch again, keep your plan.
Step 7: Turn Off Activation Lock
(Image 7 Step 7 caption: Enter your password and click Unpair.)
Activation Lock is one of your watch's security features. This feature keeps anyone from using your watch if it is lost or stolen, but you will need to turn it off to disconnect your watch completely. Enter your Password to turn off Activation Lock, then tap Unpair at the top right-hand side of your screen.
Your iPhone will back up your watch before it erases your content and settings. You'll be able to use this backup when you are ready to set up your new watch. The Start Pairing message will appear when your watch has finished the unpairing process. That's it! Your Apple Watch is now disconnected. Think you'd benefit from watching a step-by-step video guide? We found the perfect tutorial on YouTube that may help with any lingering questions or curiosities.
What If You Don't Have Your iPhone?
You can use other methods to disconnect Apple Watch, but the only way to ensure you have a current backup of your watch is to unpair using your phone. If using your phone is not an option, you can still access your iCloud account to disconnect your watch. Go to iCloud.com from your computer's browser and log in with your Apple ID and password. Click on the Apps menu at the top right-hand side, then click on the Find My app. Select the watch you want to erase from All Devices. Next, click on Erase Apple Watch. Keep clicking Next until the process is complete. The final step is to click on the X button to remove your watch. Your watch is now disconnected, and Activation Lock is also disabled.
(Image 8 caption: Select your watch from the list of devices and erase your watch.)
You can also disconnect Apple Watch by resetting it to factory settings. This will disconnect your watch from any paired phone. Go to your watch's settings, then tap General. Scroll down and tap Reset. Next, tap Erase All Content and Settings. Enter your passcode if asked to provide one. Scroll down to the bottom of the message and tap Erase All to reset your watch to its factory settings.
If you have the cellular model, you will be asked to choose whether you want to keep or remove your cellular plan. Remove your plan if you will not be using the watch again. Note that resetting your watch will not turn off the Activation Lock. You will need to log in to your iCloud account to remove it.
(Image 9 caption: Erase the content and settings on your watch to disconnect it.)
How to Disconnect Apple Watch without Your Phone or Passcode
If you don't have your phone and you can't remember your Apple Watch passcode, there is one other method you can use to disconnect Apple Watch. First, connect your watch to its charger. Then press and hold the side button until the power button appears in the top right-hand corner. Now press the Digital Crown until you see the screen that asks, "Erase all contents and settings?" Scroll to the bottom of the message and tap the Reset button. Finally, tap Reset again to confirm you want to reset to factory settings. Note that Activation Lock is still enabled, but you will need your Apple ID and password to turn it off via your iCloud account.
(Image 10 caption: The side button is under the Digital Crown on the right-hand side of the watch.)
Hopefully, this guide has helped you learn how to disconnect Apple Watch. Once your watch is disconnected, turn it off if you plan to give it to someone or sell it. Make sure Activation Lock is disabled via unpairing or your iCloud account first.
The image featured at the top of this post is ©Gabo_Arts/Shutterstock.com.