Key Points
Once you delete your account, you will not be able to reactivate it.

Any credit or gift card balance associated with your account will no longer be available following the procedure.

Deleting your account when there's a pending order, will result in the order being canceled.
There's no denying that the Amazon platform is a fantastic resource for purchasing everything from books to electronics, but it can be a little overwhelming if you're not always aware of where your personal information ends up.
How can you know what information Amazon's collecting about you? How do you delete your account permanently? Maybe you don't want to use it anymore, but you don't know how to formally end your membership.
Whatever the case, this article will show you how to delete your Amazon account permanently. First, we'll explain what happens when you delete your Amazon account. Then, we'll walk you through the steps to deleting your account permanently. Finally, we'll recommend some Amazon alternatives to you.
Ready to delete your Amazon account? Read on to know how to easily delete your Amazon account permanently.
What Happens When You Delete Your Amazon Account?
So you're thinking about deleting your Amazon account? We get it — sometimes you just need a break from the world of online shopping. But before you take the plunge, it's important to know what happens when you delete your account.
First of all, your account information and credit card information will be deleted. You'll also lose access to all the content you've purchased on Amazon, including books, music, and movies.
After deleting your Amazon account, your Prime membership would also be terminated and you will lose all the movies you've added to your watchlist and other data.
6 Steps to Delete Your Amazon Account
Here are the 6 easy steps to delete your Amazon account on your device whether you're using an Apple, Android, or Windows device.
Step 1: Sign In to Your Amazon Account
To delete your Amazon account, the first thing you need to do is to sign in to your account. Visit the Amazon website on your computer or smartphone and enter the email address and password of the Amazon account you would like to delete. Ensure all the details are entered correctly.
Step 2: Go to Your Account
After signing in to your Amazon account, locate Your Account and click on it.
If you're having trouble finding it, it's located on the top of the screen next to the flag of the country your Amazon account is associated with. It begins with "Hello, (Your First Name)."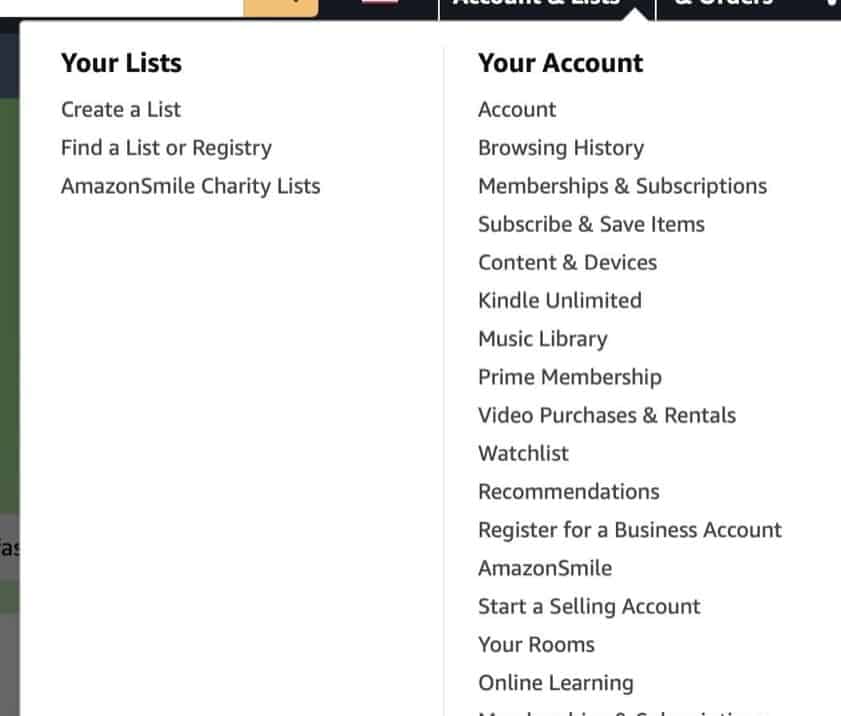 Step 3: Select "Close Your Amazon Account"
After clicking on Your Account, you will see a variety of options, like "Your Orders," "Log in & Security," and "Your Payments." Ignore these options and scroll down until you locate Data and Privacy. Click on it, and it will open a menu where you will click Close Your Amazon Account.
Step 4: Select the Reason You Want to Close Your Amazon Account
After clicking Close Your Amazon Account, Amazon will display the list of products and services that would be unavailable if you proceed to close your account.
Scroll through the list of products and services and select the main reason you decided to close your Amazon account.
There are seven options you can select as the reason you decided to close your Amazon account, so go ahead and select your reason.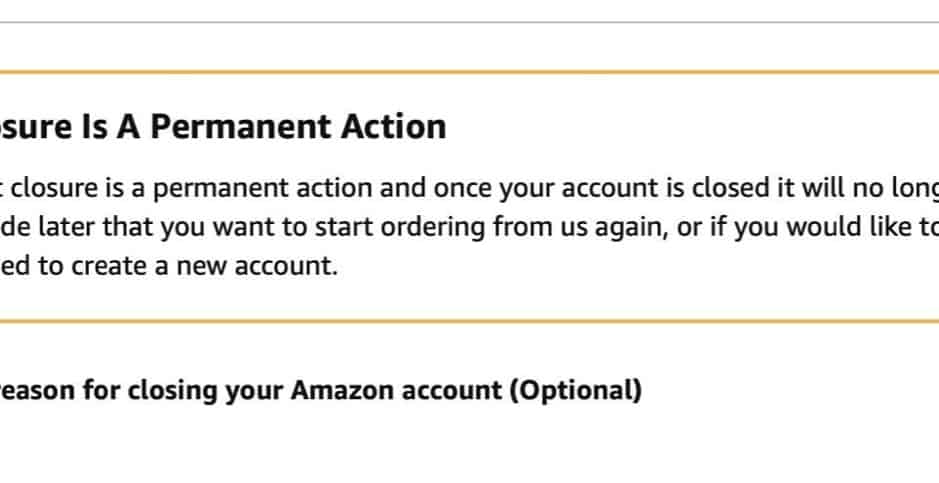 Step 5: Agree to the Permanent Closure of Your Account
After selecting the reason for deleting your Amazon account, select Yes, I want to permanently close my Amazon Account and delete my data.
Afterward, click Close My Account.
Step 6: Confirm Account Closure via Email
After agreeing to close your account, Amazon will send a link to your email that you must click to confirm the deletion of your account.
The account closure link expires within 5 days, so it is important to check your email as soon as possible and confirm the account closure by clicking the confirmation button at the bottom of the email.
Congrats! Your account has been successfully deleted.
Check out the video below for a quick guide to each of the steps required to delete your Amazon account.
Amazon Alternatives
There are many reasons why someone might want to delete their Amazon account. Maybe they're concerned about data privacy, or maybe they're just tired of Amazon's dominance in the online marketplace. Whatever the reason, there are a few alternatives to Amazon that are worth considering.
Some of the most popular Amazon alternatives include eBay, Walmart, and Target. These three retailers offer a wide variety of products at competitive prices, and all three have very user-friendly websites. Additionally, all three companies have brick-and-mortar locations, so if you need to return something you bought online, it's easy to do so.
If you're looking for an online retailer that specializes in electronics, Newegg is a great option. They offer competitive prices on laptops, smartphones, gaming consoles, and more. Plus, they have a user-friendly website and excellent customer service.
Finally, if you're looking for an alternative to Amazon Prime, consider signing up for a Costco membership. Costco offers free two-day shipping on most items, and their prices are usually lower than what you'll find on Amazon. Plus, you'll have access to exclusive deals and discounts that are only available to Costco members.
The History of Amazon
Amazon is one of the biggest IT companies in the U.S. It is among the Big Five IT companies in the U.S. alongside Meta, Alphabet, Apple, and Microsoft.
Amazon offers several services including e-commerce, AI, mobile payments, music and video streaming, and cloud computing. It was founded on July 5, 1994, by Jeff Bezos in Bellevue, Washington.
Amazon was initially an online store to purchase books. However, it gradually expanded its catalog and other products could be sold on the platform. Amazon went public in 1997, and people could buy shares in the company.
In 2002, Amazon grew from being an e-commerce platform to a major tech company. The company launched Amazon Web Services (AWS) that year to help developers build web applications using the Amazon platform.
Amazon expanded further in 2006 and launched the Fulfilment by Amazon program to incorporate third-party sellers into the platform. With the Fulfilment by Amazon program, sellers can sell their products through Amazon's warehouses.
An important part of Amazon's history was on February 2, 2021, when Amazon announced that Jeff Bezos would step down from his position as the company's CEO.
Some of Amazon's products and services include:
Amazon Pay
Amazon Music
Amazon Appstore
The image featured at the top of this post is ©Sergei Elagin/Shutterstock.com.