Key Points
Roblox has over 100 million active users every month.
Deleting a Roblox account is not possible through the app or settings menu.
To delete a Roblox account, users need to go to the official Roblox site, log in, access the Help section, click on Contact Us, and fill out the Support Form.
Deleting a Roblox account is a permanent action and should be done with caution, so consider parental controls as an alternative for limiting game time.
With more than 100 million active users every month, it's safe to say Roblox is a popular game. If you need a break or have decided it's not for you, knowing how to delete a Roblox account is something you're probably curious about. The good news is that the Roblox Corporation makes account deletion easy, and we will show you how to accomplish this with five steps.
How to Delete a Roblox Account
Different platforms allow users to remove their accounts in a variety of ways. Most offer a quick-delete option, which users can initiate through a company's platform. That could be an official site or through iTunes or Google Play if you subscribed through an app store.
While the ability to cancel a subscription or your entire account from an app is handy, it's not something you can do with Roblox. The company doesn't allow users to delete their accounts through apps or from the settings menu on their website. If you're ready to delete a Roblox account, follow the steps below.
1. Go to Roblox
Head to the official Roblox site at Roblox.com and click on the Log In button at the top right-hand corner of the web page.
2. Log In at Roblox
When the login prompt appears, enter your account credentials into the proper fields and click on Log In to proceed.
3. Access Help
Click on the Gear Icon in the top right of the page to bring up a sub-menu. From the new options, choose Help.
4. Contact Us
On this page, scroll down to the bottom of the screen until you see a link that says Contact Us, and click it.
5. Fill Out the Support Form
When you click Contact Us, a new page appears with a lot of information but no contact form. To access that, click on Support Form, which opens a new window with a form showing your Username. Fill out all the applicable fields and choose Submit to send the form.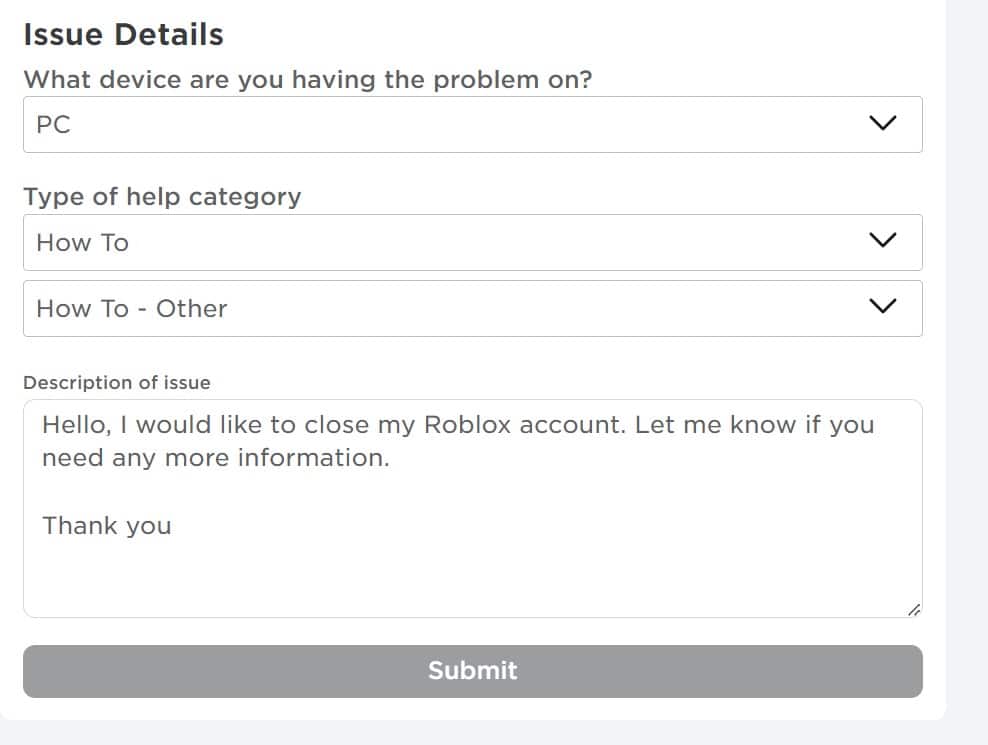 If you want to delete a Roblox account without signing in beforehand, you can start the process using this link.
The Wrap-Up
Deleting a Roblox account is just as simple as creating one. It's also a permanent action and something you'll want to be sure of before asking support to delete your account. If you're a parent concerned about a child spending too much time with the game, consider using parental controls to set limits instead of deleting the account.
The image featured at the top of this post is ©Cassiano Correia/Shutterstock.com.