Key Points
OnlyFans was designed to share videos and photos with a group of exclusive subscribers called fans.
You may wish to learn how to delete an OnlyFans account permanently as either a creator or a subscriber.
After logging into your account, click settings and then click delete account and follow the screen prompts.
OnlyFans allows users to post videos, photos, and other content for their fans. It's similar to YouTube but with a few key differences. The most notable one is that OnlyFans is a subscription-based service. OnlyFans has two types of accounts: creators and fans. As a creator, you can post your videos and photos. Fans can subscribe to your account and see all your posts in one place.
As a creator, you can interact with your followers and fans. You can create your page and customize it to your liking. Once you have set up your account, you can start sharing photos, videos, and other content on your page. You can also send personalized messages to your fans.
Subscribers typically pay to access exclusive content from their favorite creators. However, there are situations where you may want to delete your profile from OnlyFans permanently. We will show you how to delete your account for good.
History of OnlyFans
British tech entrepreneur and investor Timothy Stokely founded OnlyFans in 2016. This platform allows fans to pay their favorite creators to access their exclusive content. OnlyFans is a site open to everyone, but it's best known for its popularity among sex workers.
Sex workers, cam models, and adult performers use OnlyFans to connect directly with their fans. Unlike other social media platforms, OnlyFans allows nudity and sexual content so that sex workers can share erotic photos and videos without fear of censorship or removal.
The idea behind OnlyFans is simple: Fans can subscribe to their favorite creators and receive exclusive content at a price they set. Creators can also use OnlyFans to charge their fans for more premium content, like photos and videos, instead of just selling merchandise or other physical items.
The platform gained traction quickly, competing with many top social media companies like Instagram and YouTube. It now claims to host more than 170 million registered subscribers and over 1.5 million content creators worldwide. However, it's not without controversy: The company has faced criticism for inflating its platform with bots and fake accounts, as well as concerns over privacy violations and inappropriate content.
3 Things You Must Know Before You Delete Your OnlyFans Account
So, what will happen to your content once it's gone? Here are three things to know before deleting your OnlyFans account:
Your account will be deleted once the last active subscription expires. Any active subscription will continue until they expire naturally. If there are no active subscriptions, your account will be deleted instantly. All your content will disappear from your account upon deletion.
Subscribers won't get their money back. Suppose you decide to delete your account with subscribers enrolled on your account. In that case, your subscribers won't get a subscription refund. OnlyFans will already have received the money and can't return it once it's been processed through their system.
Creators will lose access to everything you've created. After deleting your OnlyFans account and canceling all pending payments, all the content you created will be deleted from their servers, including backups. These include photos and videos you upload and exchange between you and your fans.
How To Delete Your OnlyFans Account Permanently
If you decide it's time quit OnlyFans, follow these steps.
Step 1: Log in to Your OnlyFans Account
The first step is to log in to your OnlyFans account. Once logged in, click on your profile icon at the top left of the screen and select the "Settings" tab.
Step 2. Open Settings
Step 3: Click Delete Account Button
On this page, scroll until you see "Delete account" under the "Account Settings" section.
Step 4: Confirm Your Account Deletion
You'll then be prompted to enter a captcha password before being able to proceed with deactivation. Once entered correctly, click "Delete Account." This will take you to a page where you'll see a confirmation message that your account has been successfully deactivated and that no more photos will be posted.
Now that you've completed all these steps, you will have successfully deleted your OnlyFans account. If you need clarification on any of these steps or just prefer a step-by-step video tutorial, we found a great guide on YouTube that can help you through the process of deleting your account.
How To Delete Your OnlyFans on Mobile
OnlyFans does not have a mobile app to delete your account from your web browser.
To find that option, go to the OnlyFans website and click on your profile icon at the top of the screen. Then click on Settings, then click on Account Information, and finally click on Delete Account at the very bottom of the page.
Click Submit when prompted to confirm if you want to delete your account. You'll receive an email confirmation once your account has been deleted.
Delete OnlyFans Account by Contacting Customer Support
If you want to delete your OnlyFans account, you can also do so by contacting customer support.
Step 1: Find the Customer Support Page
To find the customer support page, click on your profile icon at the top left of the screen and select the "Help and Support" tab.
Step 2: Go to the Customer Service Ticket Page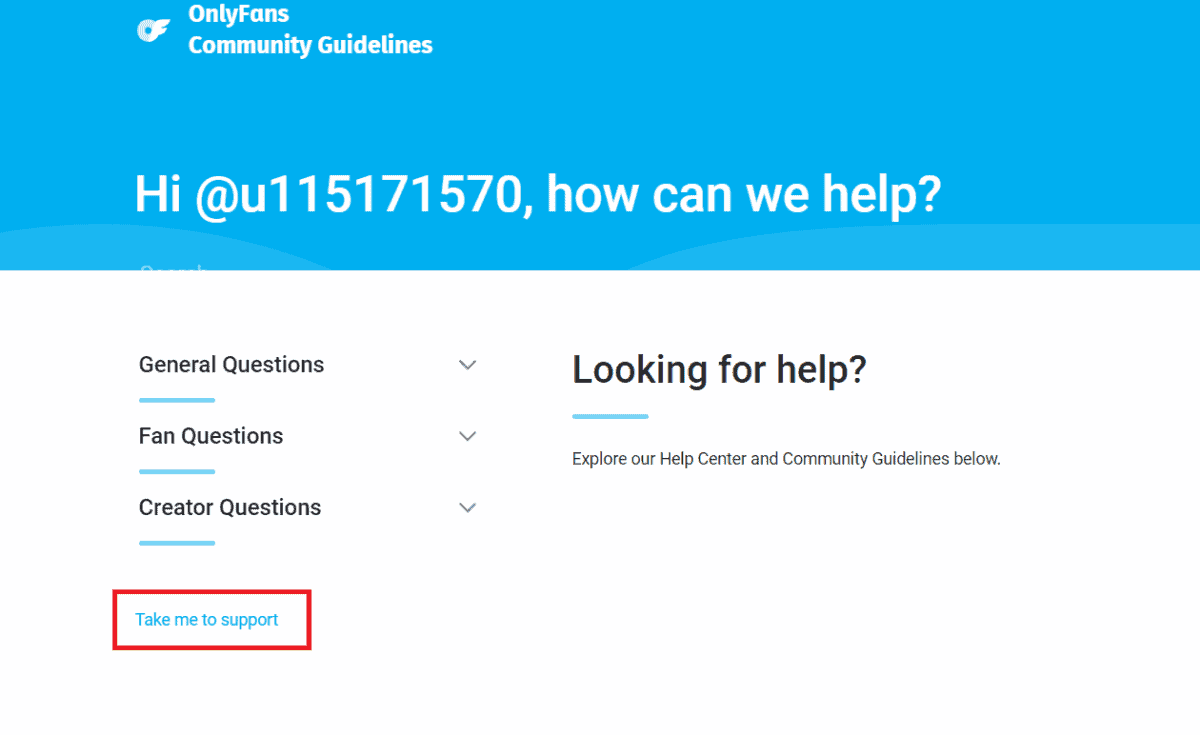 Click on the "Take me to support" button on this page. This should open a new page where you can submit your account deletion request.
Step 3: Submit Your Account Deletion Request
Once you click the "Create ticket" button, another page will appear on your screen. You must fill in all necessary details about yourself and your account information, including your email address and password. Fill all the fields correctly before submitting them to contact the customer service team at OnlyFans.
Fill out the form with information about why you want to delete your account, then click "Create a ticket."
What Happens to My Subscriptions in a Deleted Only Fans Account?
If you delete an OnlyFans account, all of the content on that account will disappear. These include all posts, comments, subscriptions, and interactions with other users.
If you were subscribed to a creator's Only Fans account, you'll lose your subscription.
If you'd like to follow a creator again, you'll have to subscribe to them again by searching for their username and following them.
Can You Get a Refund From OnlyFans?
OnlyFans has a strict no-refund policy. This means that if you purchase something and then change your mind, you will not be able to get a refund. The only time they will issue a refund is if there is an error with your purchase.
If you have any questions or concerns about this policy, the best thing to do is contact their customer support team directly through their website or by emailing them directly.
Up Next
The image featured at the top of this post is ©Vitalii Vodolazskyi/Shutterstock.com.