To use App Store, you will need an Apple ID account, which means you'll have access to all personalized and custom content and a digital trail of apps and content you downloaded, purchased, or even once had installed on your device. So if you were wondering how to delete your App Store history, it's definitely possible to not only remove the history from the current device but also any history you made using your Apple ID, regardless of the device you used.
Down below, you'll find the process explained in 3 simple steps, with photos, so you can find and delete the history in minutes.
How to Delete App Store History in 3 Steps
Deleting your App Store history isn't hard. However, finding the location of the App Store's history is slightly tricky. Therefore, follow these steps below since you'll know exactly where to look to efficiently delete the history in minutes.
Step 1: Open AppStore and Log In
The first thing you want to do is open the App Store. This guide is suitable for all Apple devices, since the steps are very similar for iPhone, iPad, and Apple computers. App Store has a well-known blue icon and once you press that, you'll open the App Store.
After you've opened the App Store, you might need to log in using your Apple ID account in case you weren't already logged in. To do this, enter the email and password you used to create your Apple ID.
Step 2: Click Account and Purchased
When you open the App Store and log in with your Apple ID, you will see the App Store homepage. In the top right corner, you will see your Apple ID profile photo. Click once on your profile photo and this will open an "Account" menu.
In the "Account" menu, underneath your account's information, you will see three tabs that say "Purchased", "Subscriptions", and "Notifications". Press the "Purchased" button and this will take you to a new menu with all apps you've installed on your Apple device.
Apps that are still currently on your Apple device will have the "Open" button next to them. However, if you have previously used an app and then deleted it, the app will still be displayed and will feature a cloud download button so you can download the app again.
There are also two tabs to choose from, "All" and "Not on this device". Under the "All" tab, you will find all apps you have or have had installed on the Apple device you're currently using. However, in the "Not on this Device" tab, you will find all apps that were on any Apple device with your Apple ID.
Step 3: Delete the App History
Now that you have the list of the history of apps you've purchased, downloaded, and installed, you can remove any app from the history list. To do this, find the app you would like to remove and then long-press on the app to open a small pop-up menu with options.
In the options, you will see a red "Hide" button. Press once and this will remove the app from the App Store list. Once you remove the app, you can reload the App Store to double-check if the app history is there. However, one thing to keep in mind is that you'll have to do this individually for every app, as there's no way to delete the complete history of the App Store all at once.
Check out this informative video tutorial on effectively deleting your app history. Learn the step-by-step process to remove unwanted apps from your history and maintain a clutter-free App Store. Watch the video now to gain a better understanding of how to manage your app history with ease!
How to View More Information on the App Store History
It might be tricky finding the app history since it's not labeled as History, but as Purchased. There's one more place where you can find more information on the App Store history. However, in that section, you can't remove or hide apps and can only look at the information available.
To do this, when you're on the App Store homepage, click on your profile photo in the top right corner. Click on your full name and icon area. Scroll down in the new menu and find the "Purchase History" tab. Press once to open the new menu with all apps you've purchased (even if they were free). This is an area where you can't delete the App Store history and can only look at the billing and purchases. However, it can be useful if you're trying to find a specific app or to find out how much you've spent on a certain app.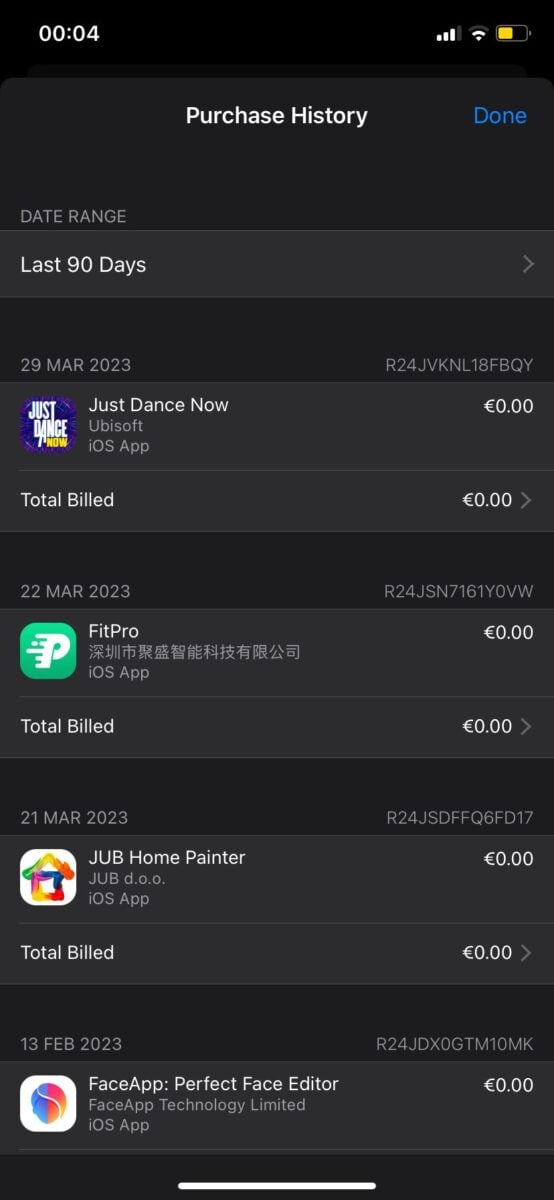 Conclusion
Deleting App Store history is something that you can do in minutes. In fact, the only tricky thing about it is finding it in the App Store settings. Since it's not labeled as History but rather as "Purchased apps", it can be hard to find it unless you come across it accidentally.
However, with the steps outlined above and the accompanying screenshots, you can follow the entire process. Thus, you shouldn't have a hard time finding and deleting your App Store history.
The image featured at the top of this post is ©ymgerman/Shutterstock.com.