Sony's PlayStation has become more than a gaming console. It's widely regarded as a media machine, and a PSN account gives users access to vast content. If you're new to the service, we'll show you how to create a PlayStation account. It's the first step to setting up a new console and something anyone can do in less than 5 minutes.
How to Create a PlayStation account on PC
If you don't already have a PlayStation or are waiting on one to arrive in the mail, you can make an account without the console. Follow these steps if you want to know how to create a PlayStation account without a PlayStation.
1. PlayStation Account Sign in
The first step to creating an account for PlayStation is to go to PlayStation and select Sign in from the top right side of the page. From the new window, choose Create New Account and confirm your selection.
2. Choose a Country
Once your selection's confirmed, you need to choose a country or region. This is a "home" location for your account/console and won't be viewable to an. Make your selection and choose next to proceed.
3. Set your Birthdate
Now you'll need to set your birthday by choosing a month, day, and year from the drop-down menus. This information is also kept private but could be used for security purposes by Sony.
4. Email & Password
Enter an email address and set a password for your PlayStation account. You can change both later, but you will need access to the email address you used to confirm the account once it's created.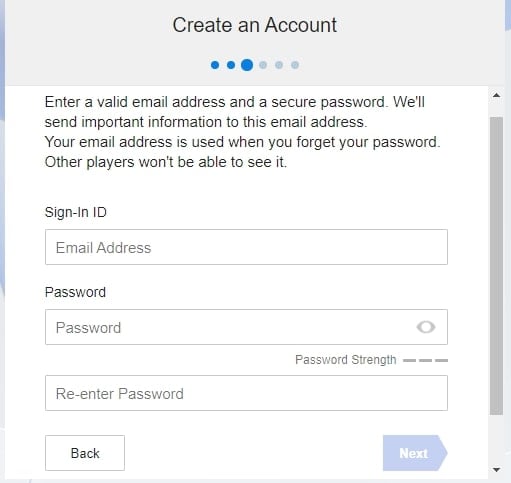 5. Address Details
Once you've progressed past the email & password screen, you'll need to enter your city, region, and postal code. It's not a section you can skip and could affect billing, so check the details carefully.
6. Choose an Online ID
Now comes the most challenging part – choosing a username or online ID. This ID is how other players recognize you on the platform and how your friends can find you on the service. If the name you choose is taken, you'll be asked to try again. Your first and last name are used for emails and kept private online.
7. Confirm Account Creation
From here, you'll need to specify whether you want to receive emails from Sony or notifications on your console. This is also where you can read the terms & conditions and privacy policy for the service. Select Agree and Continue once you've made your selections.
8. Confirm and Update Account
Once you choose to agree and continue, your account is created, but there's one step to make things official. Check the email address you used for the new PlayStation account and look for the email that says "Account Registration Confirmation."
Follow the directions to confirm your account with Sony. You can also update your account from here or log out of the service if you're satisfied.
How to Create a PlayStation Account for a Child
PlayStation accounts are for adults and have an age limit. If you have a child that would like to have their own PSN, you can set one up for them as a Family Manager. It's a feature you can enable with any adult account and allows parents to control content and limit play time on the console. To add a family member to your account, follow these steps.
1. Account Management
From the web or the PlayStation app, navigate to Settings or Account Management and click on the section called Family Management.
2. Family Management
Once you have access to this section, choose Add a Child from the options, enter their birthdate and click next.
3. Verify and Confirm
After you enter a birthdate, you'll need to verify your account. PlayStation will need to charge your account $0.50 to verify it as the family manager. The charge is funded to your wallet after confirmation and only happens once. After verification, you can set up your child's profile along with parental controls for their account.