Key Points
If you're tired of streaming your YouTube playlists for workouts or if your data allowance is tight, using a YouTube to MP3 converter makes perfect sense.
Online YouTube converters download high-quality audio from just about any YouTube video. Yes, it can be a bit dicey, but with over a million videos removed from YouTube every month, it's well worth preserving that video before it's gone.
In this article, we'll share how to convert Youtube video to MP3 in easy steps using your choice of either an online converter or desktop software.
A Quick Disclaimer
As hinted at above, downloading and converting YouTube videos to MP3 audio comes with its own set of risks. Because of copyright law, the legality of downloading is questionable and YouTube has been known to take down web-based conversion software to prevent content from being downloaded.
The point is, when you download copyrighted music or videos, you are doing so at your own risk. Along with the copyright risk, you also want to be careful with your choice of YouTube to MP3 converter software as it could install malware or viruses.
Converting Video to MP3: Online Edition
The absolute fastest way to convert your YouTube video to an MP3 audio file is to use an online converter. As these work on any operating system like Windows or macOS, they are intuitive, quick, and don't require any software downloads.
And once the file is downloaded to your computer, it's easy for you to upload it to your music app of choice like Apple Music, Spotify, etc. Of course, we only recommend that you do this with license-free music.
All you need to do is to go to the YouTube converter website and have the URL of your YouTube video in hand. Following the steps below will have you converting video to MP3 audio files in no time:
Start by grabbing the URL of the YouTube video you want to convert to an MP3 audio file. You can do this by copying the entire website URL for the YouTube video.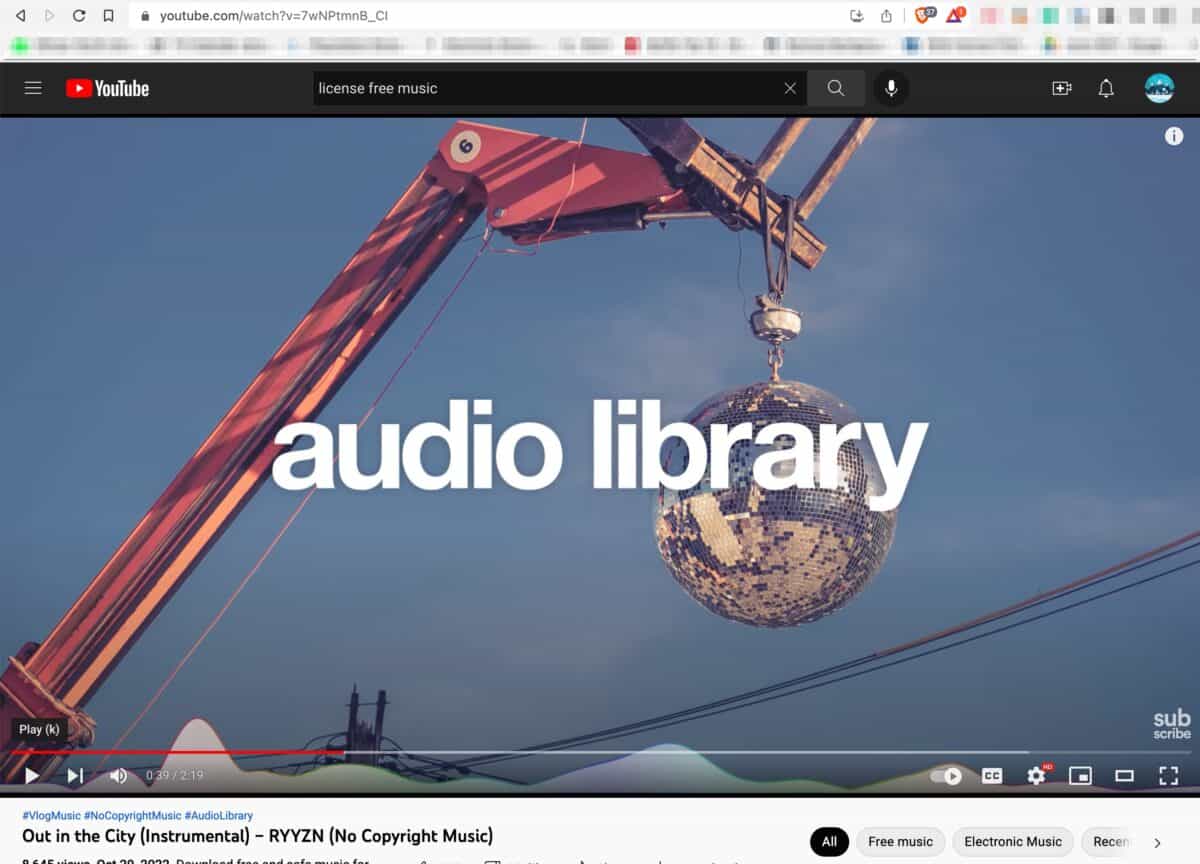 Now, paste the YouTube URL into the input field of YTMP3.cc, which is the video-to-MP3 YouTube converter we have found to be the most reliable.
Click the "Download" button to get started with the online YouTube to MP3 converter. On a site like this one, after hitting the download button, you'll be able to choose from various MP3 file sizes. In this case, bigger equals better so select the 320kbps option for the best-sounding MP3 file.
As soon as you select your file size, the download will begin by asking you where on your computer you want to save your file. The actual download shouldn't take more than a few minutes depending on the size of the audio file.
Alternative Online YouTube Converter Websites to Try
Downloading from unknown websites comes with some assumed risk that you are downloading more than your favorite song! However, if you'd prefer to use an online website for converting video to MP3, here are some alternative websites you can try.
Our Pick: The Best YouTube to MP3 Converter (Step by Step)
If you want to convert video to MP3 easily with YouTube links, there are plenty of apps available for Windows, macOS, Linux, etc. The problem is that many of these apps are full of bloatware, risky downloads, and lots of other tools and commands you don't want or need. Thankfully, MediaHuman is here with its YouTube to MP3 Converter app.
Available for Windows, Mac, and Linux, it's one of the easiest apps to use and also one of the safest to download. To get started with this YouTube converter, follow the steps below and you'll have your MP3 audio file downloaded in no time.
Start by downloading the app by choosing the version that best fits your PC or Mac platform. Install the app once the download is finished.
The next step is to go back to your YouTube video of choice and copy the video URL.
Now, jump back into MediaHuman's YouTube to MP3 converter app and paste the link into the app. On Mac, you'll do this by pressing Command + V, or on Windows/PC Control + V.
With the YouTube URL now showing in the MediaHuman app, you can either download by clicking on "Start All" or go back and copy + paste another YouTube link that you want to convert from video to MP3 as the app can download multiple files at once.
Whether you do one download or three, you'll find the YouTube to MP3 converter takes just a few moments to download the audio files. To locate your downloaded files you can go to Music > Downloaded by MediaHuman on PC or Music > Downloaded by MediaHuman on macOS. You can change both download destinations by going to the Preferences window from the app.
One quick note for the MediaHuman app is that by default, it downloads video to MP3 files at a bitrate of 192Kbps. That's pretty good quality but if you want to upgrade to a higher quality, go into the app preferences and find the Audio Output > Output format > Bitrate and from the dropdown box, choose a higher format.
Additional Desktop YouTube to MP3 Converter Software You Can Try
Check out the video below for another alternative method using Subly:
What About YouTube Premium?
While not quite the same as directly downloading the MP3, YouTube Premium is a potential solution as well. As a YouTube Premium subscriber, you'll be able to listen to videos without ads and in the background, even when your Android or iPhone screen is locked.
It's not the same solution as having the MP3s downloaded and uploaded into your favorite music app of choice for offline listening, but it's still something to consider if you don't want to assume any risk by downloading copyrighted music.
Final Thoughts
Using a YouTube converter, especially those of the online variety is easy and straightforward and can help you download a near-limitless supply of music.
However, any video to MP3 conversion, assuming the music isn't available license-free, ensures that you assume a certain amount of risk by downloading copyrighted material.
If you are okay overlooking that consideration, then start with an online YouTube converter and if you'd prefer a desktop solution, MediaHuman is the best app available.
Next Up…
Check out some of this super interesting articles that may teach you something:
The image featured at the top of this post is ©Chubo - my masterpiece/Shutterstock.com.