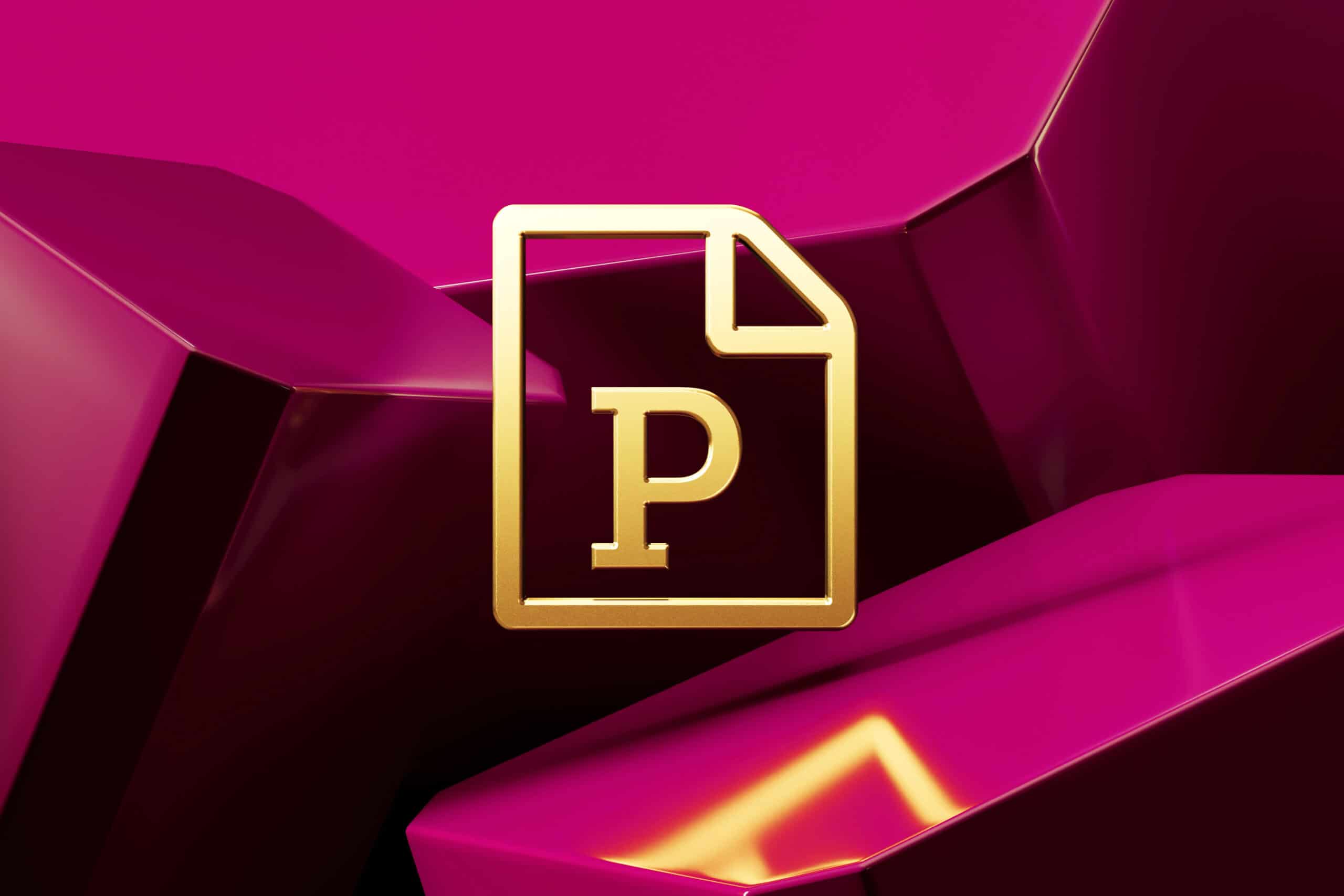 PDF files are best known for their compatibility across a vast number of systems because of their ability to retain formatting. What's more, certain subvariants can be compiled in a manner that enables long-term preservation and archiving of electronic documents. Unfortunately, this also makes them notoriously difficult to edit or convert to other file formats.
So, let's suppose that your work colleague sent your work materials needed for an upcoming product presentation. You were thinking about designing a PowerPoint presentation, but now all your documents are trapped inside the PDF file format. 
Well, there's no reason to worry. In this guide, we'll explain how to convert a PDF file into a PowerPoint file format (*.pptx) for easier editing and processing. Specifically, we'll share some quick and easy steps for converting PDF into PowerPoint documents.
#1: How to Convert PDF to PowerPoint in 3 Steps Using Adobe Acrobat Pro
Using Adobe Acrobat Pro is probably the best way to convert PDF files to a multitude of other file formats, including Office PowerPoint file format. Remember that you need a paid version of Adobe Acrobat Pro to convert a PDF into a PowerPoint. If you're using Acrobat Reader, you won't be able to carry out the conversion. So, here's how you can convert a PDF into PPTX.
Step 1: Open Adobe Acrobat Pro
Adobe Acrobat Pro can change how you handle PDF files forever for as little as $15/month—billed annually. However, the company also offers a free time-limited trial version of the software. So, if you're converting a PDF into PPTX only once, using the trial version seems reasonable. If you're handling several PDFs daily, opting for a paid version might make more sense.
Step 2: Open the PDF File
When Adobe Pro starts, click the Open button in the top-left corner. The program will offer you a list of recently opened files and a list of locations on the left-hand pane. Navigate to the PDF file you want to convert, either on the Recent Files list or by clicking on My Computer.
The latter option will allow you to choose from the list of Recent Locations. Alternatively, you can click Browse to open a file Explorer window and navigate to the file you want to convert. Once you have located the file, click Open to load the file in Adobe Acrobat Pro.
Important Note: Please note that the Quick Action window in our version of Adobe is already offering Convert PDF to PowerPoint (marked in blue). We purposefully excluded this from our guide since the actions offered by Quick Action windows are shuffled randomly.
Step 3: Export File as Microsoft PowerPoint Presentation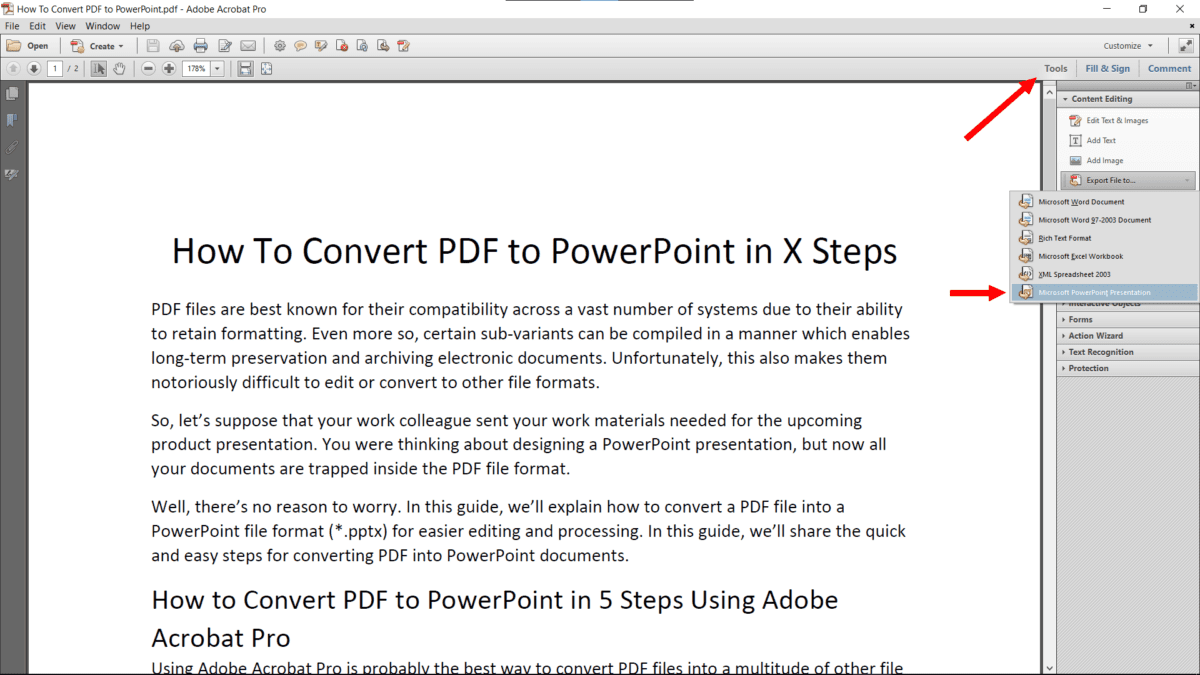 Once your file has loaded in Adobe Acrobat, select Tools, located in the upper-right corner of the screen to open the Tool pane. In the Content Editing drop-down menu, select Export File to… and select Microsoft PowerPoint Presentation.
The Save as window will appear, prompting you to choose a location and file name for your converted file. After you've chosen the appropriate folder and filename, click on Save to save the file as *.pptx.  
#2: How to Convert PDF to PowerPoint in 3 Steps Using Office PowerPoint
Just like Word has the ability to automatically convert PDF into a Word document, PowerPoint converts the PDF format into a PPTX. However, there are some drawbacks to this method, as it can only read PDF files that were initially formatted as PowerPoint slides or slide images. Long bodies of text (several pages) can't be converted, and PowerPoint will notify you of its inability to import the file. Here's how to convert PDF to PowerPoint using Windows PowerPoint.
Step 1: Open PowerPoint
We need PowerPoint for this step, which is a paid software. It can be bought as a standalone purchase or as part of a Microsoft 365 subscription. The online version offered by Microsoft works just as fine, but the locally installed software is known to provide the best possible results.
Step 2: Open the PDF File
Once the program is running, click on File in the upper-left corner of the screen. You should have the navigation menu on your left-hand side, as well as a screen with slide templates. You should also see, by default, the files you've recently opened.
Pick Open in the left-hand pane. Once selected, you'll have an option to open the file from your computer, shared files, or from your personal OneDrive. Navigate to your file, select it, and click Open.
Step 3: Save as PPTX
Once the PDF has loaded into slides, save it by pressing a floppy icon in the upper-left corner or by selecting File > Save as….Whichever option you pick, a file explorer window will prompt you for the location of the saved file, as well as a file name. Once selected, click Save to store the file as a PowerPoint presentation.  
It's worth mentioning that this method has its drawbacks. The most reliable way to convert PDF to PowerPoint is to use paid software like Adobe Acrobat Pro, or file conversion services offered by Adobe.
#3: How to Convert PDF to PowerPoint in 3 Steps Using Adobe Website
Using the Adobe website for occasional file converting is probably the best method of converting PDF files into other file formats, including PowerPoint. The best thing about this method is that it's entirely free of charge and done by the company that invented the PDF file format.
The drawbacks are that the conversion process is done online, and the company doesn't save your file after the download. What's more, converting several files could be more time-consuming compared to locally-installed software solutions or paid services. Still, if you're only looking for occasional file conversion, here's how you can do it:
Go to the Adobe PDF-to-PPT Conversion page, and click the Select a file button located in the center of the page.
A file explorer window will open. Navigate to the PDF document you want to convert, select it, and click Open. Adobe will upload and convert your file.
After the file has been converted, click Download to download your PPTX file.
The biggest drawback associated with this method is that you only get one file conversion per day without having to log into Adobe.
#4: How to Convert PDF to PowerPoint: Alternative Methods
If you don't like the idea of paying for Microsoft Office or Adobe Acrobat Pro, the Adobe Website is a fantastic and free solution for converting PDFs to PowerPoint or any other file. However, if you're looking for more flexible solutions, here are some of the best online conversion tools we could find.
1. LightPDF
LightPDF is one of the best online document converters available on the Internet because it's free, user-friendly, and allows you to perform conversions between several different file formats, including PDFs to PPTX. You don't need to create an account or log in to use LightPDF, although doing so is advised because the site gives you a choice of saving your converted files.
2. Smallpdf
Like many other excellent web applications, Smallpdf is quick, easy, and—most importantly—free. You can upload PDFs to this service and export them as PowerPoint straight to a Cloud storage service like Dropbox or Google Drive. Furthermore, it safeguards your privacy by instantly deleting any content an hour after it has been successfully uploaded. You can only receive two free conversions a day, which is an unfortunate limitation. However, it can be alleviated by subscribing.
3. Online PDF Converter WorkinTool
WorkinTool is a software that can be used for various sorts of conversions, and the company's website provides free PDF to PPTX conversions. The nicest feature is that you don't even have to sign up; just choose your files, and the site will convert them for you instantly.
4. PDFSimpli
Although its main goal is to make PDF to Word conversions easier, PDFSimpli also allows users to convert PDF files into PPTX files. It is a comprehensive PDF conversion service that allows you to convert a range of text or image files into PDFs; including the other way round. The service also doesn't stop there.
5. PDF4me
PDF4me is one of the greatest online PDF conversion tools. Simply drag and drop the PDF file you want to convert. You can do this with up to 20 PDF files at once. You can also convert multiple versions. Regardless if you're converting to PPT or PPTX, or any other Microsoft Office file format, you can do so with many files in a single step with this easy-to-use online PDF converter.
Up Next
If you're interested in learning more, check out some of these topics: