Key Points
An MP3 is a technique for condensing a sound sequence into a little file to facilitate digital transmission and storage.
Apple's response to MP3s was M4A (MPEG-4 Part 14) files. This audio format, which is frequently viewed as the MP3's replacement, found its real home with the launch of the iTunes Store.
With iTunes, you can convert music in M4A format to MP3 while maintaining the original.
If you're here, you've probably found yourself wanting to play a number of MP4 files on the newest players and gadgets, but you couldn't because of various incompatibility issues. Fortunately, you can now convert MP4 to MP3. Conversion is the best option if you want to enjoy your favorite playlist on all types of devices and players.
Besides, MP3 audio files take up less space and can be downloaded faster. However, you need to follow the right steps to convert an MP4 file to an MP3 one. Doing so is easy with the right tools, which carry out the process quickly and safely.
What is MP4?
Motion Picture Experts Group (MPEG) utilized the ISO/IEC 14496-12:2001 standard to develop MP4 files (MPEG). An MPEG-4 video file is one with the .mp4 file extension. In fact, one of the most popular video file types for online video streaming or downloads is the MP4 format. It's a highly adaptable and compressed video format that can also store still images, audio, and subtitles.
MP4 videos can be substantially lower in size than other video formats, owing to their high level of compression. The quality of the file isn't necessarily affected by file size reduction either. The original quality is almost entirely preserved, resulting in a portable and web-friendly video format.
What is MP3?
MP3 stands for Motion Pictures Expert Group Audio Layer III. The audio file is compressed and digital. It's kept on a memory chip so you can play it repeatedly whenever you want. Although MP3s are typically used for music, other audio files like podcasts and audiobooks can also be stored in this format. MP3s can be played with speakers through an external amplifier, earbuds, or headphones.
Users of MP3s can also choose how much file space and audio quality to sacrifice. For audiophiles, larger files with higher bitrates and audio quality are an option. In the rest of this article, there are six easy ways you can convert your MP4 file into an MP3. However, if you'd like a video tutorial, we found a useful step-by-step guide on YouTube.
#1: iTunes
Open the MP4 video you wish to convert via the QuickTime app. The MP4 file's extension will be changed from MP4 to M4A during the conversion. This is a file name extension for audio files that stands for MPEG 4.
Drag and drop M4A to iTunes
The importing setting should be changed as follows: Choose MP3 Encoder under iTunes' Preferences > General > Import Settings menu.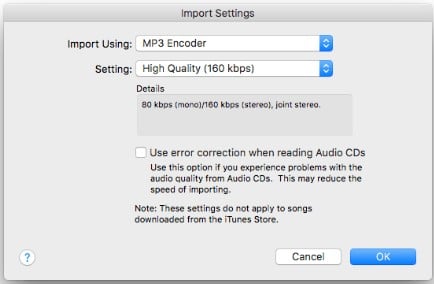 Open the M4A audio.
To convert MP4 to MP3 in iTunes, go to File, select Convert, and click on Create MP3 Version.
Your Mac will store the MP3 file. To find it, right-click the file and select Show in Finder.
It is not advised to manually convert an MP4 video's file extension to MP3. When importing an MP3 file, iTunes might not acknowledge that the MP3 file has already been added to the iTunes Library, or it could fail to play.
#2: Windows Media Player
Windows users can convert MP4 files to MP3 using the free video and music streaming program – Windows Media Player.
To get started, open the MP4 file via Windows Media Player.
Select the Organize option in the top left-hand corner, then Options.
A new dialog box will appear. Click Rip Music > Change, then choose a location for the MP3 file you've just converted.
Select MP3 by clicking on the drop-down arrow on Format. Click OK to continue.
Depending on the size of the MP4 file, the software will require some time to convert it to an MP3. Larger files typically take longer to convert.
However, it's important to note that the audio quality decreases, according to some users. Also, WMP files' output format and other settings cannot be altered.
#3: VLC Media Player
If VLC isn't installed, download it from your search engine and install it.
Open VLC Media Player.
Click Media, then choose Convert / Save (CTRL+R).
Choose the MP4 file you want to convert by clicking on the Add option.
Click Open once you've selected your MP4 file.
Click Convert / Save.
Select a folder in which to save it.
When you return to the Convert box, a Profile option will be available. Select Audio – MP3 from the drop-down menu. After that, click Start to begin the file conversion process.
Go to the folder location. To make sure it was properly converted, you can either play the file on any MP3 player or verify the file type under its properties.
#4: Professional Video-Conversion Software
The manual conversion processes for MP4 to MP3 files are straightforward, but they are not suited for converting several videos. They can take a long time to complete and can be stopped in the middle if done incorrectly. Software for MP4 conversion can change the file format so that it can be opened on a specific media player or compressed in size.
Different file types for input and output can be processed by the software. They can be changed into audio files or converted from one video format to another. Batch processing is supported by the best software. You can convert a lot of videos simultaneously with this option. Additionally, you can change the bitrate, codec, resolution, and format of the converted video. To convert the videos:
Choose, download and install the best software converter.
Add your preferred MP4 video.
Select MP3 as the desired output format.
Start the conversion.
Some of the best (free) MP4 to MP3 conversion software include:
Besides these, users may occasionally use their cellphones to convert their MP4 files to MP3 while they're on the go. This is particularly true for customers who desire quick file conversions without having to sit down with their laptop or PC.
For this process, you only need to download a conversion software compatible with your app store/ Play Store. iOS users can use Media Converter while Android users can opt for MP3 Converter.
#5: Online
The best thing about online converters is that they are often straightforward to use, and don't require installing any additional software. This option works both for PCs and smartphones. Some of the best online converters are accessible as freeware, shareware, and more. As long as you have an Internet connection, you can visit a website without having to download an app.
A good example is CloudConvert. You only need to select the mp4 file you'd like to convert, and a convert button will appear.
#6: FFmpeg
There's an open-source program called FFmpeg, which can convert files from one format to another by first decoding the original, and then re-encoding it. Once it's been downloaded and installed, you can use the following straightforward command to convert an MP4 to an MP3:

It's crucial to remember that FFmpeg requires a lot of time to convert large-sized videos.
Why is It Important to Convert MP4 to MP3?
Owing to MP4 files' incompatibility with some hardware and applications, MP4 to MP3 conversion is frequently required. Since MP3 is a more ubiquitous format, it can be used with almost any hardware or software. Converting MP4 to MP3 might also help you conserve storage space because MP4 files are sometimes larger than MP3 files. Furthermore, MP3 files often provide better sound quality than MP4 ones. Therefore, individuals who desire to enhance the audio quality of their music files are frequently advised to convert MP4 to MP3.
Conclusion
We made an effort to include some of the most well-liked and user-friendly MP4 to MP3 converters for you in this article. Choose any that you feel is best for you, keeping in mind your file size and desired conversion speed.
Up Next
The image featured at the top of this post is ©Drazen Zigic/Shutterstock.com.