Key Points
Connecting an Apple Watch to Wi-Fi is simple and can be done in just a few steps, starting with clicking the crown and tapping Settings.
Apple Watch Series 3 and later models can also connect to cellular data, allowing users to receive texts and calls without being near their iPhone or Wi-Fi network.
If the Apple Watch won't connect to Wi-Fi, there are troubleshooting steps available, and Apple Support can provide further assistance.
Before you can use your feature-packed Apple Watch, you'll probably have to update it. That means you must know how to connect your Apple Watch to Wi-Fi. Don't pull your hair out and call Apple Support just yet. The steps are pretty simple!
As your dear author can attest, Apple products are always programmed logically. Connecting your Apple Watch to a Wi-Fi network takes a few steps. However, it can be challenging if you don't know the exact steps. Follow the steps in our tutorials to connect your watch to your Wi-Fi network quickly.
What to Know About Connecting an Apple Watch to Wi-Fi
We aren't going to throw you right into our tutorial before covering the essentials. Like any task, you must gather your materials and knowledge to complete the steps first.
Check these prerequisites before following the tutorial below:
Charge Your Apple Watch – If the Watch loses power midway, it won't save your Wi-Fi password, and you will have to repeat the steps.
Find your Wi-Fi Password – Not sure where to find it? Check out this simple guide.
Ensure you have a 2.4 GHz network for Apple Watches Series 5 or older (Series 6 and newer are compatible with 6 GHz).
If you run into challenges while performing the sections below, we've included a Troubleshooting section to fix some of the expected errors.
How to Connect Apple Watch to Wi-Fi
Whereas you can perform Apple Watch-related tasks on your iPhone using the Watch app, you can connect to Wi-Fi quickly on the Apple Watch itself. If you have your Wi-Fi password, do this to connect your Apple Watch to Wi-Fi:
Step 1: Click the Crown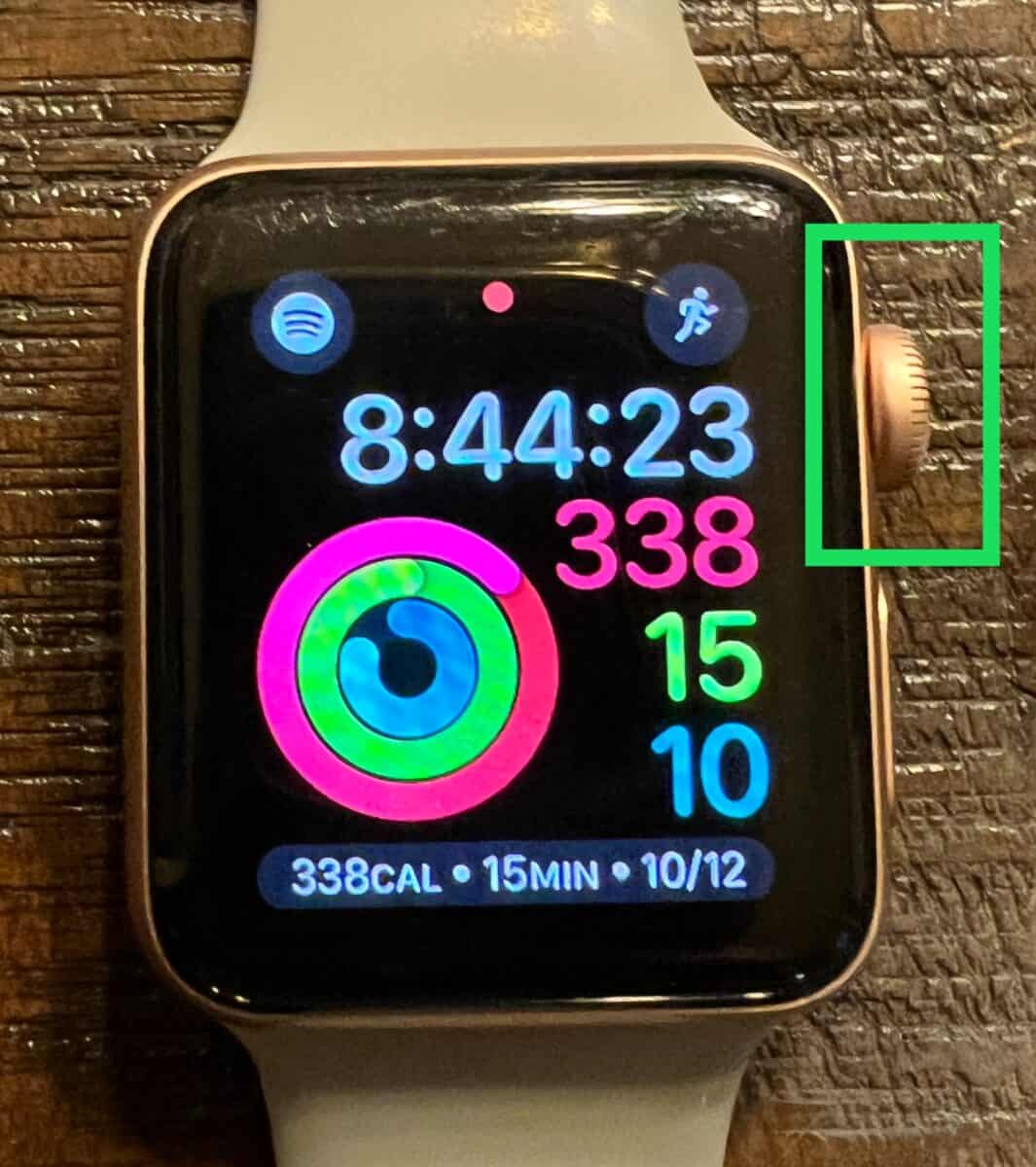 Your Apple Watch doesn't have to be on the charging base but must have sufficient battery life to complete these steps. Assuming it's charged up, click the Crown on the side of your Apple Watch.
Step 2: Tap Settings
Scroll through the list or search through the apps and find the Settings cog. When you see it, tap it.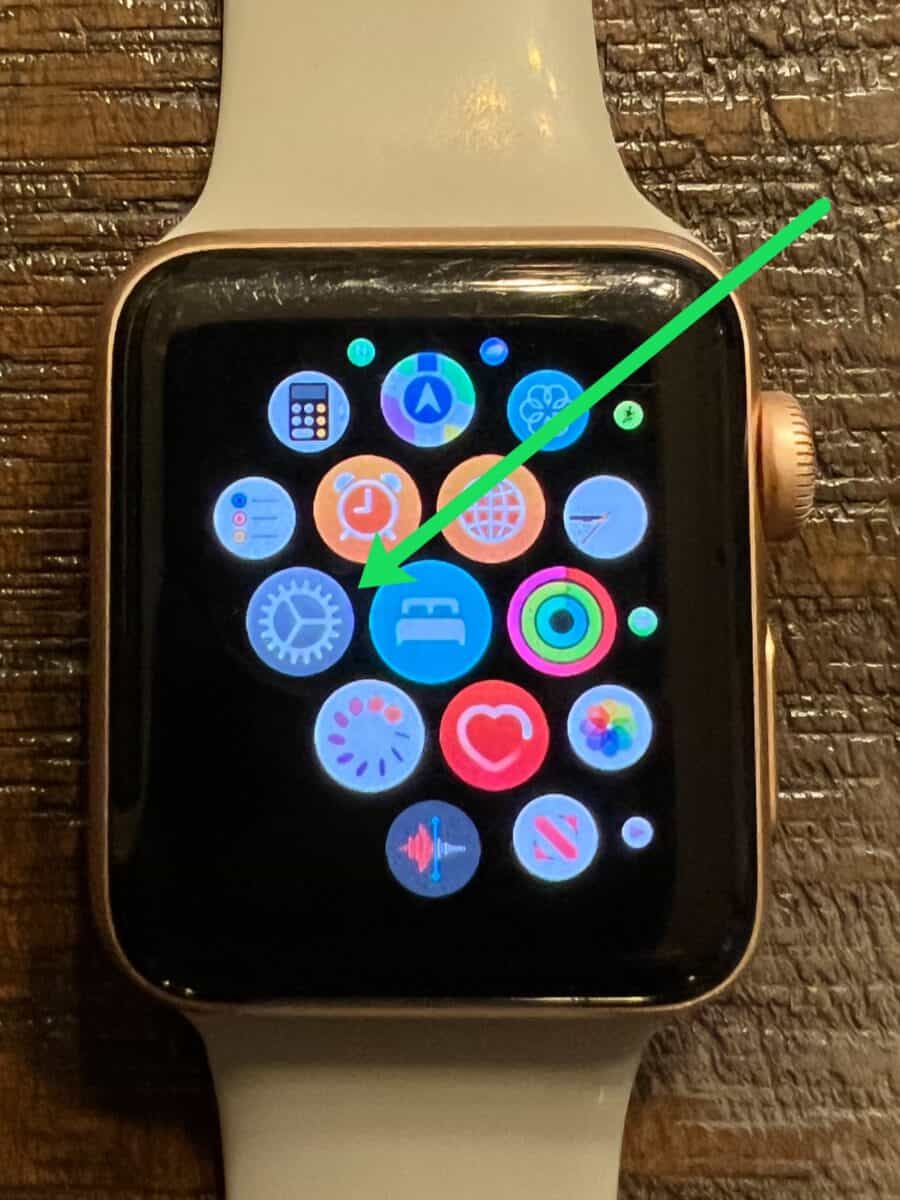 Step 3: Tap Wi-Fi
Scroll down this new window just a bit until you see the Wi-Fi option. Then, tap it.
Step 4: Tap the Network
Any Wi-Fi networks nearby will appear. Tap the one you want your Apple Watch to connect with.
Note: Most of the time, the Wi-Fi network at the top is yours. But if unsure of your Wi-Fi's name, check another connected device or the router.
Step 5: Input the Wi-Fi Password
So far, things have gone smoothly, but it's not always the case. Some Apple Watch users may struggle to connect their devices to Wi-Fi. You must write each letter, number, and character of your Wi-Fi password.
A stylus makes it easier. If you don't have one, use your finger to draw each individual number, letter, or symbol. Be sure to mind your capitals. Pause between each character and ensure it appears exactly as it should at the top of your Apple Watch screen.
Connecting your Apple Watch to Wi-Fi is very easy and only take a few steps. This video from Fix369 walks you through the process.
How to Connect Apple Watch to Cellular Data Instead of Wi-Fi
One cool thing Apple ever did was include cellular connectivity to the Apple Watch Series 3. It gave us the freedom to walk away from our iPhones and Wi-Fi networks while still getting texts, calls, and more.
Some Apple Watches (even the newest ones) are Wi-Fi-Only, those who do have the cellular-capable models can easily connect the Apple Watch to cellular data when Wi-Fi is unavailable.
Because we didn't want to leave you tethered to a Wi-Fi router, we've included this section to help keep you in the know. Follow these steps to connect your Apple Watch to cellular data:
Step 1: Open the Apple Watch
We'll perform these steps using the Apple Watch app on your iPhone. Unlock your iPhone and tap on the Apple Watch app.
Note: If you're unsure where this app is, swipe all the way to right and type Apple Watch in the search bar at the top. Then, tap on the black app that has a white watch icon on it.
Step 2: Tap Cellular
Scroll down the page just a bit and tap on Cellular.
Step 3: Tap Set Up Plan
Now you can tap Set Up Plan. This plan is billed on your iPhone's mobile carrier's bill (AT&T, Verizon, T-Mobile, etc.). Follow the steps to add cellular data to your Apple Watch.
Apple Watch Won't Connect to Wi-Fi Troubleshooting
Sometimes, Apple Watch won't connect to Wi-Fi despite following all the steps above. So, what's wrong, and what can you do about it? If you run into headwinds, you can try a number of fixes to resolve the problem.
Ensure all your devices are ready to connect. Disable Airplane mode on your Apple Watch by swiping down from the top and tapping the Airplane icon. Ensure your router is working properly by checking other devices' connections.
You can also disable iPhone Mirroring by going to Settings>General>Airplane Mode>Mirror iPhone. Ensure the Mirror iPhone switch is grey.
Verify your Wi-Fi password. It's easy to make mistakes because you must write each character in your Wi-Fi password on your Apple Watch.
Try connecting your Apple Watch to another Wi-Fi network. If you're trying to perform an update on your Apple Watch, but it won't connect to Wi-Fi, try updating your iPhone. Then, reconnect your iPhone to Wi-Fi (Forget the Network in the Wi-Fi Settings and reconnect), power off all your devices (the Watch, iPhone, and router), then power them back on again.
When updating your Apple Watch, ensure it has the same Wi-Fi connection as your iPhone. Also, put your watch on its charger.
Apple Watch can be finicky as it often requires an iPhone to perform some functions. If these troubleshooting steps didn't help you with your specific errors, contact Apple Support for further assistance.
Wrap Up
As you can see, connecting an Apple Watch to Wi-Fi is easy. You can always try cellular data with a compatible Apple Watch if you can't connect it to a network. Of course, you can also try a few troubleshooting steps and contact Apple for more help!
Summary Table
| Step | Action |
| --- | --- |
| Step 1 | Click the Crown |
| Step 2 | Tap Settings |
| Step 3 | Tap Wi-Fi |
| Step 4 | Tap the Network |
| Step 5 | Input the Wi-Fi Password |
The image featured at the top of this post is ©Framesira/Shutterstock.com.