Maybe you got a new Amazon Echo, and you're ready to begin using Alexa's amazing features now. Or, you need to change your Wi-Fi network on your Alexa device. Before you can start asking Alexa to tell you a daily news brief, you'll need to know how to connect Alexa to Wi-Fi.
Fortunately, we love Alexa, and we're pros when it comes to connecting the small artificial assistant to Wi-Fi. We'll even include some troubleshooting steps for those times when she doesn't want to cooperate with your Wi-Fi network.
Let's jump right into what you need to know!
How to Connect Alexa to Wi-Fi
There's nothing quite like an unboxing. And unboxing an Echo device is exciting — for the most part. However, it can be stressful because now you have to connect her to your Wi-Fi network before you can use anything.
It doesn't matter if you have the Echo, Echo Dot, or Echo Show. You can connect any of the devices using these steps because we'll use the Alexa app on your smartphone.
If you have yet to download the Alexa app, download it from here if you have an iPhone or by using this link if you have an Android.
After you download the Alexa app, follow these steps.
Step 1: Connect Your Phone to Wi-Fi
Your iPhone or Android smartphone is going to act like a liaison between your new Echo device and your Wi-Fi router. Connect your smartphone to the Wi-Fi network you'd like to use on your Alexa.
Helpful hint: Ensure your Alexa is plugged in and the orange light is spinning.
Step 2: Sign into the Alexa App
Download the Alexa App from the App Store (for iOS) or the Google Play Store (for Android). Then, log into your Amazon account.
Step 3: Tap Devices
After installing the Alexa app, open it, and tap Devices in the menu at the bottom.
Step 4: Tap the + Sign
You will see all your Echo devices on this screen. Tap the + sign in the upper right corner to connect a new Alexa to Wi-Fi.
Helpful hint: If your Alexa device is already in the Device menu, skip to the next section. This section is for new devices.
Step 5: Tap Add Device
Tap Add Device in the sub-menu to add a new device.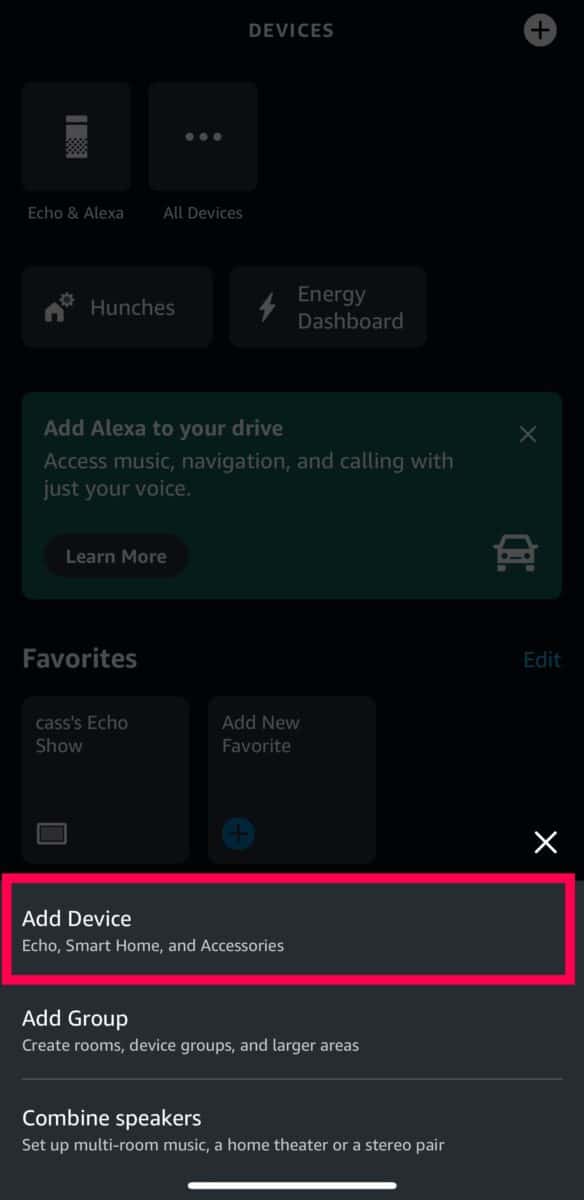 Step 6: Ensure Your Device is in Pairing Mode
Hold the Action button until the orange light begins spinning.
Tap Yes when you see the orange light circling on your Echo device.
Step 7: Select Your Alexa Device
If your Alexa is in pairing mode (see step 6), your Alexa device will appear. Tap it.
Helpful hint: If your device doesn't appear immediately, select Amazon Echo and Echo, Echo Dot, Echo Plus, and more. You can also select one of the other options if you have another Alexa-compatible device, like a smart light, plug, or switch.
Step 8: Alexa Connect to Wi-Fi
Your Alexa device will connect to the same Wi-Fi that your smartphone is connected to.
Helpful hint: There's an option in the lower left corner to pair your Alexa to a different Wi-Fi if you need it.
Connect Echo Show to Wi-Fi
The Echo Show is Amazon's Alexa device with a touch screen. It's a neat device that can show you recipes, news, and videos. But before you can use those features, you must connect the Echo Show to Wi-Fi. While it may be easier to connect your Echo Show to Wi-Fi using the Alexa app, you can change the Wi-Fi settings on the device too.
Here's what to do.
Step 1: Access the Settings
Swipe down from the top of the screen and tap on Settings.
Step 2: Tap Network
When the Settings menu appears, you can tap Network.
Step 3: Tap the Network
Tap on the Wi-Fi Network you'd like your Echo Show to use.
Step 4: Input the Wi-Fi Password
Finally, input your Wi-Fi password, and Alexa will connect to the new Wi-Fi network.
How to Update Wi-Fi on Alexa
Perhaps you changed your Wi-Fi network, or you updated your Wi-Fi password. Nonetheless, it's easy to change your Alexa's Wi-Fi connection using the Alexa app.
Note: This is for Alexa devices that are already set up. If you have an Amazon Echo that someone previously paired with their account, you must factory reset it before moving forward. We included those instructions in the Troubleshooting section.
Step 1: Open the Alexa App
Naturally, you'll need to open the Alexa app on your smartphone. If you don't see it on the home screen, check your App Library on an iPhone or your App Drawer on an Android.
Step 2: Tap Devices
Tap Devices at the bottom of the Alexa app's home page.
Step 3: Tap Echo & Alexa
Tap Echo & Alexa on the device menu. Then, tap your Echo device in the new menu that appears.
Helpful hint: When you set your Alexa up, you probably gave it a name and assigned it to a room in your house. That makes it easier to find the one you want to connect with a different Wi-Fi network.
Step 4: Tap the Network Status
You can tap the Settings Cog in the upper right corner and tap on Network. But it's faster to tap the Wi-Fi Network on the device information page.
Tapping the current Wi-Fi name will take you directly to the option to change your Alexa's Wi-Fi network.
Step 5: Tap Change
To the right of the network's name, tap Change. It's a small blue hyperlink that lets you update your Alexa's Wi-Fi connection.
Step 6: Select Your New Wi-Fi
Now, select your new Wi-Fi network and input the password.
Alexa Wi-Fi Troubleshooting
As we can attest, Alexa doesn't always cooperate with our demands. For example, during the testing of various Wi-Fi connections, it wouldn't go into pairing mode. Instead, its ring light stayed blue. Essentially, we've experienced the headache and outlined the following troubleshooting steps to make things easier for you.
Here are some things to review if Alexa won't connect to Wi-Fi.
Alexa Won't Go into Pairing Mode
Alexa can be stubborn. A constant blue ring means that Alexa is trying to start. If the ring is constantly spinning blue, check your power cable and adapter (a faulty power supply isn't going to give it the energy it needs to work). That's the action that fixed our pairing mode.
If the power supply is in tip-top shape, try a factory reset (outlined below).
Check Your Smartphone Internet
If your smartphone isn't connected to the same internet band you want to connect your Alexa to, it won't work. Open the Wi-Fi settings on your Android or iPhone and verify that it's connected to a working router within 30 feet.
Helpful hint: Beware that you may have a 2.4GHz band and a 5GHz band. Alexa is compatible with both, but if you're using the wrong one on your smartphone, Alexa may not connect.
Move Your Echo Closer to the Router
When your Alexa device continually connects and disconnects from the Wi-Fi, it's likely because it's too far away from your router or there are barriers in the way. Try moving Alexa closer to your router.
Restart Your Router
If you tried connecting Alexa to your Wi-Fi and it isn't working, check other internet-enabled devices. Is your router working? Unplug it for thirty seconds and plug the router back into its power supply.
Wait for the lights to come back and try it again.
Reset Your Echo Device
When you fail to progress with Alexa's Wi-Fi connection (whether it's a new device, old device, or gifted device), it's time to do a factory reset. However, the instructions vary depending on which model you have.
The first-generation Echo has a reset switch on top of the device. It looks like a small pinhole. Grab an earring, paperclip, or any small pointed object, and hold the reset button.
The second-generation Echo can be factory reset by holding the volume down and microphone off buttons. Hold those until she shuts down and comes back to life.
The Generation 3 & 4 Echos reset button is the Action button (the button with a small circle). Hold the Action button until the orange light appears, and it powers down.
Echo Show users can reset their device by holding the mute and volume down buttons on the top of the Show.
Alexa, Let's Go!
The Wi-Fi connection process is quite straightforward. All you need is a Wi-Fi connection, Alexa, and the Alexa app. While it may seem tedious at first, following the steps above will ensure you can use all of Alexa's great features. So, hopefully, your Alexa connects to Wi-Fi without any trouble.
If Alexa does give you any problems, walk through our troubleshooting section to get her working correctly.
And for a walkthrough of the methods and steps covered in this article, we suggest watching this helpful video:
The image featured at the top of this post is ©Karsten Neglia/Shutterstock.com.