Unfortunately, connecting AirPods to Xbox is not as straightforward as you might think. The reason is that Xbox does not officially support Bluetooth, the wireless technology that AirPods use.
Xbox, in all its versions, and PlayStation do not support Bluetooth audio devices. Even though it's not officially supported, we can get it to work using some workarounds.
Let's break down the various (easy) methods with simple steps to connect AirPods to your Xbox.
How to Connect AirPods to Xbox: Step-by-Step Guide
Method 1: Pair Your TV's Bluetooth to AirPods
If you have a relatively modern TV, chances are it supports Bluetooth.
Take a look in your TV's Audio Settings for any Bluetooth options. It's usually under the Audio tab.
If Bluetooth is available on your TV, select Search for Available Devices and then open your AirPods case to start Pairing Mode.
The AirPods should appear on your TV's list of Bluetooth devices. Click it to pair them. Once paired, the audio from your TV should be redirected to your AirPods.
With this method, the Xbox sends audio to your TV and your TV sends it to your AirPods. If you still hear sound from your TV's speakers, you may need to manually select Bluetooth as the TV's audio output.
One important point to keep in mind is you can't use your AirPods microphone for party chat when connected to the TV's Bluetooth.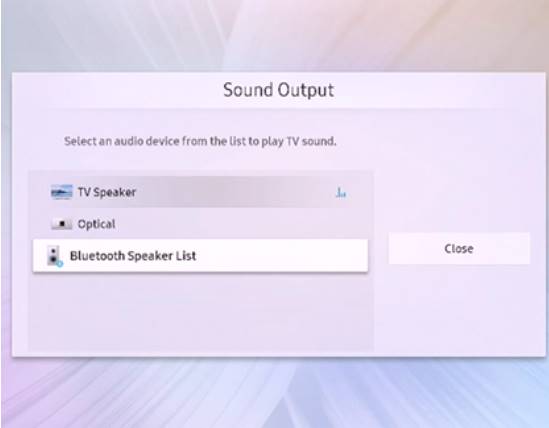 Method 2: Use the Xbox Remote Play App
With this method, you will connect your phone to your Xbox using Remote Play and then connect AirPods your phone.
Here's the plan:
Enable Remote Play on Xbox.
Pair your phone with the AirPods.
Open the Xbox App on your phone.
Launch Xbox Remote Play.
Enable Remote Play on Xbox
To set up Remote Play, turn on your Xbox, open Settings, Devices & Connections, Remote Features, and toggle Enable Remote Features.
If you see a green checkmark next to all the remote play features, you can move to the next step. It's also a good idea to enable Sleep mode on your Xbox so you can connect to it remotely at any time.
Pair Your Phone to AirPods
Pair your phone with AirPods. Turn on Bluetooth on your phone and open your AirPods case to start pairing mode. You should see them on your phone's list of available Bluetooth devices.
Once paired, it's time to launch the Remote Play on your phone.
Launch the Xbox App on Your Phone
Open the Xbox app (Android, iOS) on your phone and sign in to your Microsoft account. In the app, select the Home icon on the bottom menu and tap the console icon in the top right corner, next to the notifications icon.
Tap Remote Play on this Device and your phone will remotely connect to your Xbox.
A warning will appear that reads You need to connect a supported controller via USB or Bluetooth to play! but you can tap on Continue Anyway. The Xbox audio should be coming from your AirPods.
Note: If you're near your Xbox, you don't need to pair a controller to your phone. You can continue gaming using your TV screen. You only need to use your phone for the wireless audio.
Once it's connected, you can place your phone next to you on the couch. Just bear in mind, if you don't interact with your phone for a while, it may lock the screen.
Keep in mind, there's a significant audio lag with this method and it may impact your performance in multiplayer games.
We estimate that the audio delay is about half a second. For best performance on Xbox Remote Play, make sure your phone is connected to the same Wi-Fi network and your Xbox is using a wired connection.
Here is a step-by-step video for further reference:
Method 3: Use a Bluetooth Transmitter on the TV
The previous methods are free, but if those don't work for you, then you need to buy a Bluetooth transmitter. There are many Bluetooth transmitters on the market with a wide array of quality.
It's not always easy to find one that works. Many Bluetooth transmitters will refuse to pair to AirPods while others will work with no problems. One that worked for us is the UGREEN Bluetooth 2-in-1 Bluetooth transmitter.
Either way, what you need is a 3.5 mm (also called Aux) Bluetooth transmitter. It plugs into the headphone jack on the back of your TV and broadcasts the audio from that port over Bluetooth. These transmitters require external power via USB.
Great Transmitter Option
We earn a commission if you make a purchase, at no additional cost to you.
Setup Bluetooth Transmitter for AirPods
Connect the Bluetooth transmitter's 3.5 mm to the audio-out port on your TV.
Connect the Bluetooth transmitter to a USB port, either on your TV or another device.
If using a 2-in-1, make sure it is set to Transmitter mode (TX).
Open your AirPods case and hold down the setup button to put them in pairing mode.
The Bluetooth transmitter should automatically pair with the AirPods.
Test the audio by placing an AirPod in your ear.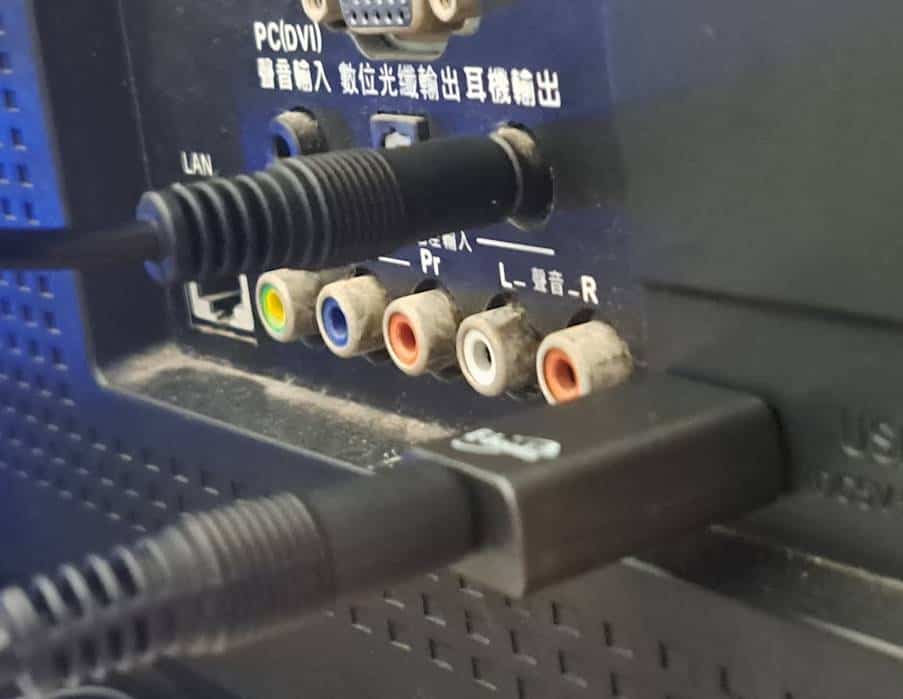 Since you can't tell what the transmitter is connecting to, it may take a few tries to connect it to your AirPods.
Make sure the transmitter hasn't connected to any other Bluetooth devices, such as your phone. If everything goes according to plan, the audio from your Xbox should be sent to the adapter and over Bluetooth to your AirPods.
Method 4: Use a Bluetooth Adapter for Xbox Controller
The first option is recommended for a more permanent setup. However, another option is to connect a Bluetooth adapter directly to your Xbox controller.
There are quite a few Bluetooth products designed to fit into the stereo audio port on the front of your controller. This adapter below from Skull & Co is not only a Bluetooth transmitter but also has volume controls.
Reliable Transmitter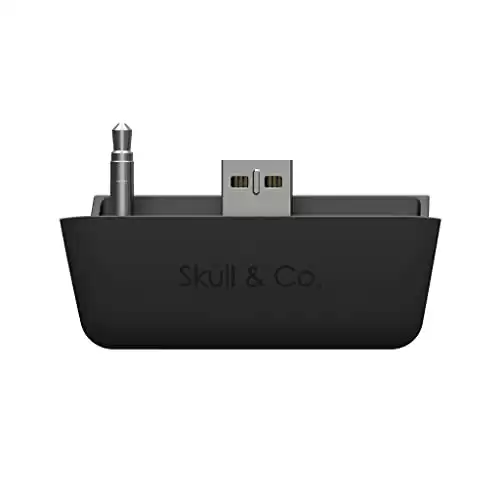 We earn a commission if you make a purchase, at no additional cost to you.
How to Connect a Bluetooth Adapter to Xbox Controller
Slide the attachment into the bottom end of your Xbox controller. It should click into place.
Make sure the TX mode is enabled.
Open your AirPods case and wait for your AirPods to pair.
Test the audio.
These adapters are convenient because they don't require external power. However, they do use your controller's power, so you may notice your controller's batteries draining faster.
Keep in mind, many of these Bluetooth adapters have a built-in microphone that can pick up the sound of every button you press, so it's not great for voice chat.
What to Do When AirPods Won't Connect to Bluetooth Transmitter
It can be frustrating when your AirPods won't connect to the Bluetooth transmitter. It's not always easy to troubleshoot the problem because there's no user interface for either device.
However, there are a few things you can try.
#1: Make Sure the AirPods are Not Connected to Any Other Device
If your AirPods are paired to your phone, they won't be available to other devices.
We recommend opening your phone's Bluetooth settings and tapping Forget Device next to the AirPods.
Your Bluetooth transmitter also could be attempting to connect to other nearby Bluetooth audio devices, such as earbuds.
#2: Enable Transmitter Mode on the Adapter
Most Bluetooth adapters have both transmitter (TX) and receiver (RX) modes. If there's a physical button to toggle between the modes, make sure it's set to TX mode and not RX. You might need to consult the product manual for the exact steps for your specific Bluetooth dongle.
#3: Disconnect/Reset the Transmitter
Unplug it from the power and repeat the process again. In some cases, it will work after a couple of tries. In most cases, the transmitter will have a blinking red light to indicate it's in pairing mode and searching for a Bluetooth audio device.
Note: If the light is blue, it may be in receiver mode.
A Better Alternative
Buy a wireless headset that is compatible with Xbox's wireless technology. It will save you the hassle of using Bluetooth adapters and the audio latency will be much better.
The Bottom Line
You can't officially connect Bluetooth directly to your Xbox, but you can use workarounds. The easiest method is to pair your AirPods to your TV via Bluetooth.
The second best method is to pair AirPods to your phone and use Xbox Remote Play. If those two methods don't work, your last resort is to buy a Bluetooth transmitter.
The image featured at the top of this post is ©robtek/Shutterstock.com.