Although designed specifically for Apple devices, all AirPods models work as a standard Bluetooth device for non-Apple devices, including Google's Chromebook. You can connect them to your Chromebook as you do with your Mac. But things can go south if your Chromebook is older and doesn't have a built-in Bluetooth feature.
While connecting your AirPods to your Chromebook, you may experience several hardware and software issues. Some are usually easy to solve, while others require some advanced troubleshooting.
If you're not a techie, don't start sweating already. This guide will discuss everything you must know to connect AirPods to Chromebook correctly. We will also help you tackle all the issues that may arise in between. So, let's dive in!
Step 1: Check If Your Chromebook Supports Bluetooth
The first thing is to ensure that your Chromebook has a built-in Bluetooth feature. Click on the "Network" icon present at the bottom of your homepage next to the battery icon. A menu will open. Find the Bluetooth icon there. If it's there, your Chromebook supports Bluetooth.
Step 2: Open the Lid of AirPods' Charging Case
Put your AirPods in the charging case and ensure they're sufficiently charged. Otherwise, you may face pairing issues. If they're charged, open the case's lid and keep it close to the Chromebook.
Step 3: Open the Chromebook's Settings Menu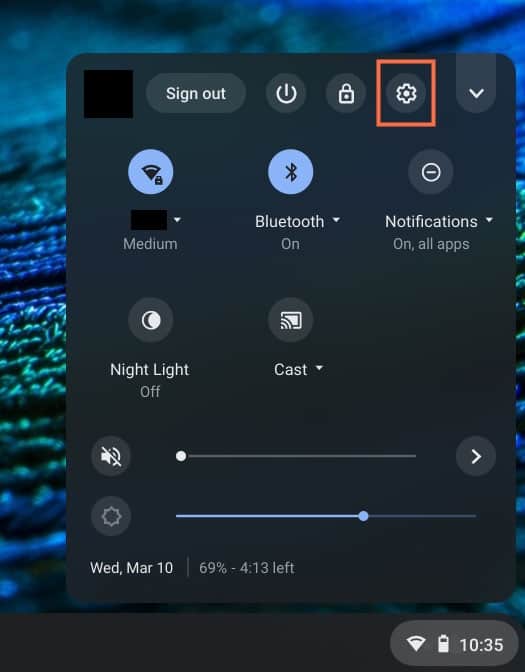 Now open the Settings menu from the Network icon. It is present at the top right corner.
Step 4: Enable Bluetooth
In Settings, click Bluetooth and turn its toggle on. This will enable Bluetooth on your Chromebook.
Step 5: Press the Setup Button on AirPods' Case
Now grab your AirPods and find the small Setup button present on the case's back. A white light will start flashing inside the case as you lift your thumb up. This means your AirPods are now in pairing mode.
Step 6: Find Your AirPods' Name
Soon, your AirPods name appears in the Chromebook's Bluetooth menu under "Available devices" or "Unpaired devices."
Step 7: Click on Your AirPods To Pair Them With the Chromebook
With these helpful steps and photos, you now know how to connect your AirPods to your Chromebook. However, if you'd like a clear step-by-step video tutorial, we found the perfect video on YouTube to help guide you through these simple steps.
Once you find your AirPods, click on their name, and the Chromebook will pair with them in a few seconds. You will soon receive a notification indicating that you've successfully paired your AirPods and Chromebook. Along with that, the case's light will also turn green.
After that, you can play audio on your Chromebook and listen to it via your AirPods. You can even control your AirPods' volume from the volume keys on your Chromebook.
After synchronizing your AirPods with the Chromebook, you won't have to repeat this pairing process. Simply send your AirPods in the pairing mode, open Bluetooth on your Chromebook, and you'll see your AirPods in the "Paired devices" list. Click on them to connect with your Chromebook.
What To Do If AirPods Won't Connect To Chromebook?
Sometimes, AirPods don't connect to Chromebook even if you follow all the above steps correctly. If you're experiencing the same thing, know that it's normal, and many factors can result in this error. These primarily include:
If your AirPods don't connect to your Chromebook, don't worry and follow the below four troubleshooting methods:
1. Re-enable Bluetooth
One primary reason for connection failure between AirPods and Chromebook is the hidden Bluetooth connectivity issues. To resolve this, you can try disabling and re-enabling the Bluetooth on your Chromebook. Then, connect it to AirPods again. This will remove any temporary error that slows down Bluetooth connectivity.
To disable Bluetooth on your Chromebook, follow these steps:
First, click on the "Network" icon next to the battery icon and open the Settings menu.
Then, Choose Bluetooth like you did when connecting AirPods to Chromebook.
Now, click on the toggle to turn it off. Click on it again to re-enable Bluetooth and repeat the pairing process.
You can also restart your Chromebook instead of re-enabling the Bluetooth. Hopefully, it will solve the issue.
2. Update Your Chromebook to the Latest OS
An outdated OS version on a Chromebook can prevent it from connecting to AirPods. Not only this, but an old operating system can also affect the device's other functions, such as audio output and Bluetooth connectivity.
Thus, try updating your Chromebook to the latest OS version to solve the issue. Here is how you can do that:
First, connect your Chromebook to a stable internet connection.
Then, open the Settings menu from the "Network" icon.
Click on "About Chrome OS" to see your current OS version.
Choose "Check for Updates" to check if any latest updates are available. If there are any, your device will start downloading them automatically.
Once downloaded, you'll see a notification saying, "Updates available." Click "Restart to Update" to restart the system to an updated version.
3. Reset the AirPods
The next method is to reset your AirPods. It will help clear the AirPods' data of the current connections, ensuring that no other connection will hinder earbuds from connecting to the Chromebook. Resetting also fixes many charging and audio issues.
Here's how you can reset your AirPods (1st, 2nd, 3rd gen) and AirPods Pro:
Put your AirPods in the charging case and open its lid.
Find the Setup button on the case's back.
Press the button for 15 seconds until the status light present inside the case starts flashing white.
Close the case's lid. Your AirPods are now reset.
After this, restart your Chromebook and try connecting it again with AirPods.
If you have AirPods Max, you can reset it in the following steps:
Open the case's lid and find the Noise Control button. Press the button along with Digital Crown for 15 seconds till the status light starts flashing amber.
As the light turns white, release the button. Your AirPods Max is now reset.
If resetting doesn't work, you can try the last troubleshooting method to connect AirPods to Chromebook.
4. Change Audio Output Settings
Audio output is the channel that plays the audio on your Chromebook. It can be the external monitor speakers, internal speakers, or connected earbuds. If your AirPods seem connected to the Chromebook but fail to play sound, the problem will likely be with your laptop's audio output settings.
The chances are that there is a different audio output selected on your Chromebook. To change it, open "Audio Settings" on the laptop and select your AirPods from the available list. Here is how you can do that:
First, click on the "Network" icon on the bottom right of your Chromebook's screen.
Then, open the Settings menu and find a headphone icon next to the volume slider.
Tap on the headphone icon to open the "Audio Settings" menu.
The next screen will display all your available output options, including all Bluetooth accessories, external headphones, and external speakers. Select both the Audio output and input device.
Finally, choose your AirPods as the audio output device to complete the process.
You'll now start hearing the audio playing on the Chromebook from your AirPods. I
Summary
AirPods have a user-friendly interface that allows users to connect these earbuds to Apple and non-Apple devices. You can easily connect AirPods to Chromebook via Bluetooth. However, ensure your Chromebook is updated to the latest operating system and your AirPods are selected as the audio output. If you still face connectivity issues, you can try re-enabling Bluetooth on your Chromebook or resetting your AirPods. Hopefully, this will fix all the temporary bugs restricting the connection.
The image featured at the top of this post is ©Masarik/Shutterstock.com.