Most of us don't acknowledge the existence of our iPhone's charging port until there's a problem. Then, it's a big problem. Perhaps you're here because your iPhone won't charge. Maybe, the cord feels loose, to the point it falls out completely any time you move your phone. Before you run to Apple for a costly repair, you should try cleaning your iPhone's charging port.
Inspecting and cleaning your iPhone's charging port can restore charging capabilities and prevent more damage. But how do you clean your charging port safely and effectively? We'll walk you through the steps to clean your charging port that professional technicians use! We'll also teach you some helpful tips along the way!
How to Clean iPhone Charging Port
You don't have to be Apple Certified to clean an iPhone charging port. But, the average user doesn't have the skills and knowledge to perform the tasks safely or effectively. Working with hardware comes with risks. For example, you could damage the charging port or fail to clean it properly, leading to costly repairs and data loss.
The cleaning process takes only a few minutes, and when you do it right, your iPhone will start charging like when you first purchased it.
Necessary Tools
Before we begin cleaning your charging port, let's gather the right tools. You don't need to buy an expensive cleaning kit for your iPhone (although those kits are great). Some common household items are the best tools.
Tweezers – We'll use tweezers to remove large pieces of debris like dust, lint, and even blades of grass (yes, we've seen it all).
Sewing Needle – A sewing needle or toothpick is the best way to free up any tough debris. But this tool does come with a warning. Be sure you don't damage any connectors in the charging port (don't worry, we'll show you those below).
Soft-bristled brush – A soft-bristled toothbrush or electronics brush is perfect for cleaning tiny specs of dust and other debris.
Flashlight and Magnifying Glass – You need to see inside the charging port to avoid damaging any components and get a thorough cleaning. If you don't have a magnifying glass handy, you can use another smartphone camera to zoom in on the port while you work.
Perhaps you noticed we didn't add compressed air or alcohol to our list. Not only does Apple not recommend those chemicals for charging port cleaning, but they really aren't necessary. We can clean a charging port without any liquid or harsh chemicals! So, let's clean that charging port!
Step 1: Power Down Your iPhone
A good rule when working with electronic hardware is to turn off the device. While it probably won't hurt your phone to leave it on, this is an excellent habit to develop anytime you're working with hardware.
Turn your iPhone off by pressing the Siri and Volume Up buttons. Now, slide the power off button to the right and wait for the screen to go black.
Step 2: Inspect the Charging Port
Let's take a minute to inspect the charging port. This lets us see what we're working with but also identifies the internal components we're working around.
Use your flashlight and magnifying glass to inspect your charging port. Notice the metal connectors on the bottom and top of your charging port. Also, note anything that looks out of place. Your charging port should be a deep pocket with a smooth base.
Larger debris is clearly visible, while compacted debris is harder to detect if you aren't familiar with the appearance of a normal, clean charging port. If the bottom looks rough or shallow, it's dirty.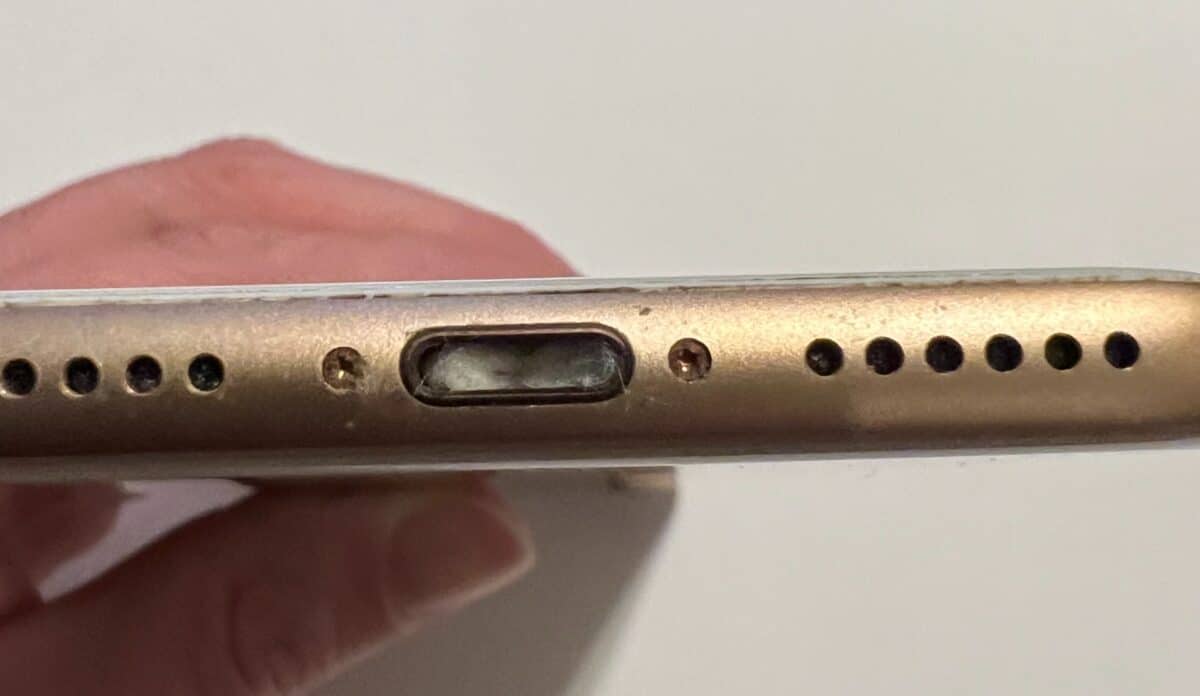 Step 3: Use Your Tweezers to Remove Large Debris
After a thorough inspection, use your tweezers to remove any large pieces of debris. Remember to watch for the prongs.
Smaller tweezers are more effective than blunt-edged tweezers. But if the latter is all you have, keep them as compressed as possible to avoid hitting the top and bottom of the port. However, if the tweezers are too large, move to step 4. We'll get that charging port clean one way or the other.
Step 4: Use Your Needle or Toothpick on the Bottom of the Port
This step is the one where most people damage their ports. But you can avoid causing problems with a few simple tips:
Be Gentle
Watch for the prongs on the top and bottom of the port.
Use good lighting
Don't apply pressure
Insert the needle or toothpick, starting at one side and slowly working your way to the other (from speaker to speaker). It's okay to touch the very bottom of the charging port as long as you aren't applying too much pressure. If your needle glides smoothly along the bottom of the port, it probably isn't dirty, so don't apply more pressure. More often than not, you'll see a black tar substance when you clean this part of the port if it's dirty.
Step 5: Use Your Brush to Clean the Prongs Gently
Now, we're going to use the soft-bristled brush to clean debris from the delicate prongs on the top and bottom of the charging port. Again, don't use too much pressure or work too quickly; gently glide your brush back and forth over the metal connectors.
Step 6: Blow Out the Charging Port
After loosening the debris on the prongs, hold your iPhone at an angle and blow into the charging port with your mouth. The goal is to remove any leftover dust gently. You don't need an air compressor or a can of electronic cleaner for this step. Just be careful not to blow any dust in your face or eyes (it happens, and it's uncomfortable).
Step 7: Clean the Charging Cable and Test
Depending on how dirty your port was, your charging cable may have debris too. Use a soft cloth and wipe down the charger. You can clean your charger with a tiny amount of Isopropyl or Denatured alcohol if it's really dirty. Just make sure the charger is completely dry before plugging it into your phone.
After cleaning the charger, plug it into your iPhone and test the connection. Some cables have a little wiggle, but not enough to disable charging when moved. Rock your charger back and forth and ensure it plugs in completely.
Keep it Clean
Learning how to correctly clean your iPhone's charging port is an integral part of device maintenance. But you can also work to keep it clean too! Most of us stick our phones in our pockets, exposing the charging port to pocket lint and dirt. A good case with a charging port cover is one of the best deterrents for dirty or damaged ports. You can also use a wireless charger to prolong the life of your charging port and prevent damage.
If you work in a dirty environment like construction or landscaping, it's a good idea to clean your iPhone's charging port often. But those who shove their phones in their pockets ten-plus times a day will also benefit from the cleaning steps above.
Up Next