Having your listening session interrupted because your AirPods ran out of battery can leave you feeling pretty frustrated. Whether listening to your favorite jams or podcast or are on a zoom call, the effects are just as annoying!
The great news is that checking your AirPods battery life is quite easy. This way, you will know whether you have enough juice to keep you going for another listening session or whether it is time to recharge. With a few easy steps, you can accurately monitor the battery level on your earbuds and the AirPods charging case.
We've outlined several methods you can use to check your AirPods' battery levels. Follow along with our step-by-step instructions!
How to Check AirPods Battery on iPhone or iPad
Apple greatly optimizes its accessories to work with all the devices in its suite, which is why you can check the AirPod battery on your iPhone or iPad. You can do this in the following three ways.
Method #1: The Automatic Pop-Up
This method only works when your AirPods are inside their charging case.
Find an iPhone or iPad with which you have previously paired your AirPods.
Turn on Bluetooth from the control center menu.
Open the charging case while holding it as close as possible to the Bluetooth-enabled iPhone or iPad. Wait for a couple of seconds, and you will see a pop-up appear on your device's screen. The status card on the pop-up will show the battery status of each earbud as well as that of the charging case.
Method #2: Using the Battery Widget
This highly convenient method allows you to check the battery status of your AirPods on an iPhone or iPad while wearing the earbuds.
Tap and hold any available blank space on your iPhone or iPad's home screen. Do this until the app icons start jiggling around on the screen.
Tap the plus sign (+) on the upper-left corner of the screen.
Scroll through the available widgets and find the Batteries widget. Tap on Add Widget.
Tap Done once you have moved the widget to your desired location on the screen. You can see the battery life percentage of the earbuds and case instantly anytime you check the widget.
Now, the Battery widget will show your AirPods' battery status even when they are connected to another device!
This video from Tricks Tips Fix walks you through how to use the automatic pop-up and the battery widget to check the battery percentage for your AirPods.
Method #3: Ask Siri
Yes! You can ask Siri to check the battery of your AirPods on your iPhone or iPad.
Activate the helpful assistant by saying, "Hey Siri," or typing the same if you have turned on "Type to Siri." Depending on your device model, you can activate Siri by pressing and holding the home, top, or side buttons.
Issue the command by asking any variation of "what is the battery level of my AirPods?"
You should get the answer you are looking for from Siri. You can specify whether you want battery information for the AirPods or the case.
How to Check Your AirPods Battery Level on a Mac
When checking your AirPods battery life on your Mac computer, not much importance is tied to whether or not the earbuds are in the charging case. It is quite easy, as you will be checking the Bluetooth info.
Take the AirPod earbuds out of the charging case or open the lid of the case.
Click on the Bluetooth icon in the control center menu on your screen.
From the drop-down list, find your AirPods. The battery level of each earbud and the charging case will display on the screen of your Mac computer.
How to Check AirPods Battery on an Android Device
While you can use your Apple AirPods with an Android phone, the experience will not be as seamless as what you may be used to when you use the AirPods with Apple devices. Some features, including native checking of battery life, will be unavailable.
That said, some third-party apps can help you check the AirPods battery level when connected to an Android device. These apps include AirDroid Battery Life and AirBattery and are available for free download on Google Play Store.
It should be noted that this method will only work with compatible AirPods. In particular, the newer Gen 3 AirPods are incompatible with these third-party apps.
Download the app (like AirDroid Battery Life or AirBattery) from the Play Store and install it.
Open the installed app and grant the requested permissions so the app can access your AirPods.
Follow the in-app tutorial and steps to finish the setup.
View the current battery life of your AirPods displayed on a pop-up on the app. You can also view historical battery life data on the app.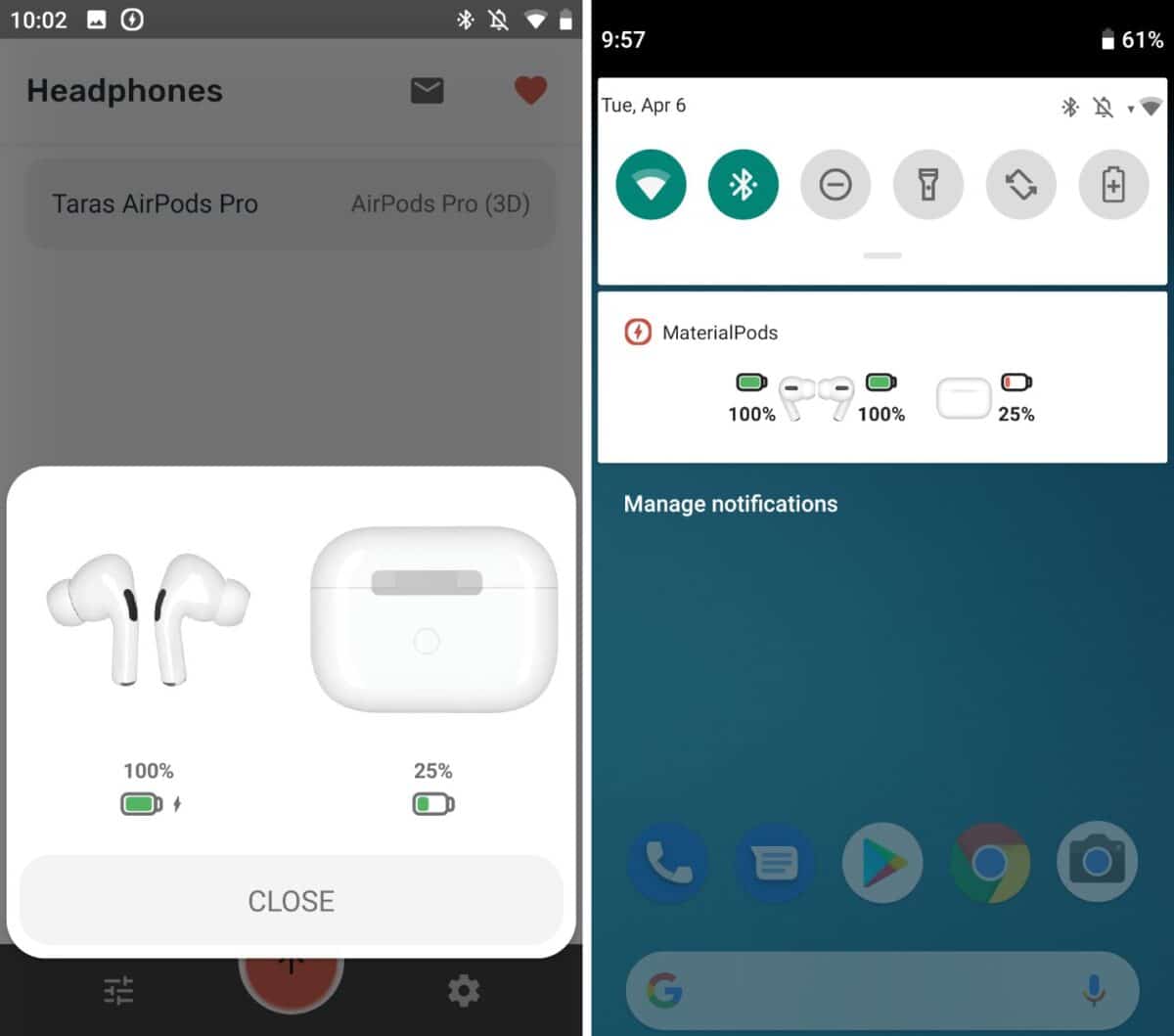 How to Check AirPods Battery Life Without Connecting to Any Device
You can still check the battery status of your AirPods earbuds and the charging case if you don't have an external device for connection. Remember that this method will not give you a precise measurement of your battery levels, unlike when you pair the AirPods to a device.
Checking the status light of the case will help you estimate the battery life. Depending on the model of your AirPods, this status light will be on the front of the case or in the space between where you place the earbuds inside the case.
Solid Green Light: This shows that the case and/or the AirPods are fully, or at least nearly fully, charged.
Solid Amber/Orange Light: The amber light shows you have less than one full charge left.
No Light: No battery power on your AirPods and/or case, indicating the battery is dead.
Checking Your AirPods' Battery Health
Are the batteries on your earbuds not doing as well as they once were? Do you feel like the batteries don't last as long as they should? Is it time that you replaced the batteries? These are important questions relating to your AirPods' battery health.
In addition to knowing how to check the current battery status of your AirPods, you may also want to know about the battery's health. Apple Support provides guidelines on how long you can reasonably expect your AirPods battery to last. Use these guidelines as a reference to assess your battery's health, especially if you haven't been using your AirPods for a long time.
There is no way for you to test and check your AirPods' battery life at home. Apple is yet to release a statement on its official method for testing AirPods' battery life. The company is, however, willing to give battery service if you have covered AirPods, and they have dropped to less than 80% of the original battery capacity. To qualify, you will need to get in touch with Apple and get an official battery test.
The optimized battery charging feature on Gen 3 AirPods, AirPods Pro, and AirPods Pro 2 helps preserve your AirPods battery health and extend the battery's long-term life. How? Predictive AI driving this feature reduces the amount of time your AirPods' battery is at full charge. Enabling this feature is typically automatic, although you can easily enable and disable it in the settings.
Final Thoughts
Neglecting to check the battery status of your AirPods could be the very thing that forces you to hear those over-the-top grunts at the gym instead of enjoying your favorite workout playlist. It is always a good idea, for practical reasons, to keep tabs on how much juice your AirPods and case have.
Thankfully, you can easily and quickly find out how much battery you have left on your AirPods. As outlined, it doesn't matter what device you have on hand or if you have one at all. You can use these various methods to check AirPods battery levels with an iOS device, an Android device, or no device at all.
It is also crucial to understand the overall health of your AirPods batteries. These insights will help you know how close your batteries are to the target or threshold of 80% of the original battery capacity. Remember that you are eligible for a free battery replacement if your battery gets to this level and you have AppleCare+.
The image featured at the top of this post is ©Hadrian/Shutterstock.com.