Printer ink is a necessary evil and it's something that can drive consumers crazy. Finding a good deal on ink is half the battle, along with ink compatibility. While there are many discounts on printer ink, figuring out which types of ink will work with your printer can be easier said than done. If you have questions about printer and ink compatibility, we have the answers.
How to Check Printer and Ink Compatibility
There are a number of ways to ensure that you're using the correct ink in a printer. Printers generally don't have this information on the outside of the machine, so you will need to dig a bit deeper.
Printer Ink Cartridges
One of the easiest ways to determine what type of ink a printer needs is to look at the cartridge. As long as you haven't tossed them, the color and black ink cartridges should have a number on them. Remove one of the cartridges from your printer and take a closer look at it.
The digits on the ink cartridge let you know the type of ink cartridge you need for a printer. With this data, you can hit the net and use your favorite search engine to pull up dozens of results where you can purchase ink.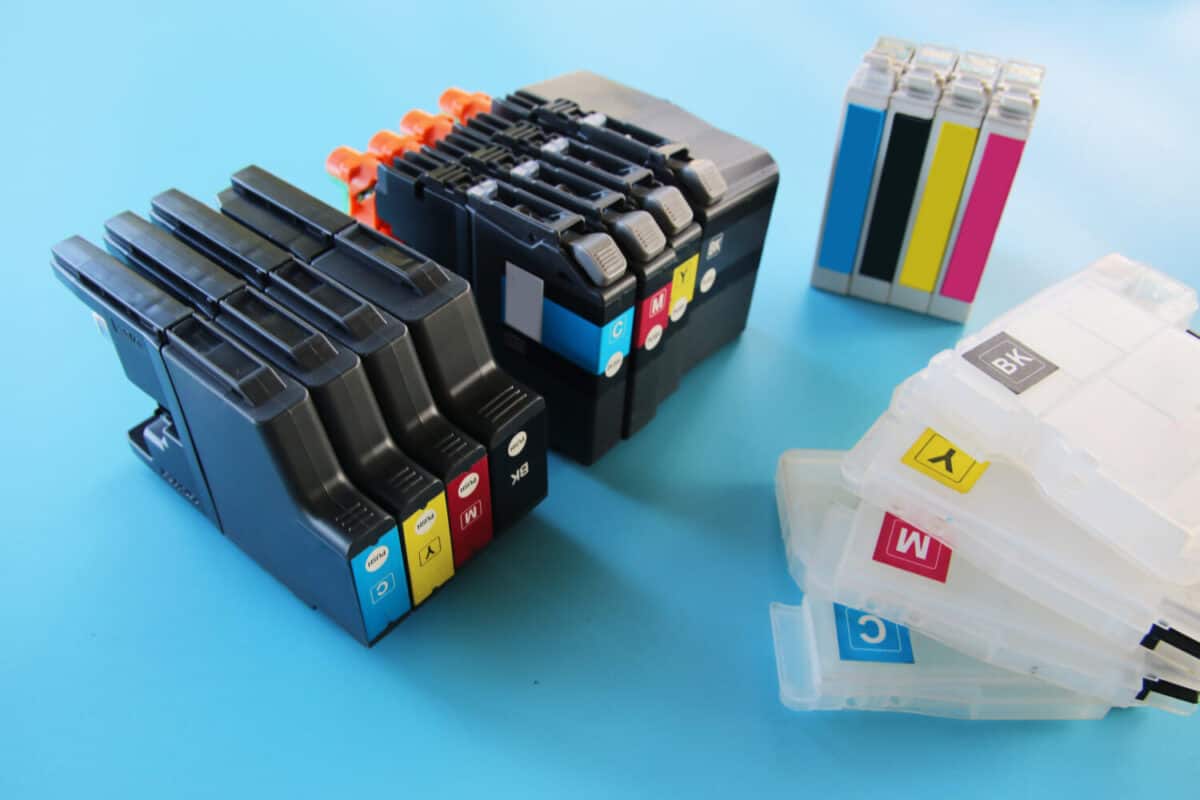 You can also find the ink replacement numbers inside some printers. The location varies, although the cartridge carrier is a great place to start. You'll appreciate the next method if you don't want to pull a cartridge when it's time to buy more ink.
Packaging
When you purchase new ink for a printer, the packaging it comes with usually gets thrown away quickly. In that rush to install a new ink cartridge, you're throwing away the information you need to reorder printer ink.
While you don't need to save every ink box that comes in the mail, take a minute and write down the numbers from the boxes. It's an easy way to know what you need until you can commit the numbers to memory. If you still have the box your printer came in, you may be able to pull the information from that as well.
User Guides
If you have a user guide for your printer, it will tell you the type of ink it needs. Unfortunately, printer ink boxes aren't the only things that get sent to the trash bin. Unless you have a drawer full of user manuals, the one that came with your printer is probably MIA.
That's if it even came with one at all, although you don't have to waste time looking for it in most cases. You can usually find a user manual for printers online. While it could be challenging with some models, it's a method that works for most printers produced in the past 20 years. If you don't know the model number of your printer, we can help you find it.
Printer Model Number
Another quick way to check printer and ink compatibility is to find the model number of your printer. It's a detail you can find on any printer, whether it's an MFC system or a portable inkjet printer. If you're lucky, you'll see it clearly on the front, top, or side of the printer.
Alternatively, you can unhook your printer and flip it over to find a model number. Once you know the printer brand and the model number, you can use a search engine to locate ink for your printer.
The Wrap-Up
While programs like Dash and other ink-related services can help take the guesswork out of things, most people still replace cartridges the old-fashioned way. Knowing how to find the right ink for any printer can save you a considerable amount of time and aggravation when you're ready to reorder.
The image featured at the top of this post is ©ThomasAFink/Shutterstock.com.