If you're wondering how to check the battery on your Apple Watch, you're in the right place. The Apple Watch is one of today's most famous tech products, and its many features make our daily lives easier.
However, battery issues can be a huge setback for this device. Having your battery die in the middle of a workout or while you are tracking your sleep can bring your plans to a grinding halt.
If you are an Apple User, you'll find that you'll regularly have to check the battery health on your device. The goal of today's article is simple: to show you how to check the battery health of your Apple Watch. But first, let's talk a little more about the battery and why it's essential to check its health.
Battery Life of the Apple Watch
Apple Watch is one of the most popular smartwatches you can buy anywhere in the world. This watch runs on what Apple calls the watchOS. This software not only offers an excellent user interface and experience, but does a good job of health and fitness tracking, checking notifications on the go, and more.
Improving with each new version, Apple has added more features and functions to the wearable device. The upgrades are so numerous that you might find it hard to keep track of all the changes. From setting goals to tracking steps, you can do a ton of cool things with the beloved Apple Watch.
These unique features and upgrades may also take a toll on the battery and battery health. Regular use of an Apple Watch can also wear down the battery, just like an iPhone does.
If you have had an Apple Watch for a while, you may have noticed that the battery life has worsened, with charging becoming more frequent and usage time dropping. So, here's how to check the battery of your Apple Watch in a jiffy.
Different Methods for Checking the Battery on an Apple Watch
There are a few different ways to check the battery on your watch. Each one is super simple and requires one step at most.
1. Opening the Control Center
Start by opening the device's control center. Touch the bottom of your display, hold for a second, and then swipe up. Here, you can see the percentage of battery life still left, right there on the screen.
As you can see here, we have 64% battery left on our Apple Watch.
2. Using the Bolt Icon
If you are charging your Apple Watch, you can check the current battery percentage by touching the lightning bolt in the top left corner of your watch's face.
3. Installing a Battery Complication
You can also install a battery complication showing the current battery level on the watch's face. This option is only available if your watch's face supports it. You can also download third-party complications for your watch if you want to stray from Apple's default choices.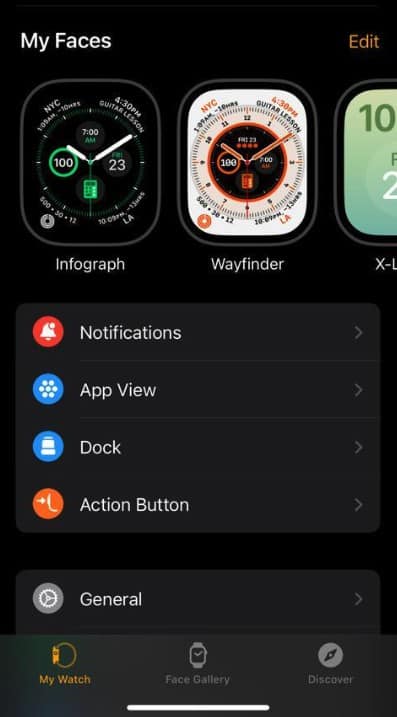 Optimally Charging the Apple Watch
What does it mean to charge a battery "optimally," and how might that be helpful? When you turn on Optimised Battery Charging, your Apple Watch will learn how you usually use it. It also controls when and for how long you charge it.
When you activate this feature, the Apple Watch will wait until the last 20% of its charge is done before letting you use it again. It will help you slow down the rate at which the battery wears out, making it last longer and work better. Most of the time, the setting will already be on by default.
But why use this feature? Well, batteries tend to last longer if they stay between 20% and 80% throughout most of their life. Charging to 100% or letting your watch die entirely is a good way to wear out your battery. Turning on optimized charging means that your watch will not charge past 80%, thereby prolonging its lifespan.
You can still check to confirm Optimised Battery Charging or turn it off if you do not want it. Here's how to do it.
Step 1: Maximum Capacity
In your settings, go to Battery, then Battery Health. Scroll down below the section Maximum Capacity.
Step 2: Optimised Charging of Battery
Toggle the Optimised Charge Limit switch on and off, depending on your personal preferences.
In the following video, WorldofTech provides a simple demonstration of three ways to view the battery percentage on your Apple Watch.
Conclusion
Apple Watch's battery health is crucial in helping you use the device smoothly without any glitches. If you want to save your battery, there are a few techniques you can put to use to get the most life out of your watch.
Using Power Reserve mode can also be helpful for squeezing some extra time out of your timepiece. But, at the end of the day, you won't be able to tell if you can't check your battery percentage or health.
The image featured at the top of this post is ©ms_pics_and_more/Shutterstock.com.