Every so often, small but important features come along that shake things up in the tech world. Notifications are certainly one of those features, and they're incredibly important on platforms like Twitter. When you need to change your notification settings on Twitter to cut back on the chatter and hone in on important information, you only need to follow a few quick steps. 
How to Access Your Notification Settings on Twitter
Making your way to the Privacy and Safety settings is simple. On a PC, look for the More button, click it, and then choose Settings and Support > Settings and Privacy. The steps are the same from the mobile app, although you start the process from your profile icon. From the account settings menu, scroll down until you see a section marked Notifications and select it.
How to Change Your Notification Settings on Twitter
While Twitter settings offers a variety of toggles to tick and boxes to check, the options are sparse under the Notifications section. There are just two areas you need to know about with Filters and Preferences, although each has its own set of options. Here is how to access Twitter notification settings on from the web portal or from a mobile device.
Changing Twitter Notification Filters
This area of the Twitter notification settings gives users a measure of control over the type of content they want to see. On the mobile app and web portal, you'll have the option to turn on something called a Quality Filter.
If you've spent any amount of time on Twitter, you know how "spammy" it can be at times. The quality filter helps combat that by removing lower-quality content from your notifications. It's handy for those Twitter extras, but will not affect notifications from accounts you follow.
There's also a section for Muted Notifications which allows you to mute a variety of accounts including brand-new ones and people that don't follow you. Those are the only two settings on the web, but there is an extra section on the Twitter app specifically for muted words.
When you access the Muted Words section of notification settings, you can mute words with a few taps. This can keep certain phrases out of your timeline, along with your notifications. It's an incredibly useful setting that lets you block more than words as well. Not only can you set it to mute usernames and hashtags, but you can also set the duration for a day, week, month, or eternity depending on you needs.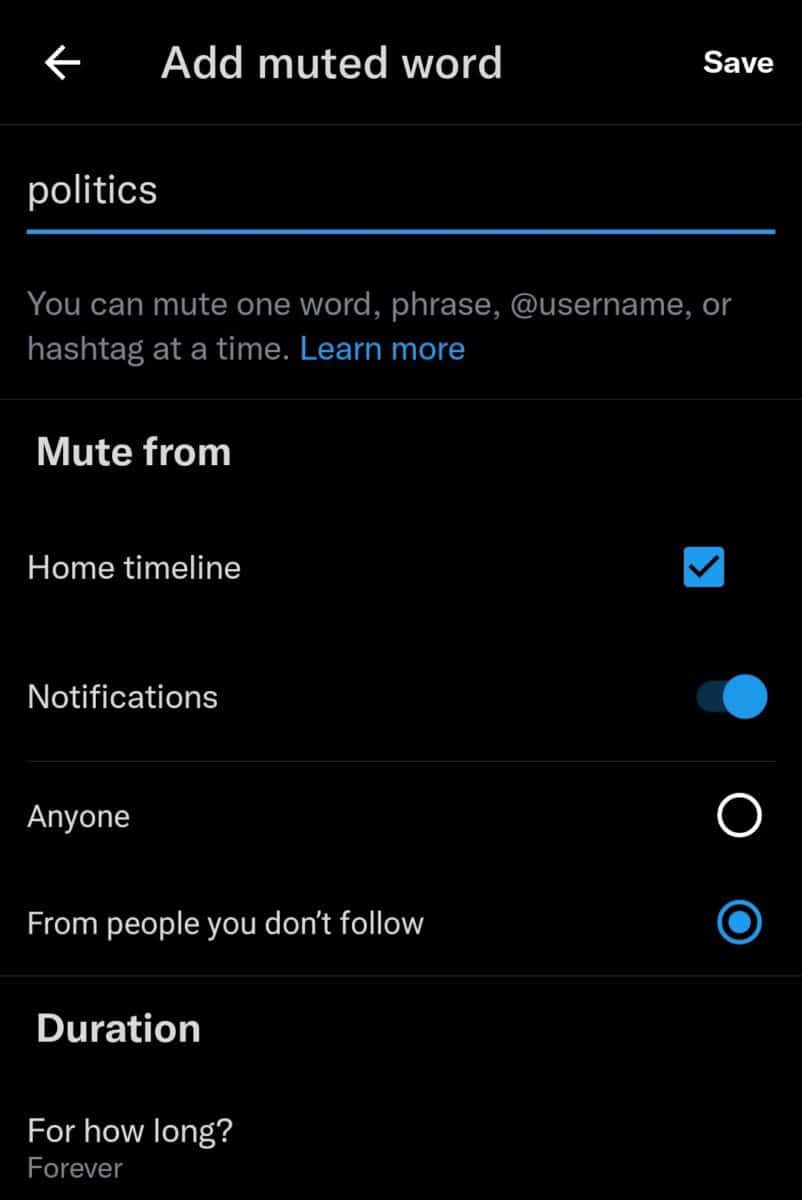 How to Change Your Twitter Notification Preferences
The preferences section of the Twitter notification settings differ slightly between mobiles and the web. However, both have options to control push and email notifications and provide users with a considerable amount of control.
With push notifications on, you can set Twitter to alert you based on a variety of factors. You can get alerts anytime someone mentions your handle or you receive a like on a tweet. You can also turn off retweet notifications or set an alert for new followers, DMs, and photo tags. Other options include the ability to receive or remove notifications for a variety of Twitter topics or new Spaces.
From here, you can set and control notifications related to your tweets. That includes direct messages along with performance updates and rundowns of top stories on the platform. While those setting are for your tweets, another section deals with news from Twitter. If you don't want your inbox filled with news about Twitter updates and don't want to be bugged by surveys, this is where you'll turn that off.
The options stay the same on the Twitter mobile app, but you can set a toggle for unread notification badge count and adjust SMS notifications. This area is also broken down into two sections with notifications related to your tweets and notifications from Twitter. If you're a heavy Twitter mobile user, it's a section you'll definitely want to pay attention to.