The PlayStation Network and the services within live up to their namesakes by providing users with a wealth of content, which is all tethered to an email address. If you want to change your email on a PlayStation account, we'll show you how in six steps. The process takes less than 5 minutes and is something you can accomplish from a PC or the company's latest console.
What is a PlayStation ID?
The PlayStation Network and its services have changed considerably since its inception in 2006, and so has the way you sign in to a degree. Your PlayStation ID is tied directly to your email address and acts as your username online.
You can game anonymously and just use your PlayStation Network ID or add your real name and location along with a profile picture. Your PlayStation ID provides access to important account information linked to your PlayStation account, but can also link to other Sony sites including the mobile store and PlayStation app.
How to Change your Email on a PlayStation Account
For most users, the easiest and quickest way to change your email on a PlayStation account is through a PC. While you can do it on two of their consoles, we found the process more foolproof from a PC using a web browser.
1. Sign in at PlayStation
Go to PlayStation.com and log into the site using your PlayStation credentials. If you can't remember your information, you can reset your password or get assistance from here.
2. Account Management
When the site loads, look for your profile icon in the top right-hand corner of the page. Select the icon, and then choose Account Settings from the drop-down menu.
3. Security
To access your email and other sensitive data, you'll need to go to the Security section of the site. Select Security and confirm the pop-up message to open a new window.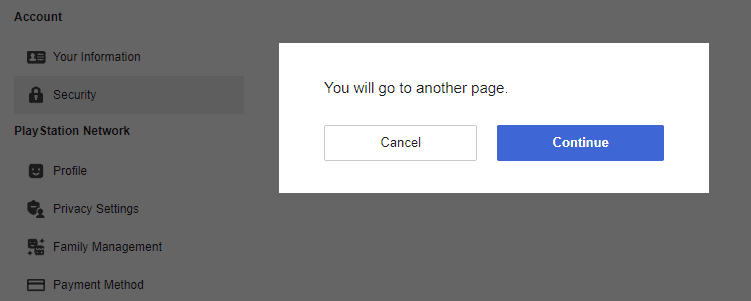 4. Set New Address
From the Security section, you'll see fields for your password, security question, and mobile number along with your Sign-In ID, which is your email address. Make sure you have access to the new email account you want to use before proceeding.
When ready, choose Edit next to that field, type in the new email address, and click Save. You'll need to re-enter your password to proceed to the next step.
5. Verify your Email
The site will now send you a message telling you to verify your new email address. Open your email program, find the email and follow the instructions. When finished, choose the Already Verified button on Sony's site.
6. Confirm Changes
If successful, the page will reload once you click verify and bring you back to the security section. Confirm the new email address has replaced your old one, and Sign Out when you're finished.
In the following video, How To -Internet Tutorials demonstrates how to change your PlayStation Network email address on your computer or smartphone.
Changing your Email on a PS4 or PS5 Console
Sony built a lot of new features into their latest consoles, including access to the PlayStation Network and their services. If you want to change your Sign-In ID or email address on a PlayStation account from the console, you can do that on the PlayStation 4 and PlayStation 5.
On the newer PlayStation 5, you can change your email on a PlayStation account by going to Settings > Users and Accounts, and choose Account. Look for the Sign-in ID email address prompt and enter your new email address into the field.
Check the inbox on your new account and confirm the changes to finalize the new ID. The process is the same on the PlayStation 4, but you'll go to Settings > Account Management > Account Information to access the Sign-In ID information on that console.
If you'd prefer to change your email directly from your PS console, the following video from YourSixStudios can show you how.
Trouble Changing PlayStation Email Addresses
If you have trouble changing your PlayStation account email address, there are a few things you can try. When the process doesn't work from a PS4 or PS5, try again from the web portal. While both consoles have the ability to let you alter your account, you must have a stable connection.
The same goes for problems changing your ID from a PC or a mobile device through a browser. If the PlayStation Network is down, having issues, or undergoing maintenance, you won't be able to change your email address.
If you don't receive your verification email, you can choose to have Sony resend it, but should double-check your spelling. It's also important to check your Spam folder, especially if it's a new email account you created for the PlayStation Network.
Up Next
The image featured at the top of this post is ©Giovani Dressler/Shutterstock.com.