YouTube has long been one of the top websites in the world, and as the current second most visited site, behind Google, it sees well over one hundred million visitors each day. For all of those visitors, changing your account settings might not be top of mind but it's still important to know how to do it when and if you need to do so in the future. 
Of course, the most important step is to have a YouTube account, which is often the same as your overall Google account. In other words, the same Google account you use for Gmail, Google Maps, and more is also used for your YouTube account. Once you are logged into YouTube, let's take a look at how to change your account settings and what are the main settings you can adjust. 
Easy Steps to Change Your Account Settings
Step 1: Find Your Profile and Settings
Starting by visiting YouTube and looking at the upper-right corner of your browser until you locate the profile button and click on it. Once your profile is opened, you will see a drop-down menu appear, and toward the very bottom of this list is an option for Settings. Click on it.
Step 2: Account Settings Page Opens
After you click on Settings, you are taken to a new window where you will see a few available options. Note that your Account Settings are the options that appear as soon as you click on Settings from the drop-down window from your profile. 
Step 3: Click on Channel Status and Features
The very first option that you see as part of your Account Settings is something labeled Your channel. This includes a look at your YouTube username and profile avatar. As soon as you click on Channel Status and Features, you are brought to a new YouTube Window where you see a list of different setting options available: 
General
This is where you can select the default type of currency you will accept as part of your YouTube channel. 
Channel
Basic Info
This is where you can choose your country of residence as well as set up any keywords that might be helpful in identifying or locating your channel. 
Advanced Settings 
Within this setting group, you can enable a host of options that have been covered extensively here.
The first setting is for your Audience, which enables you to choose whether or not you want to set your channel as safe for kids. You can choose yes and determine that all of your content is safe for children. Choose no if your content is not safe for children or determine if you want to review this setting for every video.
The second setting is for automatic captions and disabling any captions that might show an inappropriate word.
Advertisements make up the third setting where you can disable interest-based ads that are shown to viewers based on their interests, also known as remarketing. Note that by disabling this feature, you could dramatically impact your channel's ad-based revenue stream.
Clips enable your viewers to grab 5-60 second long clips of your videos and share them with friends socially.
The second to last setting is for managing your YouTube account which takes you back to the main account settings that are in the first step above.
The final setting under Advanced settings is to remove your YouTube account entirely.
Feature Eligibility
Feature eligibility is a pretty sizable set of options that includes a multitude of features that are helpful in creating a YouTube page that can help you later monetize and grow a channel. 
The first is listed as Standard features which is a set of options that enables you to confirm that your "Channel is free of active Community Guidelines strikes." If so, you have the ability to perform four different tasks including video uploads, playlist creation, adding collaborators to playlists, and adding new videos to existing playlists. 
The second option is listed as "Intermediate features" and requires you to have the Standard features enabled as well as verify your phone number. If both of these are complete, you can now upload videos longer than 15 minutes, add custom thumbnails, and live stream from your channel. 
The third option, known as "Advanced features," requires that you have both the Intermediate features enabled as well as one of the following verification options: video verification, valid ID, or a lengthy channel history." Assuming you can meet all requirements, you now have a few options available as part of Advanced features: 

Create multiple live streams daily
Upload more videos daily
Create more Shorts daily
Embed live streams
Add external links in video descriptions
Appeal Content ID claims
Eligible to apply for monetization
Upload Defaults
Upload defaults offer two sets of options including a title that describes your video or a description that explains what your video is about. 

Visibility includes deciding whether a video will be public, private, or unlisted. 
Tags will help you make your video visible during a YouTube search. 

The second set of settings under Upload defaults is labeled as Advanced settings. 

This includes Automatic chapters which can make your videos significantly easier to watch. 
You can set up a License if you want to make something available just to YouTube or a Creative Commons License which is more flexible as far as sharing. 
Add a category to your video like auto, entertainment, music, sports, etc. 
Language and captions certification will help you choose the right video language, caption certification, and title and description language. 
Comments, the best part of every YouTube video, will enable you to choose between allowing all comments, holding comments for review, holding potentially inappropriate comments for review, or disabling comments altogether. 
Last but not least is showing how many viewers like your video.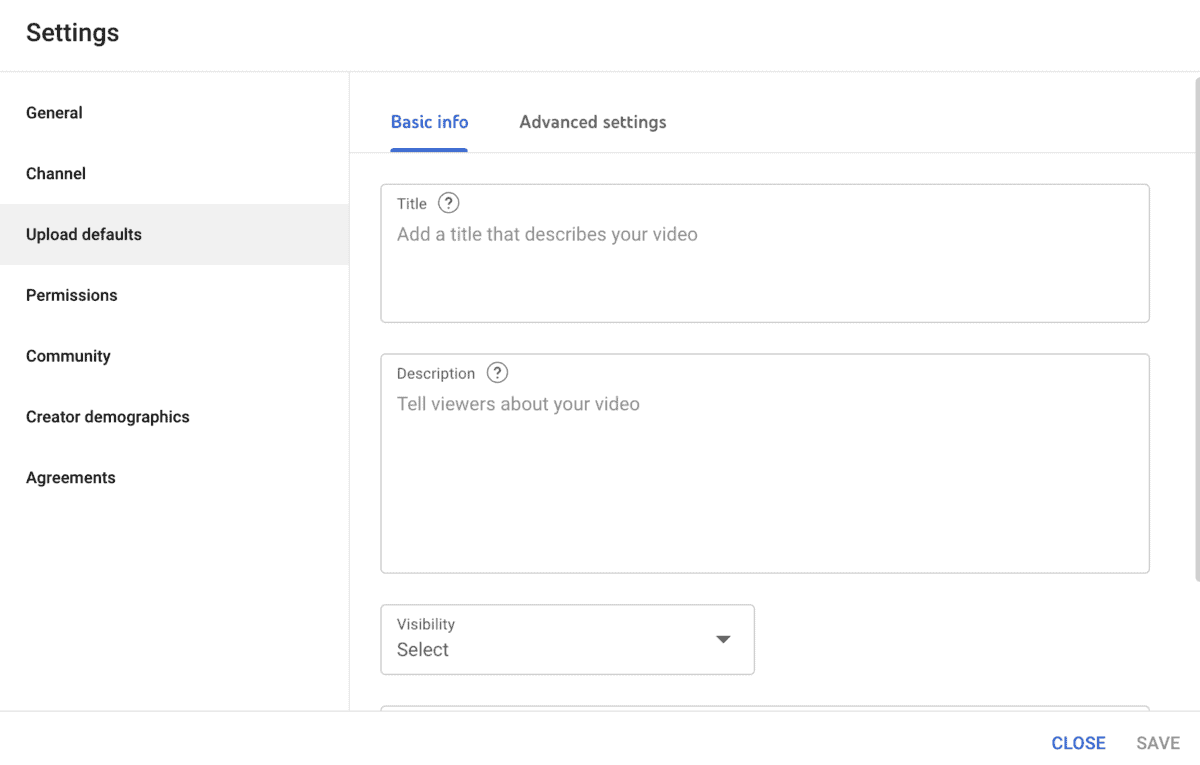 Permissions
Permissions allow you to add additional users to your YouTube channel from an administration standpoint. This might be useful in adding someone who will monitor your comments or help you upload videos. 
Community
Community allows you to upload someone who will act as a moderator on your channel, an approved user who might also have some admin access, or enable a user as a "hidden user" which is someone whose comments will not show up publicly. 

Live redirects allow you to add creators who can redirect your content within one of their videos so it's clickable to their audience or only allow the channels you subscribe to have this access. You can also add any blocked words that you do not want to appear in your comments like different vulgar words. 
Defaults are something similar to the "Upload defaults" above where it gives you the same set of options around allowing all comments, disabling comments, etc. 
Creator Demographics
Creator demographics is an optional set of questions that Google is asking to help better understand the different races, genders, and ethnicities uploading videos across various YouTube communities. 
Agreements
Agreements are the last and final option underneath this Account Settings menu and verify that all of the services and settings found within this menu are subject to YouTube's terms of service.
As soon as you have made any changes within this window, you can click on the Save buttons and go back to your Account Settings. 
Add or manage your channel(s)
This is a super basic option where you will be able to see all of your existing channels whether they are personal, business, or both. You can also click on Create a channel and add a new channel. 
View advanced settings
Advanced settings is an entirely different set of options unrelated to more general Account Settings but there are a few sets of options here as well: 
You can copy and paste your User ID which might be used for integrating with social apps or showing YouTube information to possible advertisers. 
A Channel ID offers a similar length set of characters like the User ID that may also be used for advertisers, verifying with Google Ads, etc. 
The default channel offers a box you can check to establish that the YouTube account you are currently using is in fact the one you want as your default. 
Move Channel allows you to move your existing channel to a new account. This might be something you'd consider doing if your current YouTube account is set up under a personal email and you want to transition it over to a business/brand account. 
Delete your channel is a pretty obvious option but this is an option you will click on if you don't want to use your YouTube account anymore. Note that clicking on this option and confirming you want to close your YouTube account will not have any impact on your overall Google Account. 
Your Account
Google Account
If you click on this option, it will redirect you to the general Google Account page which offers a set of options more focused on your overall Google account than YouTube. It's here that you can make adjustments to your personal info, establish security protocols like adding two-factor authentication to your Google login, or look at any privacy suggestions Google has suggested for you to help secure your account long-term. 
You can also look at the different subscriptions you have selected from the Google Play Store, look at Account storage to see how much space Drive, Gmail, and Google Photos are taking up, and more. 
Membership
This option within Google Account Settings gives you the option of subscribing to YouTube Premium. Among other benefits, YouTube Premium provides you with an ad-free YouTube experience as well as background play. You can also save videos by downloading them for a future watch as well as downloading music to listen offline without any interruptions.