If you're reading this, you probably wonder, "How do I change my Wi-Fi password on an iPhone." Changing your Wi-Fi password isn't as simple as going to your iPhone's settings and tapping on the password to change it. Our handy guide will walk you through the steps in a moment.
We have a section for our readers who use their iPhone's mobile hotspot for Wi-Fi. Without further ado, let's jump into the steps.
How to Change Wi-Fi Password on an iPhone
Whether you updated your Wi-Fi network, received a new router, or made other changes to your Wi-Fi security, you must update your iPhone's password. Unfortunately, you can't tap on the existing password and type the new one (although you can tap to copy the password, which is quite helpful). Instead, you must forget the entire network to input a new Wi-Fi password on your iPhone. But the process only takes one extra step.
Here's what to do:
Step 1: Open Settings
All of your iPhone's Wi-Fi settings are in the device's Settings app. You can tap on the Settings app from the home screen or swipe to the right and search for it in the iPhone's app library.
Step 2: Tap WiFi
Upon opening the Settings, an option for Wi-Fi will appear near the top. Tap it.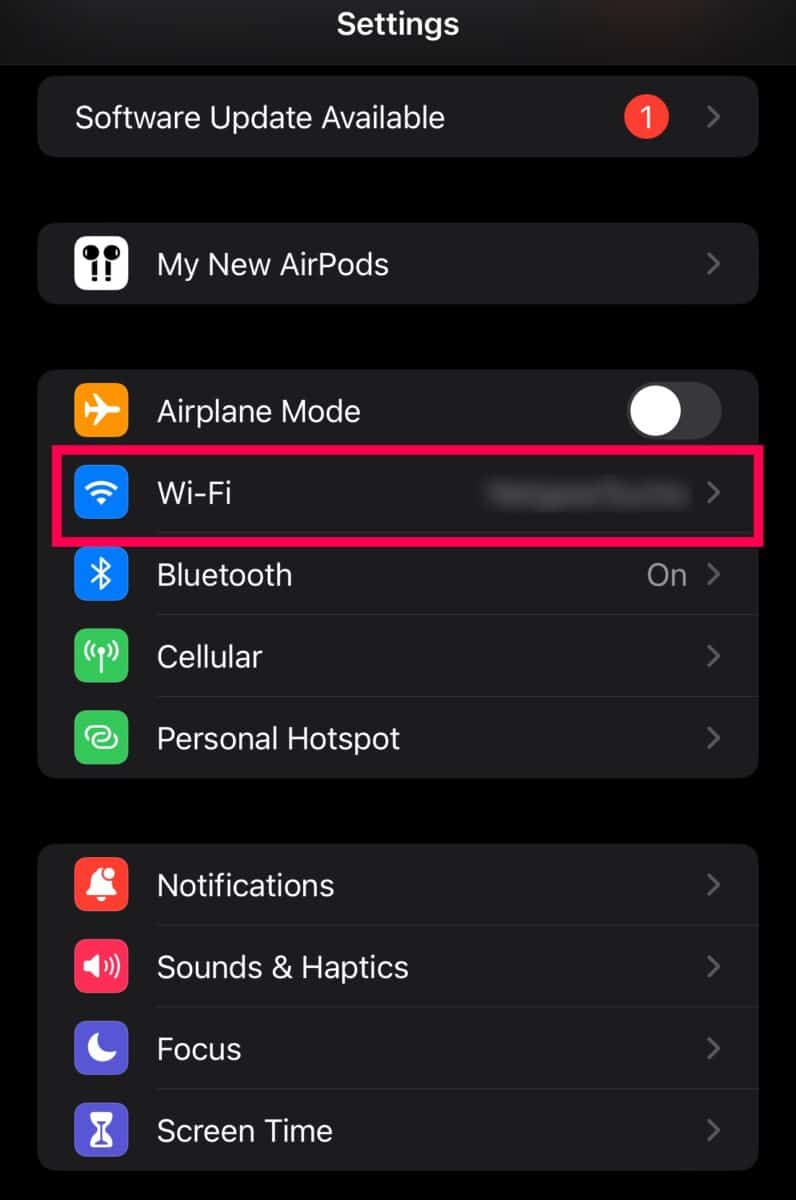 Step 3: Tap the i Icon
Your existing Wi-Fi network will appear at the top of the screen. Tap the i icon to the right of your Wi-Fi name.
Step 4: Tap Forget Network
You'll see several options on this page. Unfortunately, tapping the password option only copies the Wi-Fi password to your iPhone's clipboard. Tap Forget Network and confirm.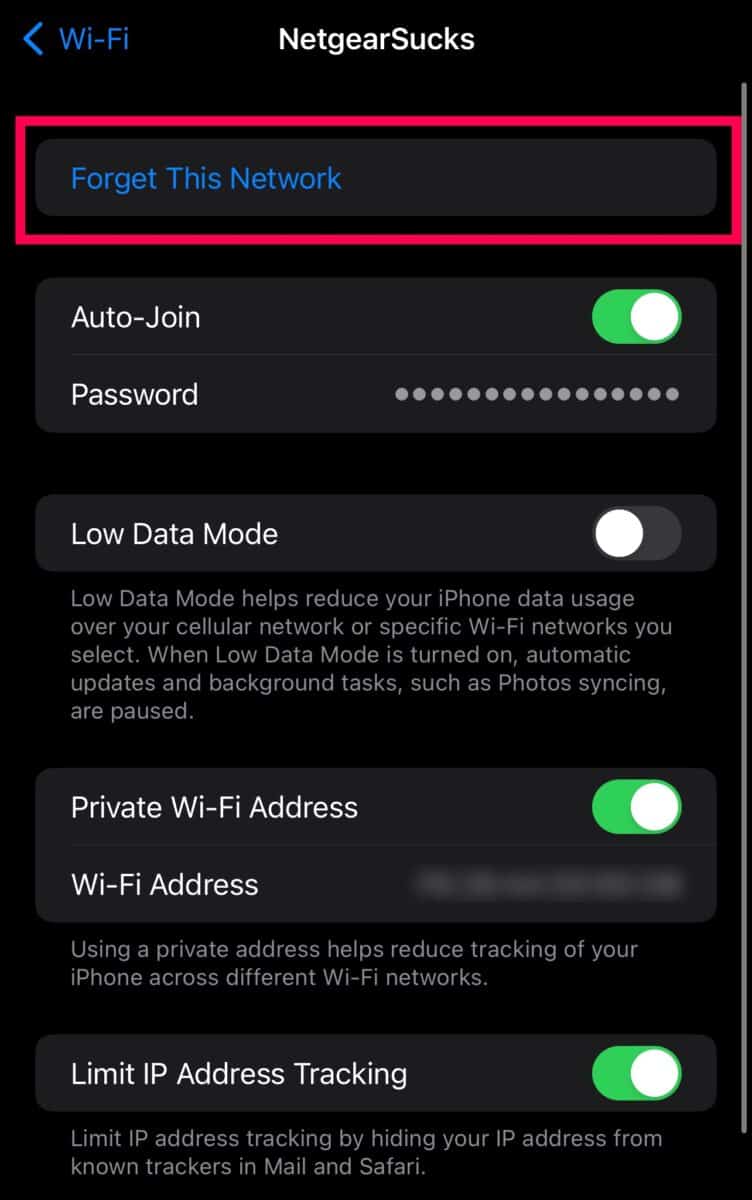 Note: Ensure you have the correct Wi-Fi password before you forget the network. We have an article here to help you find it.
Step 5: Tap Your Wi-Fi Name
Next, reconnect to your Wi-Fi network and input the updated password. Tap on the Wi-Fi network in the list.
Step 6: Input the New Password
Finally, you can input the new Wi-Fi password to change it.
Your device should connect automatically to the Wi-Fi network; there's nothing more to do. However, if you run into trouble, scroll to the bottom of this article for some troubleshooting help.
Here is a step-by-step video for further reference:
How to Change Wi-Fi Hotspot Password on an iPhone
If you need to change your Wi-Fi hotspot password on your iPhone, this section is for you! Fortunately, it's much easier than changing the Wi-Fi password on your iPhone for your home or work WiFi.
If you want to update your mobile hotspot password to something more straightforward, follow these steps:
Step 1: Open Settings
As we did above, open the Settings app on your iPhone.
Step 2: Tap Personal Hotspot
Rather than choosing the Wi-Fi option, look down just a bit and tap Personal Hotspot.
Step 3: Tap Wi-Fi Password
This page allows you to tap on the existing password, tap it.
Step 4: Input New Password
Now you can input your new WiFi password and use it whenever you need to connect other devices to your iPhone's Internet. But be sure to tap Done after typing your password.
Note: You may need to turn your phone off and back on if your new password isn't working appropriately.
Here is a step-by-step video for further reference:
Changing Your Wi-Fi Password on iPhone – Troubleshooting
While the steps above are pretty simple, errors and hiccups do occur. If you're scratching your head because you can't change your Wi-Fi password on your iPhone, don't fret. Let's take a look at a few troubleshooting steps you can take.
iPhone Won't Connect to Wi-Fi After Changing the Password
We told you to forget the network and input a new password, which is the right way. But perhaps now, you can't reconnect to that network on your iPhone after you change the password. Fortunately, there are some simple steps to get everything working again:
If you reset your router to factory defaults, ensure you're selecting the correct Wi-Fi network. The name may have changed, but it's typically the first option.
Ensure you're typing the correct password.
Move closer to your router. A Wi-Fi signal comfortably connects within 30 feet as long as there aren't any obstructions (walls, floors, etc.).
Restart your router by unplugging it from the power outlet, waiting thirty seconds, and rebooting it.
If you continue to struggle, you can call Apple Support or your internet service provider for more assistance.
iPhone Won't Accept the New Wi-Fi Password
Another common issue when you change your Wi-Fi password on your iPhone is that the password doesn't work. Here are some things to try if that's your predicament:
Try using your router's default password.
Restart your iPhone.
Verify that you are typing the correct password (including capitals, numbers, and symbols).
Forget the network again and retry it.
iPhone Hotspot Password Won't Work After Changing It
Changing your mobile hotspot password on an iPhone shouldn't cause any problems. However, things can always go wrong, and we want you to be prepared. If this happens to you, try these fixes:
Follow the steps above to ensure the password did change.
Change the password again, and tap Done in the top right corner.
Restart your iPhone and the device you're tethering to it.
Call your cell phone carrier for more assistance.
Wrapping Up
Changing your Wi-Fi password on your iPhone isn't that difficult. Following our steps, you can change yours in less than five minutes. Our simple guide should get you moving, but if you encounter any problems, the troubleshooting section will help!
The image featured at the top of this post is ©Ksenia Shestakova/Shutterstock.com.