You can purchase almost anything you can imagine on eBay and have it shipped to your door from around the world. However, that's only if they have the right address. If you move or need to have something shipped to you while traveling, you'll need to know how to change shipping addresses on eBay.
Addresses on eBay
When you register for an eBay account, you must enter an address before you can buy or sell items on the platform. Sellers have some leeway from a business standpoint, but it's a necessary step on eBay nonetheless. Unless you've gone through the settings, you might be surprised to find out they store more than one type of address.
There are a total of five types of addresses you can enter on eBay. Only one is tied to where you can have items shipped and can be completely separate from your "registration" address. That's the address linked to your personal account, which means you can have packages shipped to a separate location.
If you sell on eBay, you can also set an address where you intend to ship packages from and an address for returned shipments. This is key for power sellers that keep their goods in warehouses, not storage sheds, and deal with multiple locations. There's also an option to set an address for offline payment methods, including cash.
How to Change Shipping Address on eBay on Desktop
The only thing you'll need for this process is access to a device with a web browser, your username, and your password. You may also need access to another device for authentication depending on how you have set the security on your eBay account.
Step 1. Sign In at eBay
Go to eBay and log in to the site using the prompt in the top left corner of the web page.
Step 2. Find eBay Account Settings
When you have full access to the site, you'll need to navigate to "Account settings". You can do this by going to your Username and choosing "Account settings" from the drop-down menu.
Step 3. Go to Addresses
From this section of your eBay Account settings, look for an area called "Addresses" and click on it to open the next menu.
Step 4. Choose Shipping Addresses
This is the address section of your account, which has your personal, selling, and shipping addresses. Locate the "Shipping address" section and click on "Edit". If prompted, enter your password to confirm your identity.
Step 5. Edit and Save the Address
Enter the new street address and zip code where you need your packages shipped and click on "Save" to complete the process.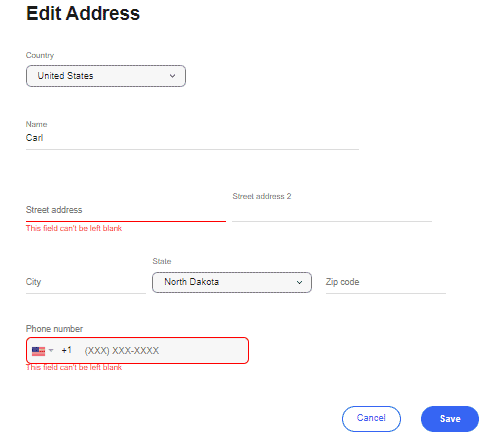 How to Change Shipping Address on eBay From the App
You can also change your shipping address through the eBay app for smartphones and tablets. While the process is similar, some settings locations and menus are slightly different in the app.
Step 1. Sign In to the eBay App
Open the eBay app on your smartphone or slate and sign in if you're not logged in automatically.
Step 2. Open eBay Settings
To access the Settings menu from the eBay mobile app, tap on the menu at the top right and then select "Settings" from the new screen.
Step 3. Go to eBay Shipping Addresses
When you get to this menu, your current shipping address is listed under "Account settings". Tap on the address and then choose your address again on the next screen.
Step 4. Save the New Address
On the "Edit Address" screen, change the fields you need to set up your new shipping address. When complete, tap on "Done" at the top of the screen.  
The Wrap-Up
It doesn't matter whether you're ordering a t-shirt or a priceless antique on eBay, always keep your shipping address updated. It's something that's easy to overlook if you only use the platform occasionally, and difficult to fix once your package is on the way.