Twitter is a powerful social networking platform that connects people from different backgrounds through a single hashtag. It allows users to interact directly with their favorite celebrities via Tweets. While tweeting is easy, you have to follow Twitter's policy when writing the Tweet. After all, you don't want to trigger Elon Musk, right?
You can make many changes to your Twitter account to make it attractive and accessible to others. Doing so will also give you access to new features, such as posting sensitive content. You can tweak your Twitter account's profile, media, and privacy settings.
Don't know where to start? Worry not; this article will help you edit your Twitter profile, change media settings, and discover several new features. So, let's dive in!
Change Profile Settings on Twitter
If you're new to Twitter, you should start by editing your Twitter profile settings. It will help you see how people view you in the first place and how you can make yourself appear better to them. That's the key to building your connection on this social networking platform.
So, below are all the changes you should make to your Twitter profile.
Step 1: View Your Profile
First, open your profile page. If you're on a smartphone, you'd have to tap on the Me option. On a desktop web browser, click on the Profile option in the left-hand menu, right above your username.
Step 2: Click Edit Profile
The next step is to find the Edit Profile option. It will be visible on your profile page next to your Twitter profile picture. Click on it to proceed.
Step 3: Upload Pictures and Add a Bio
Your Twitter account's profile settings will pop up on the next screen. You'll have multiple options to choose from, including uploading a new Header Photo and Profile Picture and adding a detailed bio to let people know about you.
You can also edit your location, website, and date of birth. Not only that, but you can also switch your account to a professional one from this screen. When you're done editing, click Save to apply the changes to your profile.
Your profile is completed! You can now start sending follow requests to whoever you want.
Change Privacy Settings on Twitter
If you've just joined Twitter, you should know that every photo, post, or Tweet you share on the platform will be public. That's Twitter's default settings. This means anyone, whether you know them or not, can see your activities even if you don't follow each other.
If that's a problem, there is an easy way to change this setting. You can decide who sees your Tweets by changing your privacy settings on Twitter. Here are all the steps involved in the process.
Step 1: Click on More
You'll have a More option with three dots in the left menu on your Twitter homepage. Click on it to view a quick menu.
Step 2: Open Settings and Support
In the quick menu, you will have a list of options. Click on Settings and Support, which is the last option on the menu. As you choose it, a drop-down menu will open. Now, select Settings and privacy.
If you're changing your Twitter privacy settings on mobile, you'll have to choose which account you want to proceed with.
Step 3: Select Privacy and Safety
On the next screen, click Privacy and safety and choose Audience and tagging to manage who can view your Tweets.
Step 4: Check the Protect Your Tweets Box
Click on the box next to Protect your Tweets. If you want to learn more about this feature, you can click on Learn More.
Step 5: Choose Protect To Apply the Changes
Once you click on the box, the following screen will ask you to confirm the changes. Simply click on Protect to make your Tweets and account information visible to only your followers. You can confirm if your Tweets are protected by a small black lock next to your username.
You did it; your account is now private!
In the following video, YouTuber App Guide walks you through the steps you'll need to take to change your privacy settings on Twitter.

Changing Media Settings on Twitter
Sensitive content refers to any unpleasant audio or visual that triggers fears or discomfort in the viewer. Like every social media platform, Twitter also flags such Tweets for the safety of users.
The platform hides such Tweets with a "Content Warning," but you can view them by clicking Show. Sometimes, Twitter can also flag wrong Tweets. You can also enable or disable sensitive content from appearing on your newsfeed.
Here is how you can allow sensitive content on Twitter from a web browser.
Step 1: Open Privacy Settings
First, you'll have to click on the More option from the left-side menu. From the quick menu, open the drop-down arrow next to Settings and Support, then click on Settings and Privacy.
Step 2: Open Content You See
On the next screen, choose Privacy and security and then click Content you see from the list of options appearing on the right side.
Step 3: Check the Box
Finally, click the Display media that may contain sensitive content box to enable the option. And you're done!
You now don't have to click Show on every sensitive Tweet. Instead, it will appear in front of you without any trigger warning.
Note: You can follow the same steps to enable sensitive content in the Twitter app installed on your Android phone. However, unfortunately, this feature isn't available for iPhones or iOS devices.
Enabling Sensitive Content for Twitter Searches
Twitter also restricts sensitive content from searches. While that's a fantastic feature, you can disable it easily from the settings. Here is how you can allow sensitive content on Twitter searches on the web.
Step 1: Open Settings and Privacy
You may already know how to open the settings on the Twitter web. The rule is the same: click on More from the left-hand menu and then open the drop-down menu next to Settings and Support. From there, select Settings and privacy.
Step 2: Navigate to Privacy and Safety
Choose Privacy and safety and Content you see.
Step 3: Click on Search Settings
On the next screen, select Search settings to view your options. Simply uncheck the Hide sensitive content box to start seeing sensitive content on your Twitter searches.
Note: You can change sensitive content settings on your Android phone similarly. However, the feature is not available on Twitter apps installed on iOS devices.
Marking Tweets as Sensitive Content
You must always inform Twitter when tweeting sensitive content on your account. This way, you'll be safe from any sort of ban, and it won't trigger discomfort in any person since Twitter will automatically add a warning to the Tweet.
So, follow the below steps to mark your Tweets as sensitive content on a web browser.
Step 1: Navigate to Privacy Settings
You know the drill—click on More from the left-hand menu, open the arrow next to Settings and Support, and choose Settings and privacy.
Step 2: Click on Your Tweets
Choose Your Tweets from the next screen to proceed.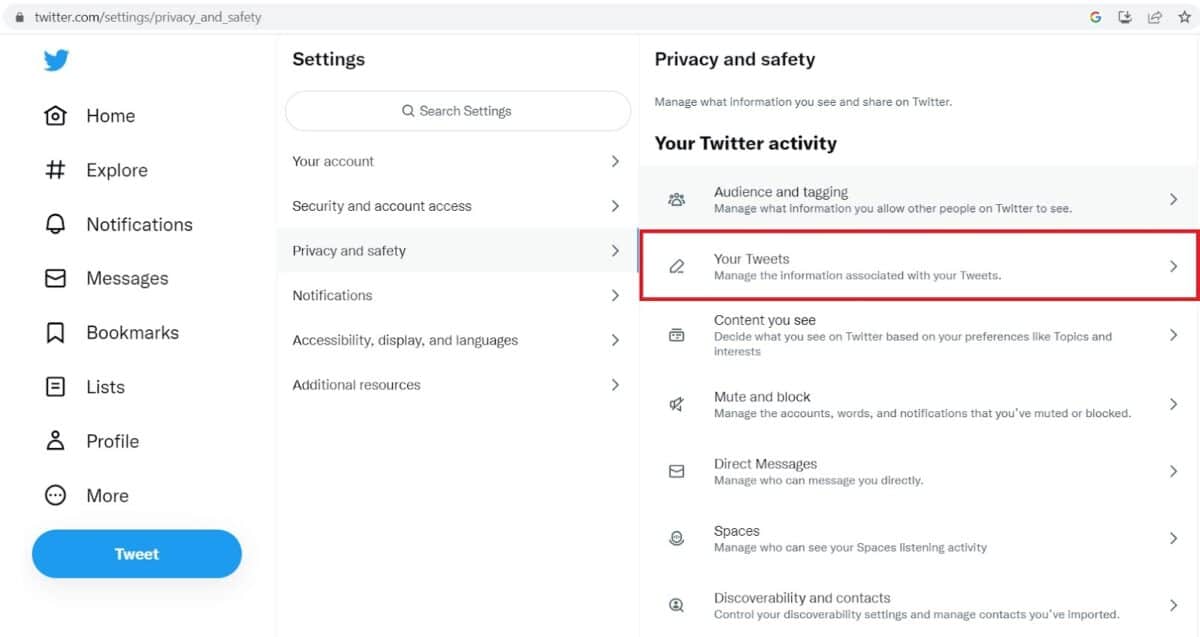 Step 3: Check the Box
Finally, check the box next to Mark media you Tweet as having material that may be sensitive.
That's it! Now whatever you'll Tweet, your pictures and videos will be marked as sensitive for those who avoid such content.
Note: You can follow the same steps to enable this feature on your smartphone. The good thing is that his option is available on Android and iOS devices.
Changing Account Settings on Twitter
You can change your account information (email and phone number) and password and enjoy TweetDeck teams on your Twitter account anytime. Not only that, but you can also deactivate your account quickly.
Here is how you can access these features:
Click on More from the left-hand menu.
Then, open Settings and Support and Settings and privacy.
Finally, click on Your account to access the options.
One unique settings option in Account Settings is Download an archive of your data. After clicking on this feature, Twitter will ask for your password. Enter the correct password to access insights related to the information Twitter has stored for your account.
Changing Security Settings on Twitter
You can also change the security settings of your Twitter account from the Security and account access option. It also allows you to see the apps from which you logged into your Twitter account and when you did that. You can also manage your Apple and Google accounts from here.
To navigate security settings on Twitter, follow the below steps:
Click on More from the menu above your username.
Next, choose Security and Support and then Security and privacy.
Select Security and account access to make your desired change.
Changing Notifications Settings on Twitter
Twitter notifies you whenever someone mentions you in a Tweet, even when you're not using it. Additionally, it sends you email notifications about things happening when you're not online.
The good thing is that you can turn off both notifications on your Twitter account. You can also filter the notifications you want to see and those you don't. Follow the below steps to access these settings on your Twitter account:
First, open More and then click on the drop-down arrow next to Settings and support.
Then, choose Settings and privacy.
Click on Notifications and make any changes you want.
Changing Accessibility, Display, and Languages Settings on Twitter
You can tweak your Twitter account's accessibility settings to make it more appealing and easy to navigate for everyone. The platform allows you to manage color contrast between the background and text. You can also reduce motion by limiting in-app animations, such as live engagement counts.
From the Display option, you can manage your Twitter account's color, font size, and background. You can also choose display language, additional languages, and languages you may know from the Language option.
Wrapping Up
Twitter lets you make different settings for your account, including privacy, notification, security, language, accessibility, and display settings. Whether you just made a new account or have had one for years, you can tweak any of these settings anytime.
Doing so will expose you to many unique features on Twitter that you didn't know about. Keeping your account up-to-date with the latest Twitter policies is also important to avoid getting banned. Hopefully, we made it easy for you!
The image featured at the top of this post is ©Sattalat Phukkum/Shutterstock.com.